In the UK, the average cost of a wedding is as high as £20,500, while in the US it is as high as $26,444. The high cost of getting married has prompted Gen Z to turn to TikTok for wedding inspiration. In April 2022, a TikTok blogger posted a video of a wedding in which she wore a wedding dress bought from SHEIN for only $47. The video quickly became popular on the Internet and sparked a new "affordable wedding dress" trend on TikTok. The wedding dress wedding related products became a profitable niche for dropshipping.
The UK and US wedding market has boomed over the past three years, with ASOS, H&M and Reformation all launching related bridal collections, offering a variety of options for couples who don't want to spend big bucks on "one-time wear" . Wedding-related products in the mass market grew by 19% in the UK and 29% in the US, demonstrating the demand for lower-priced wedding products. A study found that 66% of Britons and 69% of Americans between the ages of 16 and 24 start to expect to get married before the age of 30.
This has also led to a growing popularity of wedding-related product trends on the TikTok platform with the most Gen Z users.
On TikTok, the hashtag #WeddingTok has accumulated 3 billion views, making it one of the fastest-growing themed communities on the platform, featuring special moments in weddings, exploring cutting-edge wedding methods and some offerings to money saving tips.
When more and more Gen Z groups began to turn to TikTok for wedding inspiration, replacing traditional sources of news such as magazines and blog sites, some wedding industry brands that created brand accounts on TikTok have achieved great success and are more well-known. such as David's Bridal and Kay Jewelers.
For example, David's Bridal, a well-known wedding dress brand, once released a simple wedding video with a price of less than $1,000. Up to now, the video has accumulated 16.3 million views and 82,000 likes.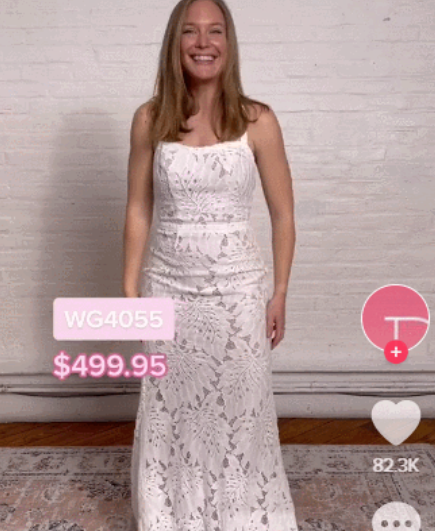 Affected by the popularity of the video, David's Bridal, in a marketing campaign on TikTok a few months ago, displayed an ad click-through rate that far exceeded the average benchmark and reached more than 16 million people.
TikTokers tend to buy cheap wedding dresses
In the United States, the average price of a wedding dress is $1,800. As a generation Z group in the "cheap era" who grew up with low-cost shopping options such as discounts and fast fashion, thanks to today's increasing fast fashion Fashion retailers offer cheap and chic alternatives to wedding dresses, so they prefer cheap and beautiful fast-fashion brand clothing in their wedding spending choices.
The TikTok hashtag #wedding dresses cheap has 2.3 billion total video views, and another hashtag #affordable wedding dresses (affordable wedding dresses) has 49.5 million total views. For Gen Z, cheaper wedding dresses are a sign of a generational shift in value.
In April 2022, a blogger named @Kiara Brokenbrough went viral for a "thrifty" wedding ceremony with her husband, with millions of video views.
One of the most popular among users is the wedding dress she bought from fast fashion brand SHEIN for $47. This wedding dress was madly sought after by many netizens and became a popular product at that time.
Kiara has also posted multiple videos on YouTube, TikTok, and more, showing how she managed to save so much money and throw a wedding that is both fun and unpretentious, with millions of views.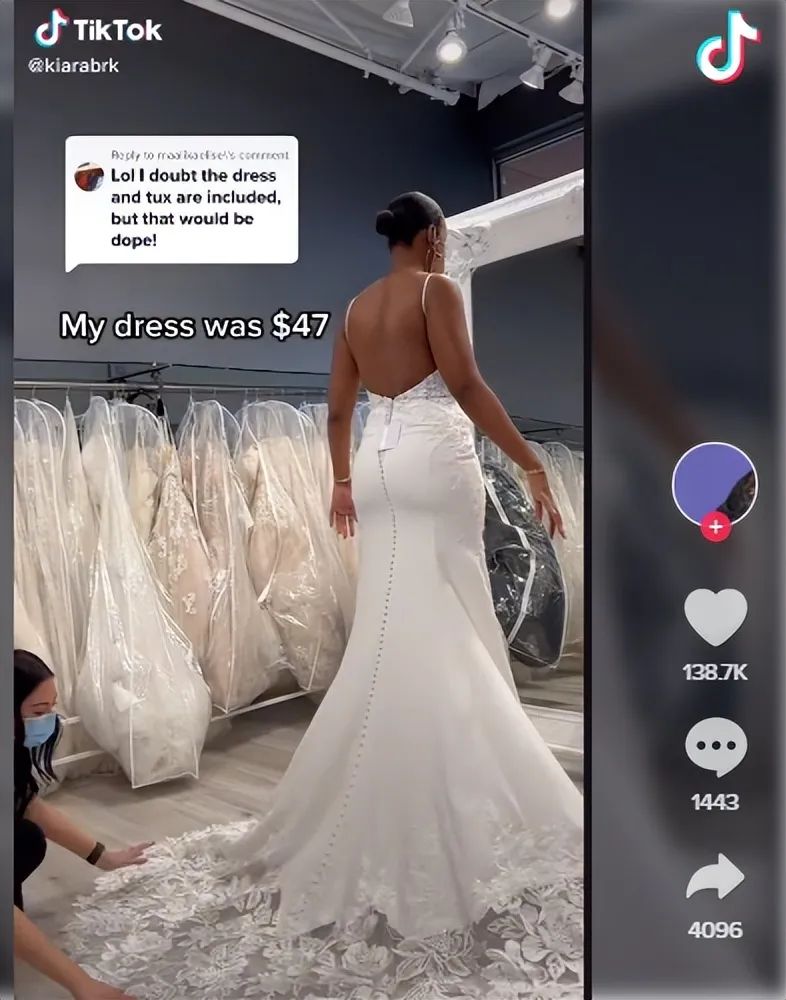 In fact, cheap and beautiful wedding dresses are sought after by users on TikTok, which is largely inseparable from the impact of high inflation in the United States during the post-epidemic period.
Two business surveys show that while U.S. consumers remain in high demand for goods and services, rising inflation is prompting them to cut spending and be hesitant about higher-priced products, making young people more eager for easy-to-buy products. , affordable, on-trend wedding dresses.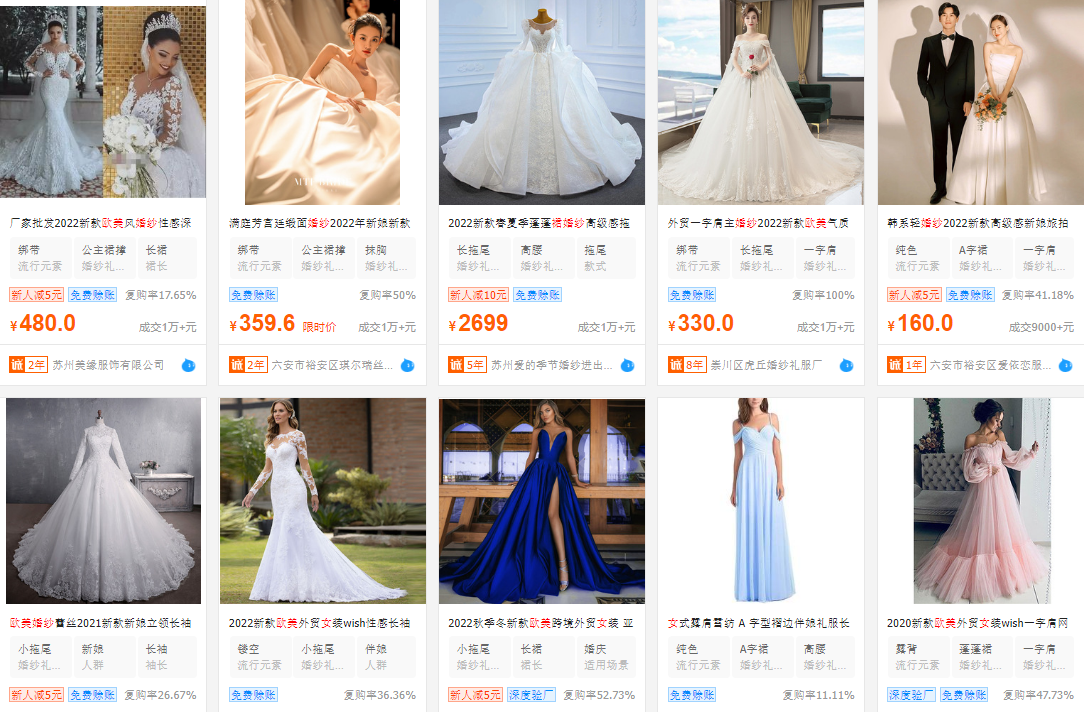 Dark wedding dresses are sought after by young women
For a long time, the white wedding dress has represented the innocence, chastity, maiden and modest character of women, and it is a traditional and popular wedding dress.
After a surge in the trend of black dresses on TikTok in 2020, there has also been a quiet, major shift in the direction of the entire wedding dress trend. Especially the "black wedding dress", which has a non-traditional wedding aesthetic, ignited the new curiosity of young people, and has since become popular.
From the heating up of wedding trends this year, some sellers have found that overseas users' interest in black wedding dresses has surged.
Searches for "black wedding dress" have kept pace with searches for "white wedding dress" over the past 12 months, according to Google Trends search volume for the last 5 years. In September and October 2021, 'black wedding dress' surpassed 'white wedding dress' in Google searches.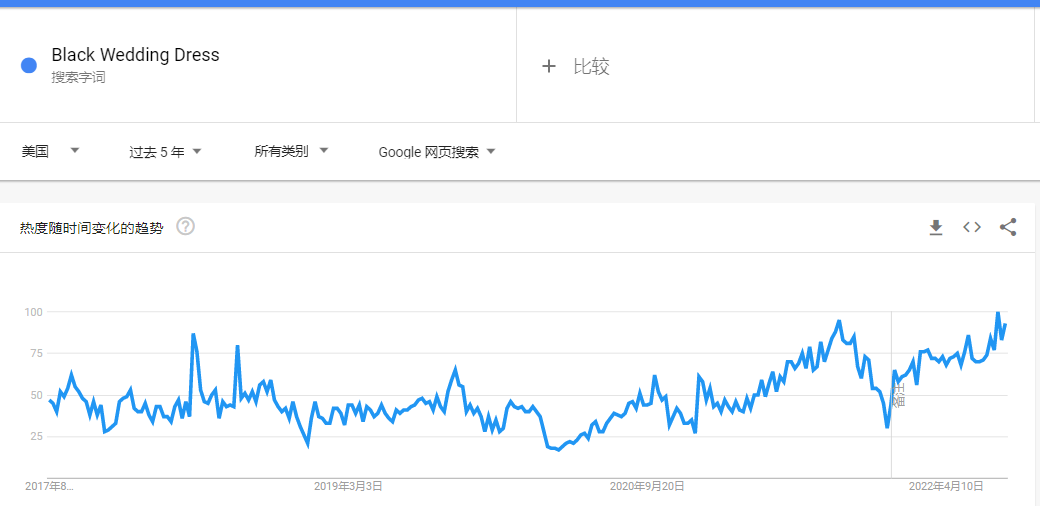 Ahead of the wedding season, some of the biggest wedding trends in 2022 are expected to become darker and sexier, according to a Pinterest survey.
This year, searches for "dark wedding ideas" have grown an astounding 59 times, searches for "dark lover aesthetics" have grown 39 times, and searches for "goth wedding decor" have grown 6 times.
One seller of wedding party dresses and accessories sold online said that the number of black wedding dresses sold in 2022 has doubled compared to last year, and now accounts for about 8% to 10% of its wedding dress sales.
On TikTok, the related hashtag #Black Wedding Dress has 1 billion views, and many recently released videos have been viewed over a million times.
Under this topic, a dress shop account named @the.dress.shop.bridal quickly became popular for posting a video of trying on a black wedding dress.
As of the publication date, the video has been viewed more than 24 million times, and has also received 2 million likes and more than 8,000 user comments.
It's worth noting that other phrases like "glam black nails," "vampire wedding dress," and "elegant black wedding decor," which blends traditional wedding elements with gothic elements, also saw searches on Pinterest. showing an increasing trend.
It is not difficult to find that dark-themed weddings are becoming a trend for young women in Europe and America.
How to dropship wedding dress from 1688 Taobao
Unlike other dress, the wedding dress mostly are customized to make it unique and vastile. Firstly, let's take a look the top10 wedding dress store on 1688 Taobao.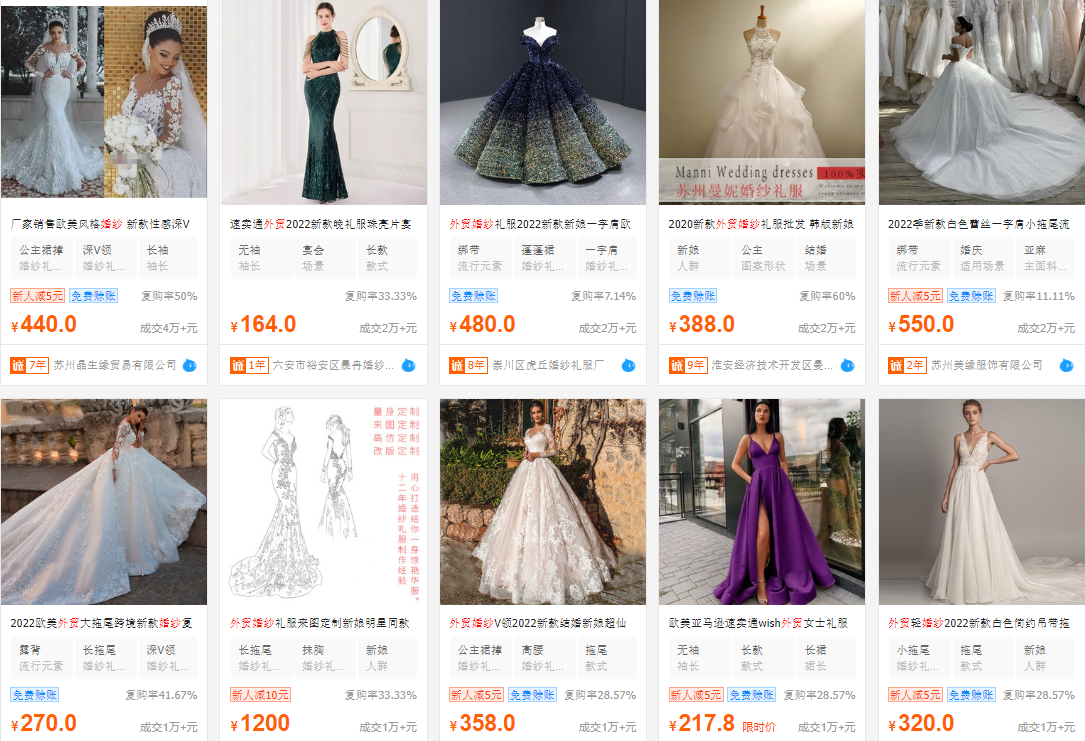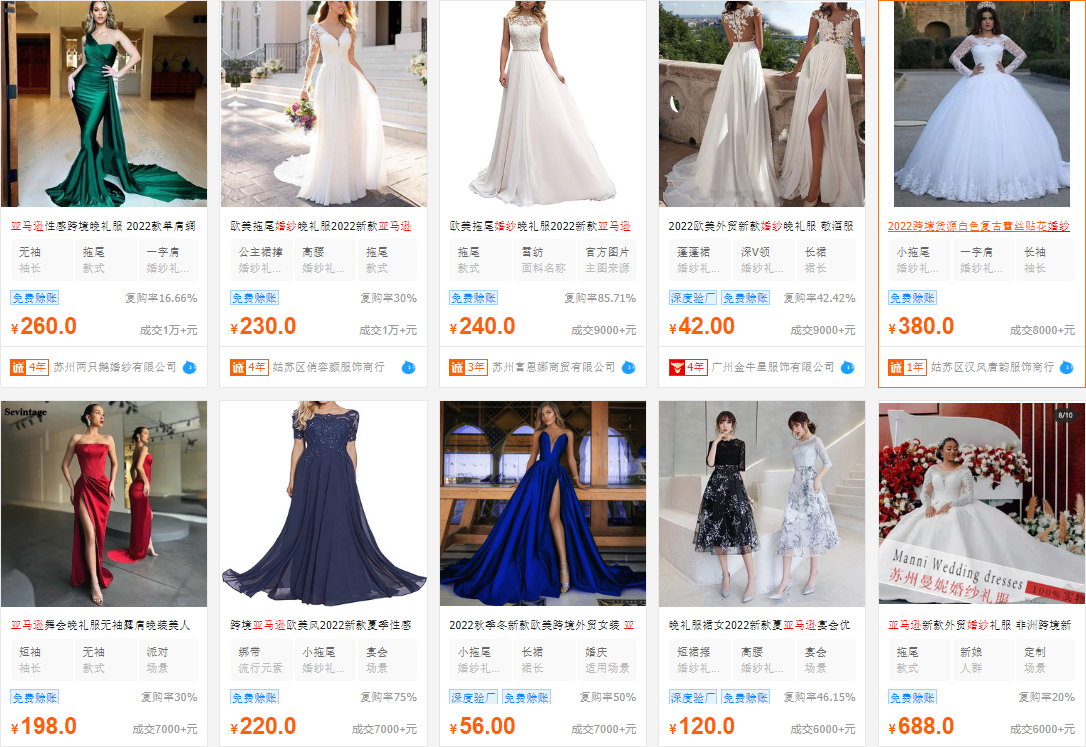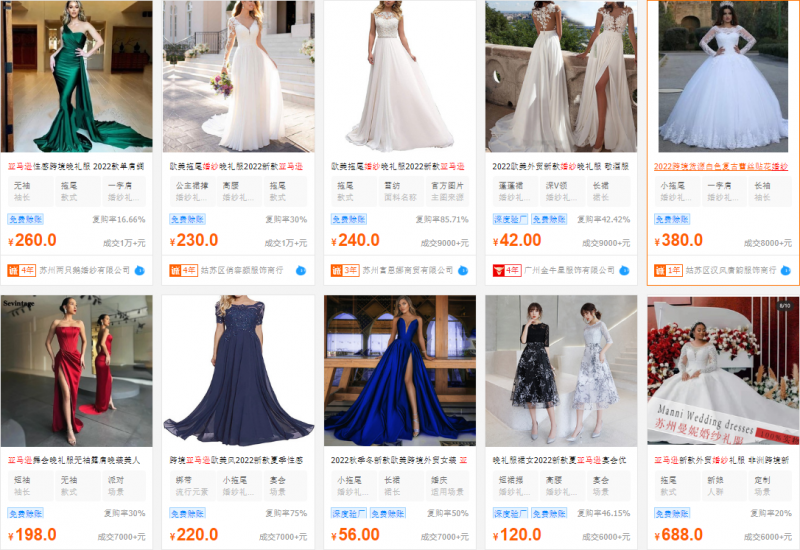 The price of the wedding dress from 20 usd to 200 usd based on the material, workmanship and design, cost effective and suitable for dropshipping.
How to dropship wedding dress from China 1688 Taobao?
Due to the language, payment and shipping issue, mostly dropshippers overseas cannot dropship from 1688 Taobao directly. As a professional Chinese dropshipping agent, ShipAnt provides all in one order fulfillment service to help you automate the order fulfillment procedure.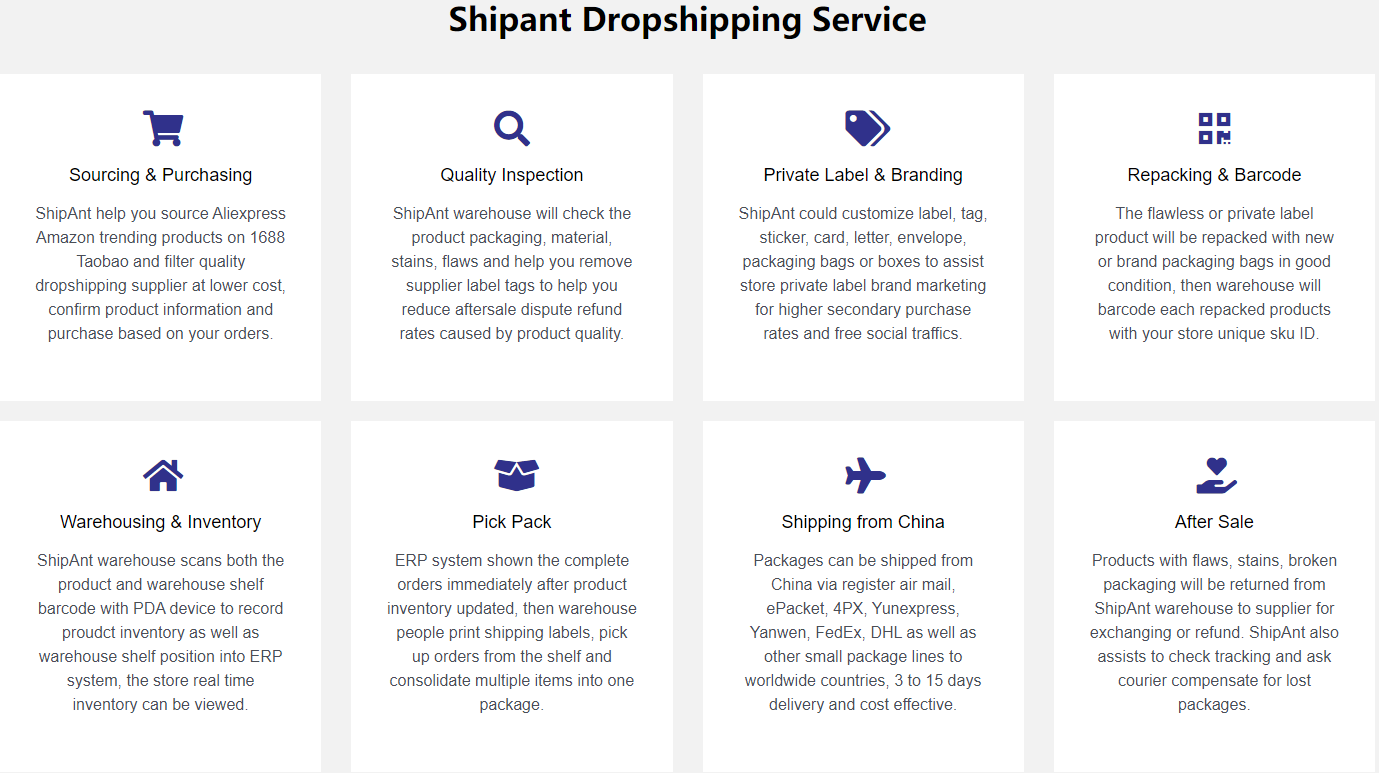 Our service from sourcing to shipping, with our comprehensive aftersale policy it could maximumly reduce your efforts on the order fulfillment procedure and focus on the store marketing. If you are dropship latest hotsale wedding dress from China, ShipAnt can be your best partner to help you source quality wedding dress factory supplier to customize the wedding dress and ship to your clients directly. You are welcome to inquire wedding dress dropship from 1688 Taobao.