Halloween is coming, as a ecommerce seller you may wonder what's the best seller products on Halloween 2022 in addition to those traditional products. Recently, a TikTok blogger @horrorprops uploaded a video of Halloween decorations that went viral and unexpectedly went viral on the platform. Inspired by the Netflix sci-fi thriller Stranger Things, @horrorprops successfully recreates the levitating scene of the character Max Mayfield in the video. From the video, the Halloween prop doesn't use wire or a structure to support it. So far, the video has garnered over 14 million views, 1.5 million likes, and over 20,000 comments. Because this model for Halloween decorations is cool and real, not only TikTok users expressed their shock, but even the official TikTok account of Netflix left a comment under the video. There are many followers comment that this is definitely the best seller Halloween decoration in 2022.
In fact, Stranger Things is one of the most popular Netflix shows in 2022, and its IP traffic has been consistently high. Influenced by the TikTok video, Halloween decorations inspired by "Stranger Things" are not only expected to become a popular element during Halloween in 2022, but also set off a consumer trend for this year's Halloween in the United States.
Halloween Decorations Trends on Tiktok
As social media plays an increasingly important role in consumer behavior, Halloween is no exception. According to the data, the main source of inspiration for Halloween costumes comes from online searches (36%). Younger consumers, especially those under the age of 25, have become accustomed to finding Halloween inspiration on TikTok. On TikTok, the hashtag #halloween has a staggering 92.2 billion views.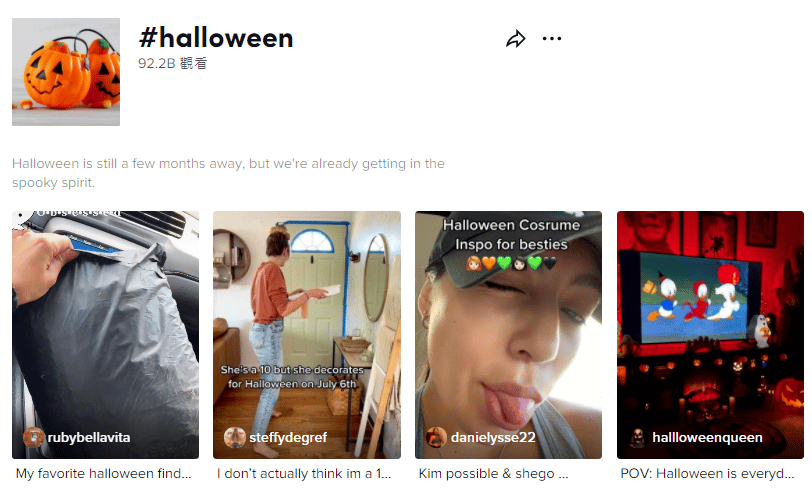 in 2021, a Halloween ghost carpet featuring black and white ghosts became a Halloween hit on TikTok. And this year, the festive decorative rug has also ushered in a small trend.
The hashtag #ghostrug on TikTok has accumulated more than 16 million views to date.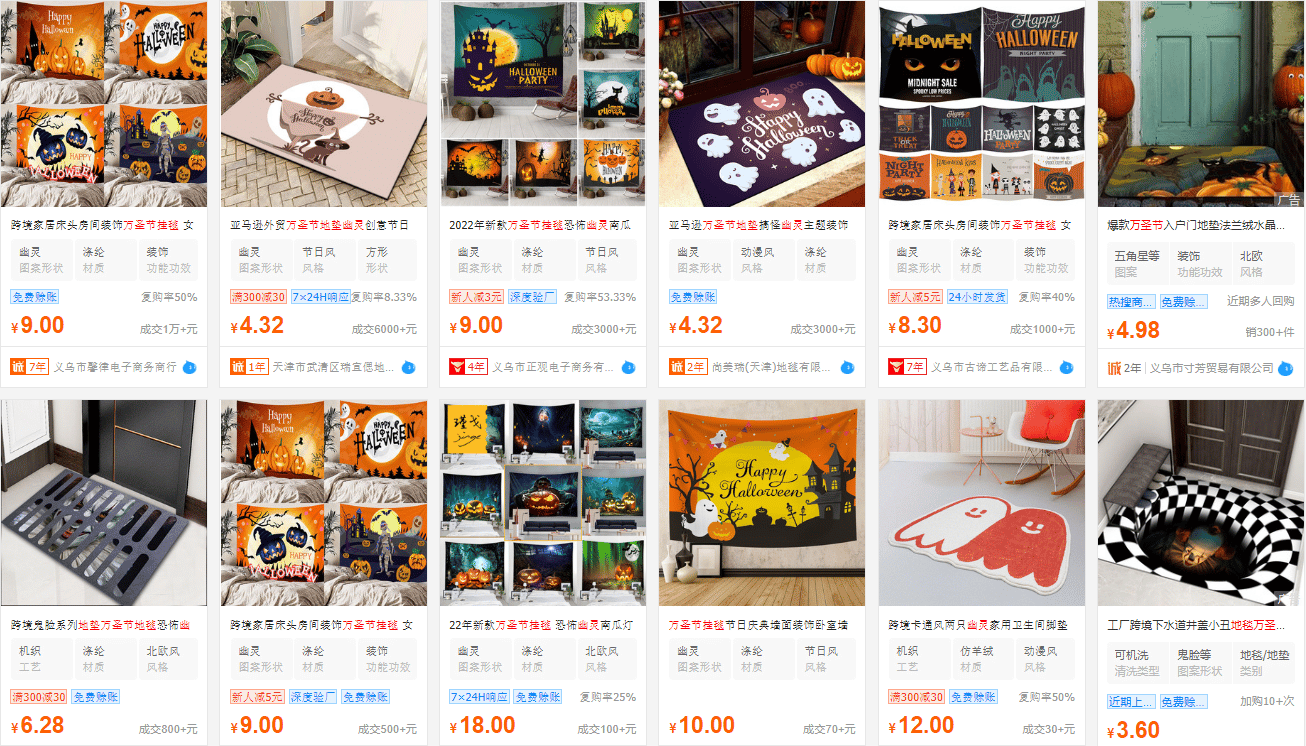 A video of the ghost carpet was reposted on the platform in July 2022 by a blogger by the name of @astoldbymichelle, which had 1.2 million views and 132,000 likes.
Judging from the comments of users in the comment area, although Halloween is still two months away, many people have begun to order this ghost blanket online.
It is not difficult to see that this ghost blanket is still very popular this year.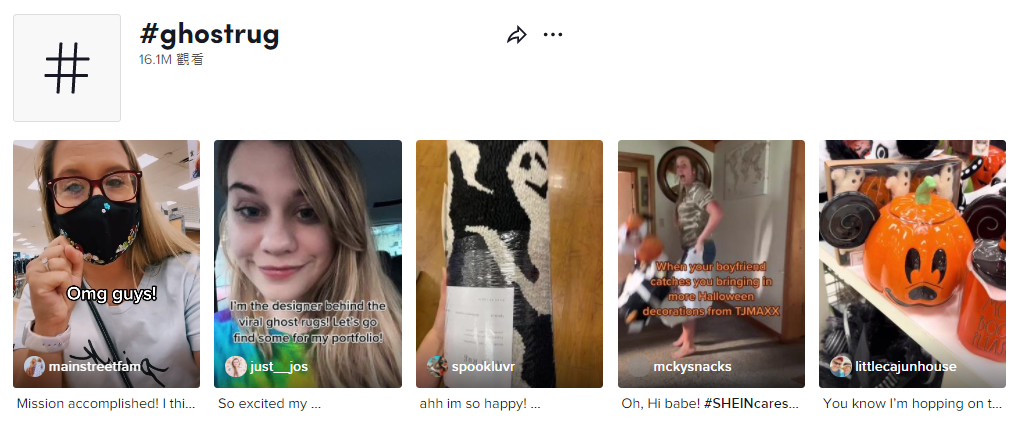 In addition to ghost blankets, a "gothic romantic" Halloween decoration has also attracted user attention and is quietly going viral on TikTok. Some time ago, a video posted by TikTok user @Dionthetaurus also unexpectedly went viral.
The video mainly shows spell books, crystal balls, tarot cards and other items related to the Victorian Gothic style, which also aroused the interest of many users, who have inquired about purchase links.
In addition, the theme elements representing "darkness and eternity" are also popular among TikTok users, with the most anticipated being skulls, black rose decorations and heart-shaped love potions.
This week, a Halloween candle in the shape of a skull went viral on TikTok and has accumulated 1.4 million views so far.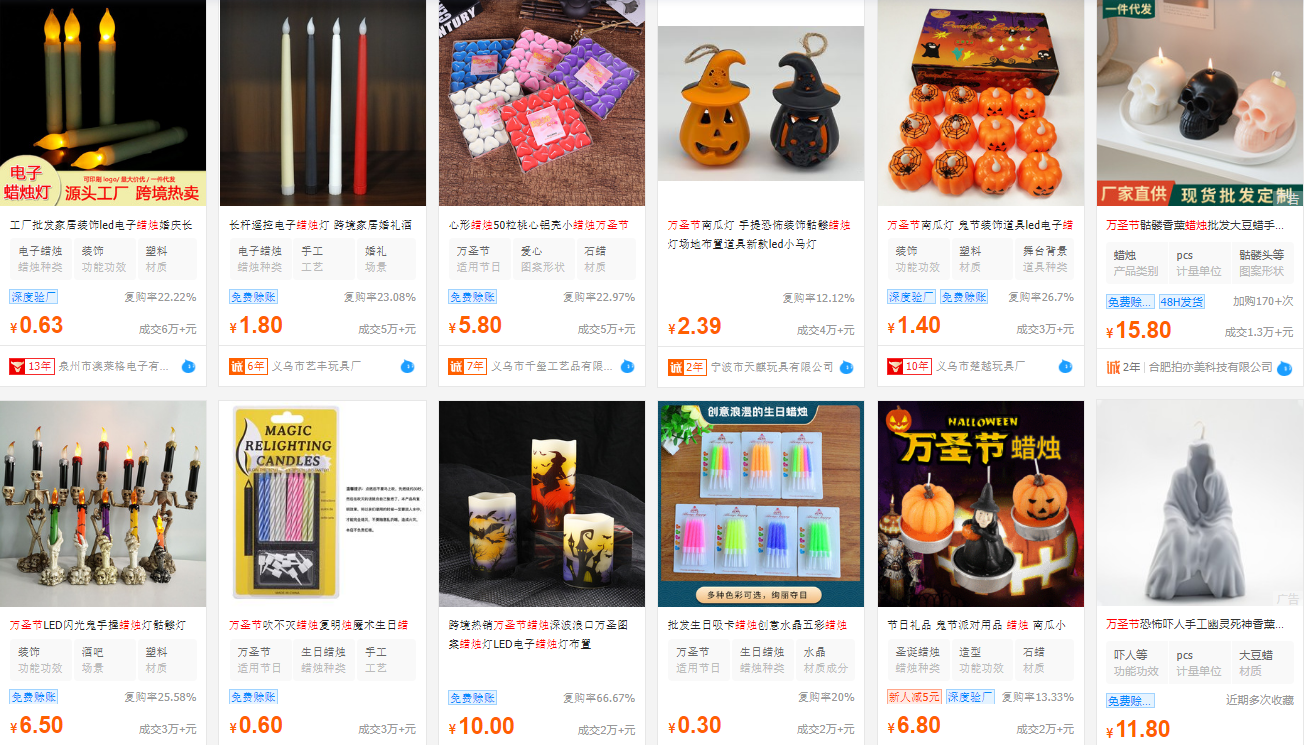 In the trend of Halloween decoration accessories, the classic ghost and skeleton series of innovative products are still the mainstream trend. Influenced by the aesthetics of TikTok, "dark gothic" and accessories with "dark romantic" elements, represented by popular American thriller dramas in recent years, are also becoming popular products for some users, and have a lot of potential for explosions this year.
These decorations are no longer limited to use around Halloween and may be used as decorations throughout the year.
Halloween Costume Trends on Tiktok
The National Retail Federation (NRF) wrote in its annual survey report released in early September this year:
Adult costume sales for Halloween this year are set to be the highest since 2017, with sales of children's and pet costumes also expected to hit $1.2 billion and $700 million, respectively.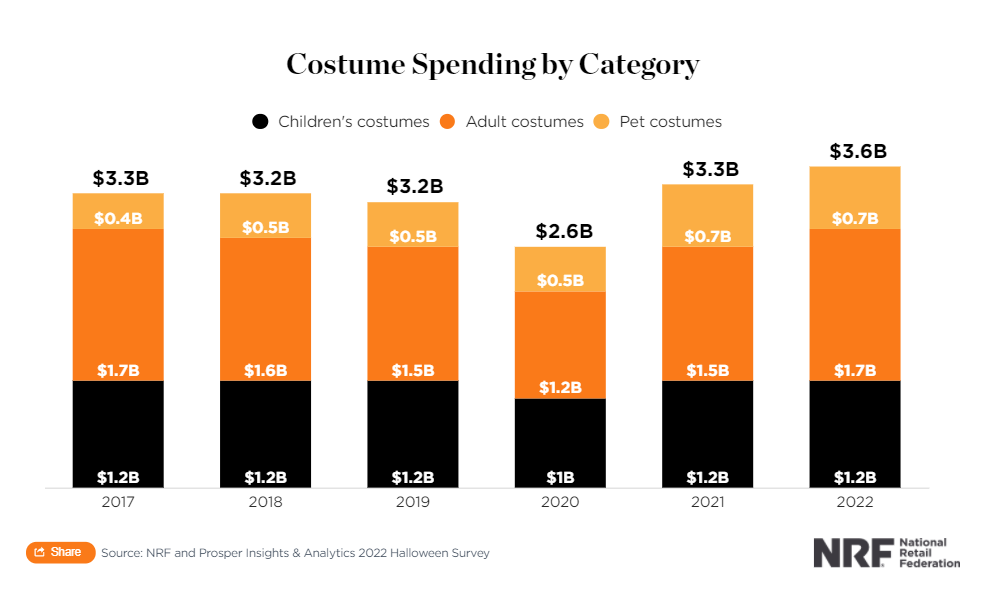 In terms of outfits, more than 2.2 million children plan to dress up as Spider-Man, 1.9 million are ready to dress up as princesses, more than 1.6 million will become witches, and more than 1.3 million will dress up as ghosts. Batman tied with other superheroes for the fifth most popular costume, with 1.2 million children each planning to wear the character.
Another 70% of adults say they are ready for what to wear this year.
The data shows that more than 5.3 million adults plan to dress up as witches, more than 1.7 million to become vampires, more than 1.5 million to dress up as ghosts, more than 1.4 million to become pirates, about 1.2 million adults plan to wear cat clothes to the streets, and 1.2 million Thousands of people said they would dress up as Batman.
The most popular costumes for pet lovers include pumpkin (9%), hot dog (5%), bat (4%), bumblebee (3%) and witch (3%).
The above are official statistics, and on TikTok, discussions about Halloween costumes are also continuing to ferment.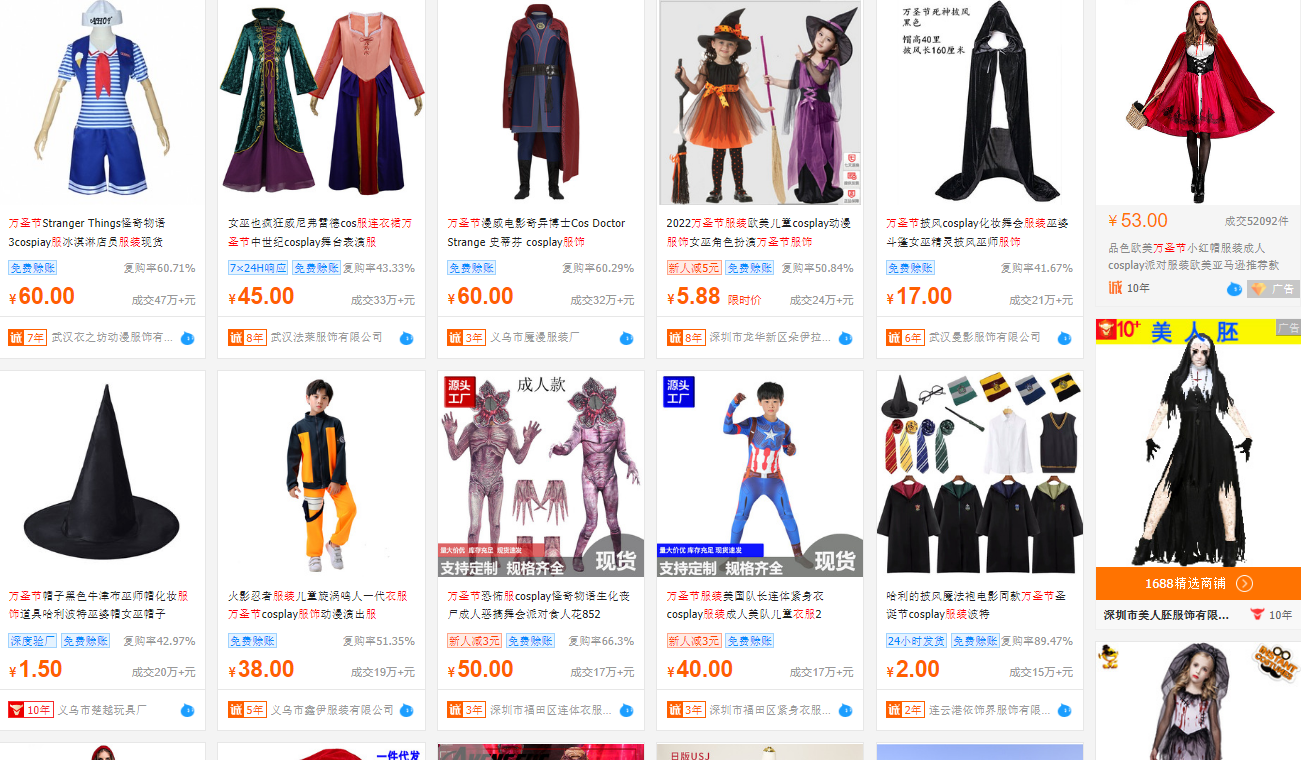 Its related topic #halloweencostumes2022 received 33.4 million views.
From the current point of view, TikTok users are more concerned about the following clothing trends this year.
The first is that there is a high degree of discussion about plus size halloween costumes. The platform views of the keyword plus size halloween costumes 2022 are as high as 216.7 million times.
On Google Trends, its search volume has also been on the rise in recent months.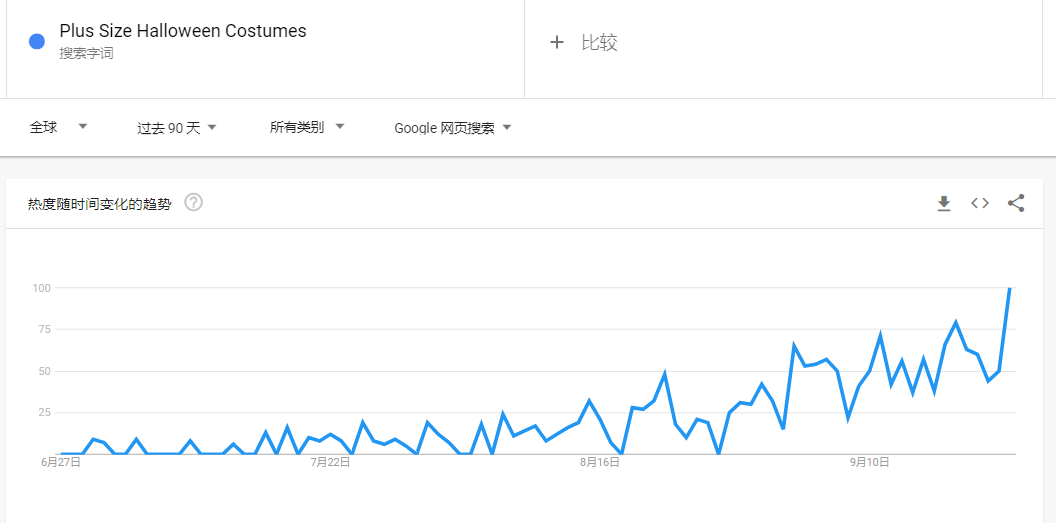 Perhaps due to the two-year epidemic at home, most people have lost their body shape, which makes most consumers pay more attention to large-size products when purchasing Halloween costumes. Therefore, it is foreseeable that in 2022, suitable for Halloween wear. Plus size clothing will be a big trend.
In addition, the keyword "Halloween costumes suitable for people over 40" on TikTok has a very high number of views, reaching more than 70 million.
It is worth mentioning that, influenced by the pink aesthetic "Barbie Core" that emerged on TikTok this year, it has also become a point of influence on the Halloween trend.
For example, pink pumpkins, pink skulls and Halloween fan costumes add a layer of cuteness to the horror atmosphere of Halloween…
In general, the hot-selling products in the Halloween market are still mainly concentrated in categories such as clothing, decorations, and pet clothing. Similar to recent years, there is a high probability that Halloween lovers will still purchase Halloween supplies in advance this year. Nearly half and 47% of people will start shopping in September or earlier, so ecommerce sellers need to prepare in advance for the Holloween best seller products in 2022.
If you dropshipping from China, ShipAnt all in one automate fulfillment service can be your best partner to help you fulfill orders stable, fast and cost effectively.