CPSC (United States Consumer Product Safety Commission) is a consumer rights protection agency in the United States, dedicated to protecting the interests of consumers. Perform inspections on potentially hazardous products. In response to the frequent occurrence of children's product safety issues, CPSC successively promulgated and implemented the CPSIA Children's Product Mandatory Regulations in 2009, formulated additional requirements for the content of chemical substances and safe use of children's products, and proposed that children's products should undergo a series of safety tests. , to ensure the safety of children. Thus when you dropship toys from China to EU USA make sure the toys are safe for dropshipping. In order to help cross-border sellers smoothly enter new markets and meet the compliance requirements of the EU US market, AliExpress has compiled this CPC certification content specification in 2022. If you are dropshipping in the category of pregnant, infants and children must check whether the products have been submitted for compliance certification before shipping from China.
What is the CPC certification?
The full name of CPC is Children's Product Certificate, which is a children's product certificate. It is mainly applicable to products designed for children 12 years old and below, or products that use children 12 years old and below as the main user, such as children's toys, children's clothing, children's school supplies, etc.
This certificate originates from the requirements of the CPSIA Act promulgated by CPSC, which states that manufacturers of children's products (referring to domestic manufacturers in the United States) and importers (the United States) must provide a legal compliance based on the test results of third-party laboratories accredited by CPSC. Declaration of Sexuality Document (CPC Certificate), certifying that its product complies with children's product safety regulations.
Which products need to provide CPC certification?
On AliExpress, cross-border merchants selling to the United States need to submit CPC-certified leaf category products, mainly mother and baby & toy products, such as baby strollers, baby teethers, sleeping baskets, etc. Without CPC certification, the products will be shield on US market or it might being checked on the us customs when shipping from China to USA.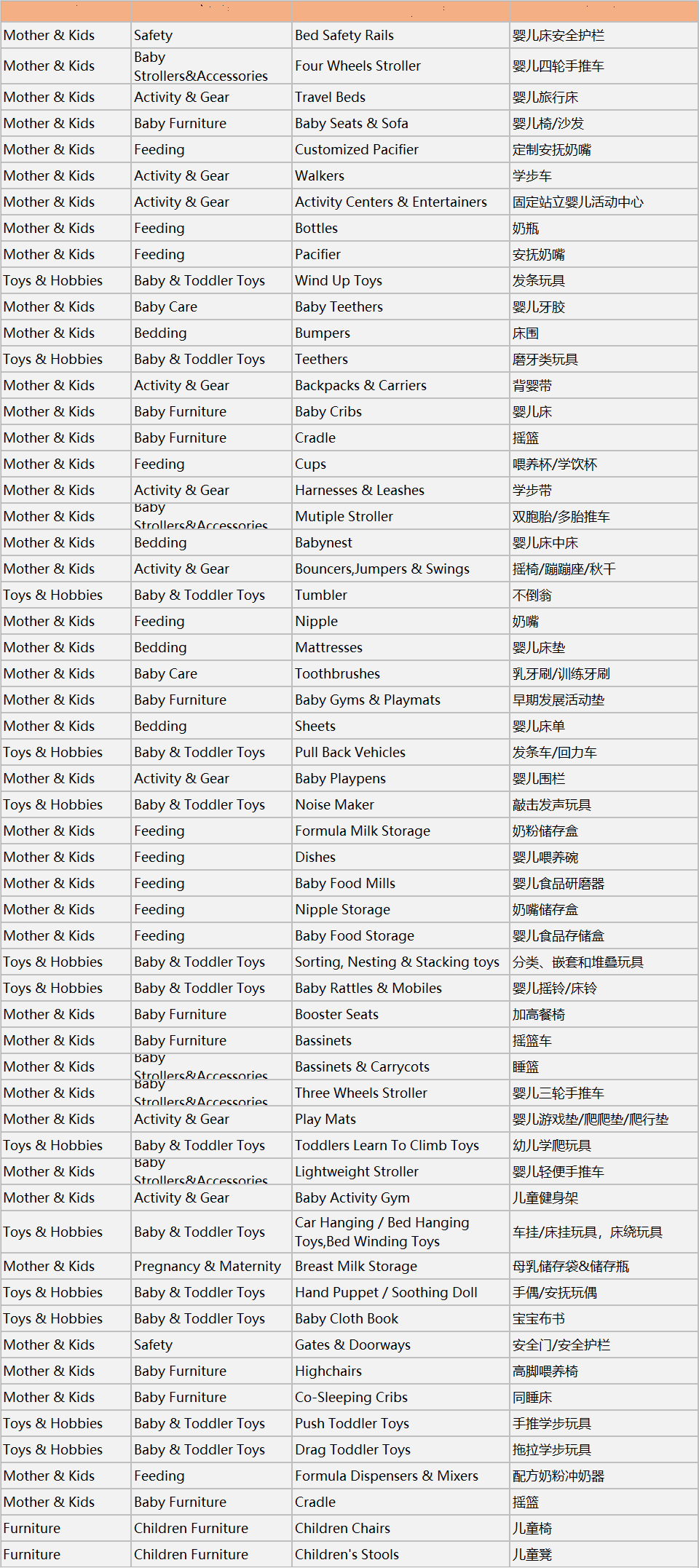 The above photo listed the main category, sub category and product keywords as well as keywords in Chinese which need CPC certificate for dropshipping. If you are dropship those mother&kids toys from China to USA, you may need pay attention on the CPC certificate from the supplier.
What should be included in the CPC certificate?
According to the official requirements of CPSC, the CPC certificate needs to contain the following information:
■ Product Information: The product covered by the certificate should be described in as much detail as possible to make product identification unique
■ Refer to the CPSC safety regulations applicable to and passed the test of the product: a third-party laboratory accredited by CPSC is required to conduct product testing on the relevant test items according to the regulations
■ Provide the name, address, and contact information of the US importer/US manufacturer ■ Report holder information
■ Contact information for the person holding the test report
■ Product production date and address
■ Date and address where the product was tested
■ Information on the CPSC-accredited third-party laboratory that performed the test
Key information:
①CPC certificate is a declaration of conformity for sellers with legal effect in the dimension of commodities, and it needs to be written in the dimension of local manufacturers or importers in the United States;
②Before writing the CPC certificate, the product must be sent to a tripartite laboratory recognized by the CPSC organization for testing. Only after the test is passed, the CPC certificate can be written;
③ Each product may hit different CPSIA regulations, so before submitting for inspection, it is necessary to confirm with the laboratory whether the scope of the covered regulations meets the requirements.
How to source mother&kids dropshipping suppliers with CPC certificate?
If you are dropship kids toys from China to USA with CPC certificate, there are usually 2 ways, the most easy way is Aliexpress and Alibaba, the platform is in English and customer service also speak English. Another way is 1688, the biggest B2B platform for dropshipping and wholesale in China. Since it is in Chinese language, we will introduce the way how to source mother&kids toys supplier with CPC certificate in details.
Step 1. Search toy keywords with Chinese. You can check the product category in the first photo, then use google translate to translate English keywords into Chinese, then search on 1688, let's take children blocks(积木) for example;
Step 2. You can filter the search results by material, sales, price etc.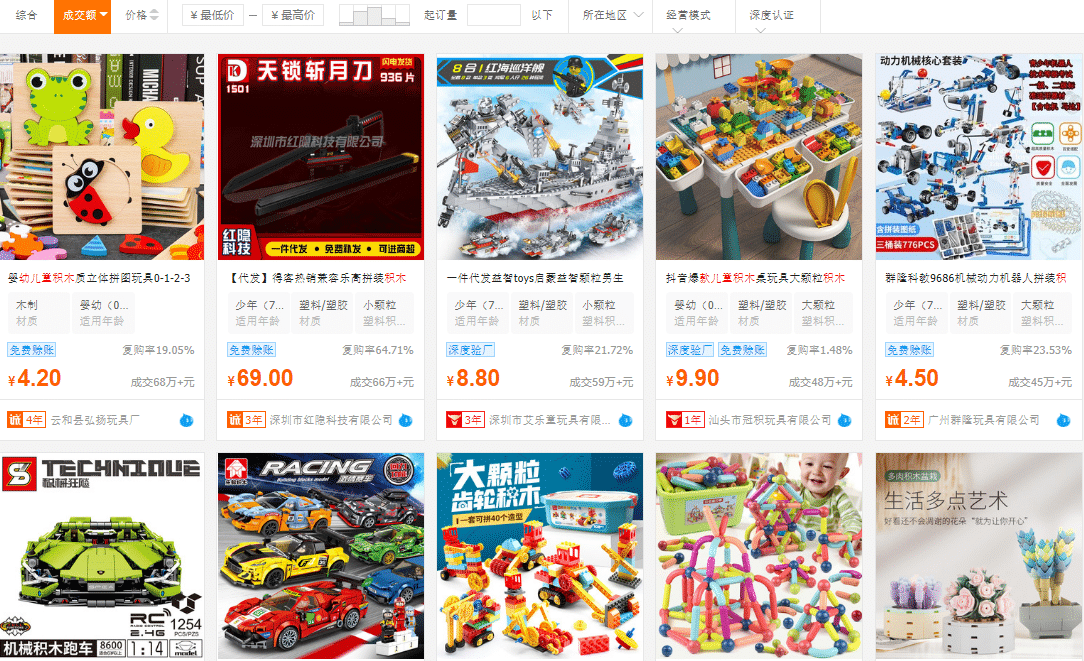 Step 3. Click one product to check the description details, usually if their products for exportation to USA EU countries, they have the CPC certificate listed in the description page or home page. Some supplier focusing on foreign trade usually have a category list with CPC, CE, EN71 certificate.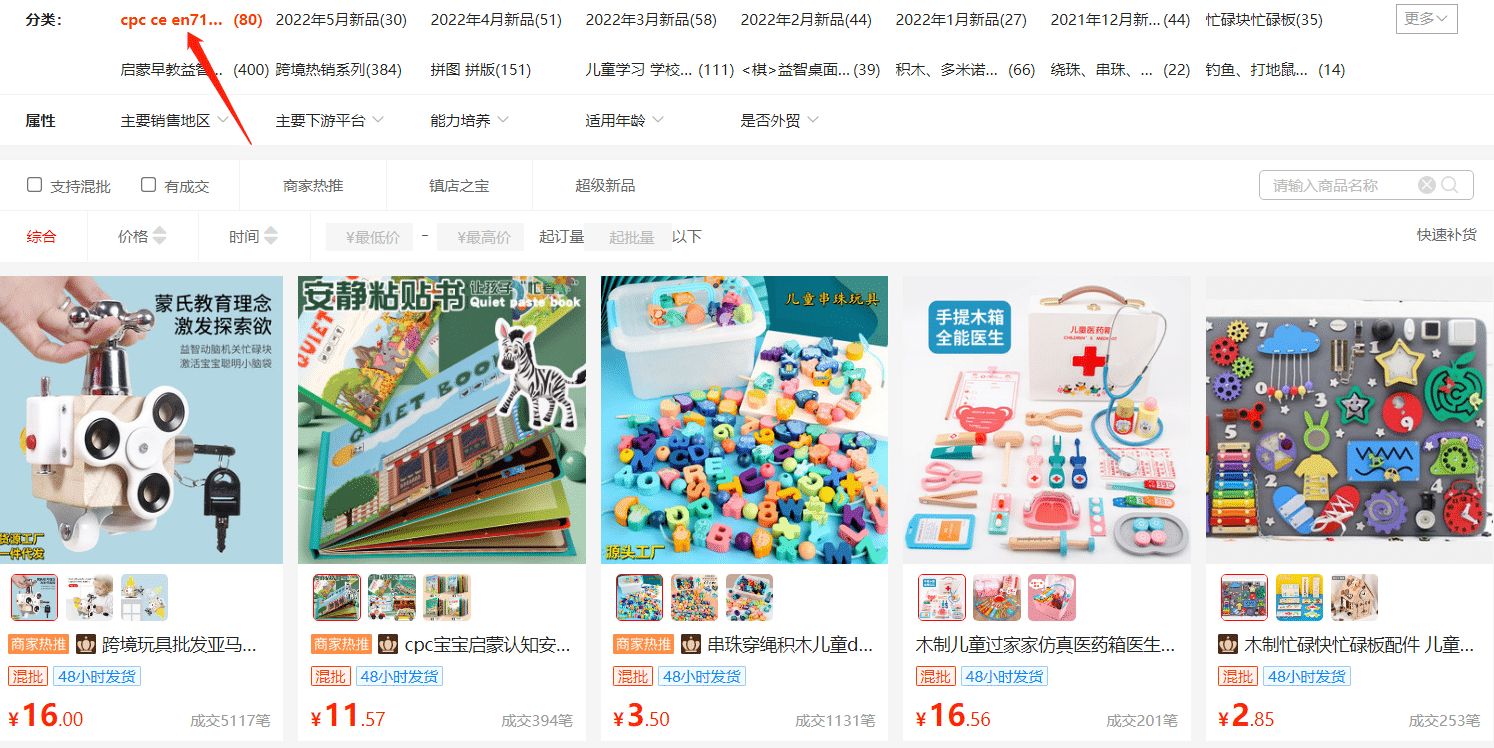 Step 4.  Check toy description details. In the description page you can see the product price, weight, volume size, CPC certificate mark and product detail photo packaging etc.
Step 5. You can talk to customer service with google translate about the product details like stock inventory, price, delivery time, bulky price etc. to help you make dropshipping decision.
If you have difficult in Chinese to source mother*kids toys on 1688, you are welcome to inquire ShipAnt sourcing service with your requirements in details, we provide all in one dropshipping service to help you dropship from China to USA EU.