As Amazon sellers, you may interested in the new trending needs for consumers in 2022, and which products will they prefer? Who will lock the best seller products of Amazon's consumer goods category? April is here, let's take a look at the Prime Day product selection strategy in 2022.
Popular goods categories in different markets
According to statistics from statista, global online retail sales will continue to maintain strong growth in the next few years, with a compound annual growth rate of more than 6.5%, and will reach a scale of 4.2 trillion US dollars by 2025. The number of online consumers will also increase. will exceed 4.9 billion.
In terms of categories, fashion categories will remain the most frequently purchased online categories by consumers in the next two to three years, followed by toys, food and personal care. Specifically for the Amazon USA, according to emarketer data, the categories that rank first in product sales are personal computers and consumer electronics. In second place was clothing accessories, which grew by 18.9%, ahead of the average growth rate of 13.7%. The third is that home life-related products have become very popular, especially toys and hobby-related DIY products.
Personal health care and beauty cosmetics also have great consumption potential. The online market has a volume of nearly 100 billion US dollars. However, compared with other categories, the overall consumption market size is still relatively low, about 15%. Such products are still mainly offline, and there is great potential for moving from offline to online in the future.
From the online shopping data of consumers over the age of 18 in the European market in the past three months, clothing is still the most purchased category. Followed by food and beverages and books, but it is more difficult for Amazon sellers to enter this category, which in turn is also an opportunity point. If you have a strong supply chain in groceries, they can try.
Personal care, health and beauty, including wigs, toiletries, and facial skin care products, ranked second overall. Then there are household cleaning, home entertainment products, and home decoration products are also very popular in Europe.
The difference from Amazon USA, the proportion of online consumption of consumer electronics products in Amazon EU is not so high, and there is still a lot of potential.
Statistics from Statista show that apparel and footwear are the top-selling category on Amazon Japan, followed by video games and home entertainment-related products, followed by beauty and body care.
Consumer market trend in 2022
Consumers will pursue more personal and family health
First of all, the epidemic will cause consumers to pay more attention to personal health and hope that they can perform some basic massages by themselves. Amazon USA consumers have increased demand for massage products. Hotsale products include massage sticks for the eyes and neck, massage beds for spas, etc. The search volume of Amazon Japanese consumers for personal care products has also soared by more than 700% in the past year.
Secondly, more people choose to exercise at home, and at the same time choose to travel with a certain distance. Sports Health will be a popular category on Prime Day 2022. The demand for sports and fitness has increased, and hot-selling products include treadmills, spinning bikes, dumbbells, yoga, sports underwear, etc. In the post-epidemic era, consumers have the urge to go out, and bicycles, electric bicycles and peripheral accessories, including tents, camping tables and chairs, sleeping bags, etc. will all be in demand.
At the same time, consumers also enjoy a small range of family activities to promote relationships with family and friends, and there will be more family entertainment activities, yard parties, etc. Therefore, there will be a certain increase in the demand for garden party decoration and other garden supplies. Personal interest and desire to do things will also be stimulated. You can paint the walls yourself, change the color, change your mood, or install accessories for the car, etc. Related product merchants can also maintain a continuous heat.
Personalization, intelligence and versatility of products are becoming more and more popular
Due to the exclusivity of customers when shopping, personalized products can affect customer satisfaction with their shopping. Personalization enhances customer loyalty to a brand. Demand for custom blankets and accessories has increased in recent years.
Artificial intelligence has the potential to enhance the online shopping experience, including voice search AI and VR technology, shopping chatbots, and more. According to Statista, the USA smart home market will exceed $45 billion by 2025, including products such as smart home, light control and connectivity, security, energy management, home entertainment, smart devices, and more.
The scale of European smart homes is expected to reach nearly 210 million in 2025. However, Japanese consumers themselves have higher requirements for commodity shopping services, and they will also have preferences in terms of personalization and intelligent multi-functionality of commodities.
The versatility can meet people's needs for the use of goods in more scenarios. Consumers will expect more intelligent and cost-effective traditional categories, such as pet feeders with cameras and infrared play functions. In addition, the use of goods will be more extensive, such as pet furniture and household items will appear more in the courtyard scene.
Consumers are becoming more and more environmentally aware and pay attention to the sustainability of production and consumption
First of all, the environmental protection concept of product manufacturers and brands will be highly valued. For example, whether recyclable materials are used, this will be particularly obvious in some categories, such as children's clothing and mother and baby's requirements for sustainability and green environmental protection are more prominent. Under a consumption background where fast fashion and comfort are the same in the future, women's underwear and home wear may also have new breakthroughs.
Secondly, consumers will give priority to products from manufacturers with environmental protection concepts. Children's clothing, mothers and babies have stricter quality requirements, and at the same time, there is more demand for environmentally friendly materials. From the consumer side, it is now advocated to practice green home and environmentally friendly travel, so electric bicycles or some cycling pants will be more popular.
Amazon has a green label called "Climate Friendly Commitment". Sellers can search by themselves in the upper right corner of the seller's backstage – Help. Most of the products can be applied for or marked with a logo, which also has a certain role in attracting traffic.
Consumers are also influenced by social media in their pursuit of just-in-time consumption
Along with Tiktok popular in worldwide couintries, there are many people watch live broadcasts, and the influence of KOL recommendations on users' daily sales is increasing. Daily sales are fast-selling products, and the unit price per customer is relatively low. The recommendation of media KOLs such as short videos can easily affect the conversion of consumers. The best-selling products include make-up eye shadow and eyeliner, skin care neck cream and so on.
Europe and the United States have always been big consumer markets for pets, and feeding products are also relatively hot. In addition, in the context of national live broadcast, the demand for photogenic supplies has also been surging, including electronic products for live broadcast, wireless equipment, home decoration, etc.
Amazon hidden trends for consumer goods
First of all, for personal care and beauty consumers, simple and environmentally friendly packaging can win consumers' recognition and trust. From the perspective of e-commerce operation, the brand story and consumer reputation of beauty and personal care products play a very important role in influencing the purchase of European and American consumers. Therefore, when operating such products, we must pay attention to brand building and traffic management.
The second is the enhancement of the effect of celebrities and Internet celebrity KOLs bringing goods. Instagram, Facebook, and Snapchat will all have a certain impact on the purchase intention of overseas consumers.
Beauty and beauty care is no longer exclusive to women. In recent years, men's demand for such products has increased significantly, from traditional cleaning care to makeup and nail art. Many foreigners in Europe and the United States like to grow beards, which is considered a way to show the charm of men. Like hair, beards also require daily cleaning and care, followed by a variety of beard-related care products. Razor-like tools are also selling very well on Amazon.
In addition, children's beauty products should pay special attention to natural ingredients, non-toxic and harmless. In fact, for consumer goods, what everyone pays more attention to is the issue of safety, which must be paid attention to.
Recommendations for popular consumer products on Amazon Prime Day 2022
DIY Tools for Beauty and Makeup
Hair removal tool
Examples of popular products: hair removal, hair trimming, men's shavers
Consumer Focus: Safety, Convenience
You can take a look at the best seller hair removal machine on 1688 as a reference: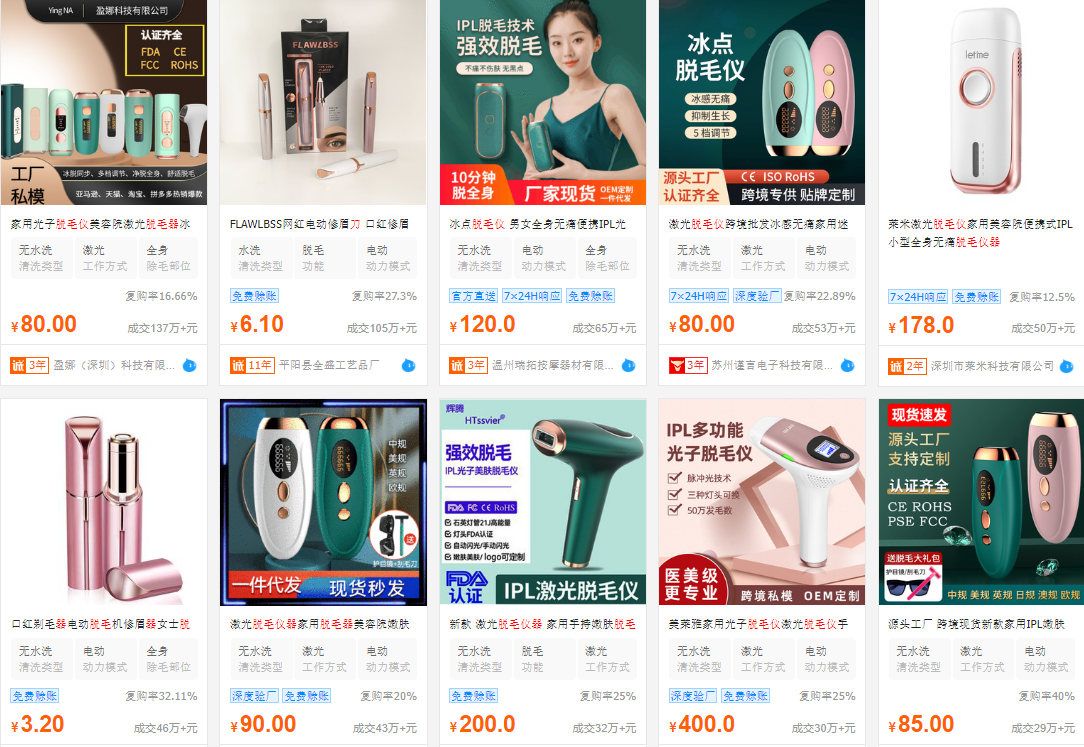 Beauty dispenser/spray bottle
Consumer concerns: capacity, sealing effect, safety (PE/PVC material is not recommended)
Consumption scene: In fact, many people will use it to fill the replacement liquid, such as shower gel. It is convenient to carry small-capacity large cream liquid products, such as skin care products, perfumes, shower gels, etc. Usually sold in sets or bundles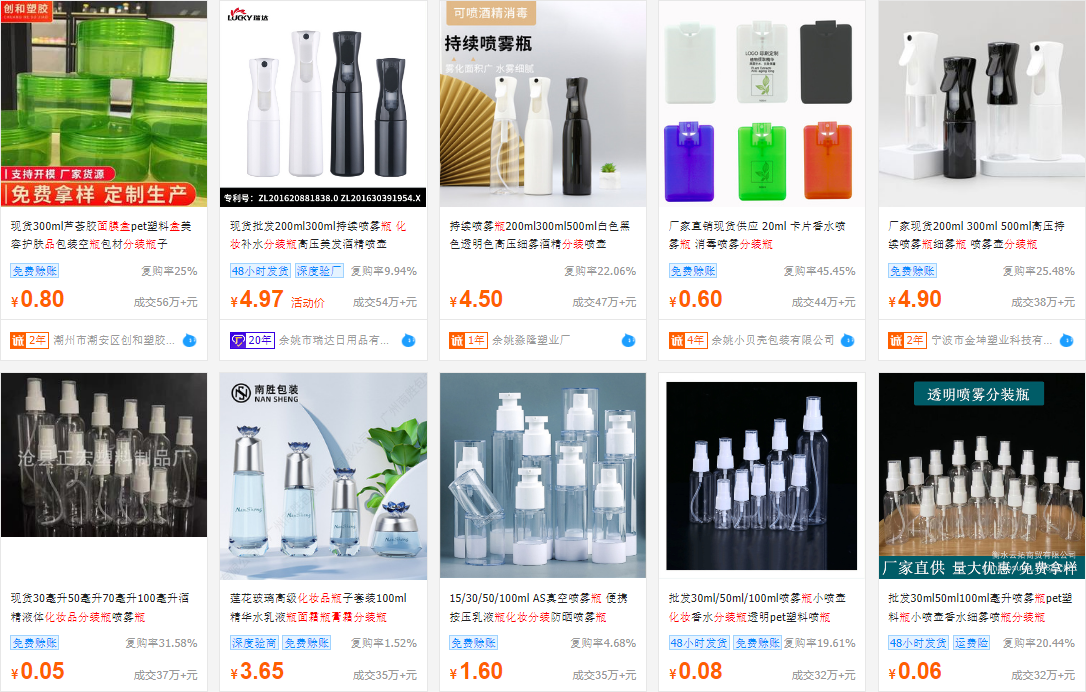 hairdressing tool
popular products: straightening irons, curling irons
Consumer concerns: function, utility, operability
Consumer pain points: simple operation, fast heating, and effective when hair is frizzy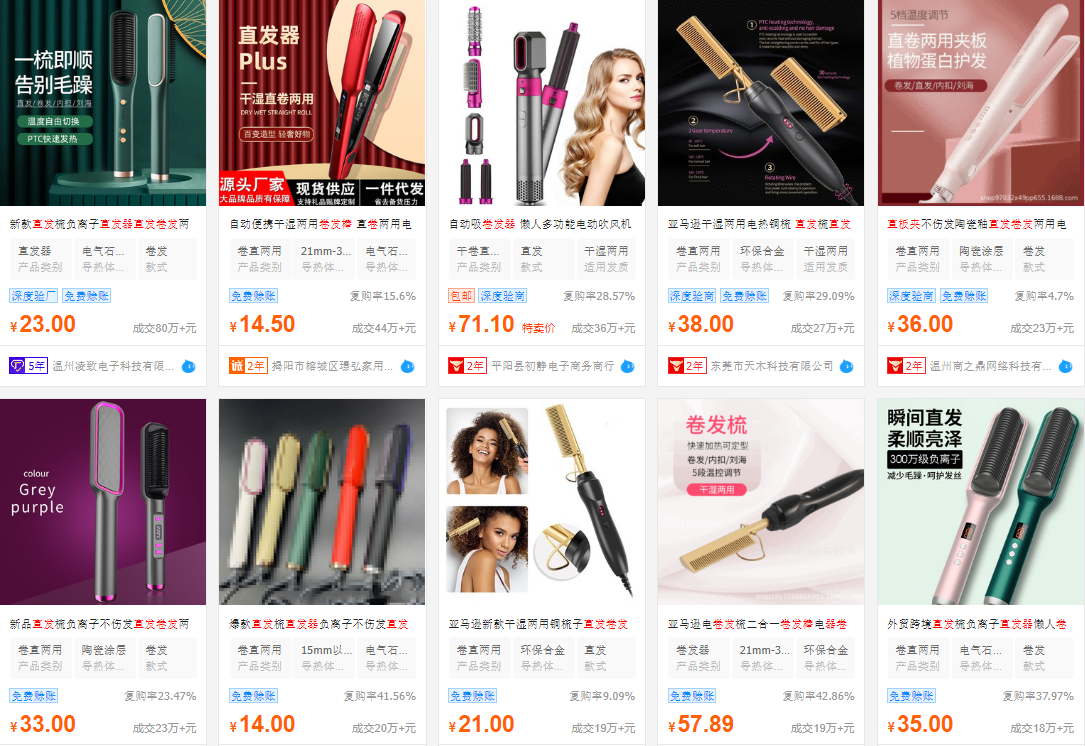 Manicure – Nail polish/glue
Hotsale products: nail polish/gel set, children's nail polish, etc.
Consumer concerns: Color and style are the most important product features for consumers. It is constantly updated and changed according to the needs of time and season. For example, the color in summer is generally more jumpy and light, while in winter it is more dark. In addition, the durability of materials and colors, and the speed of drying, are also one of the main concerns of consumers. Consumers will be willing to choose products with pleasant smell and non-irritating products, especially children's nail products, which require safe and non-toxic materials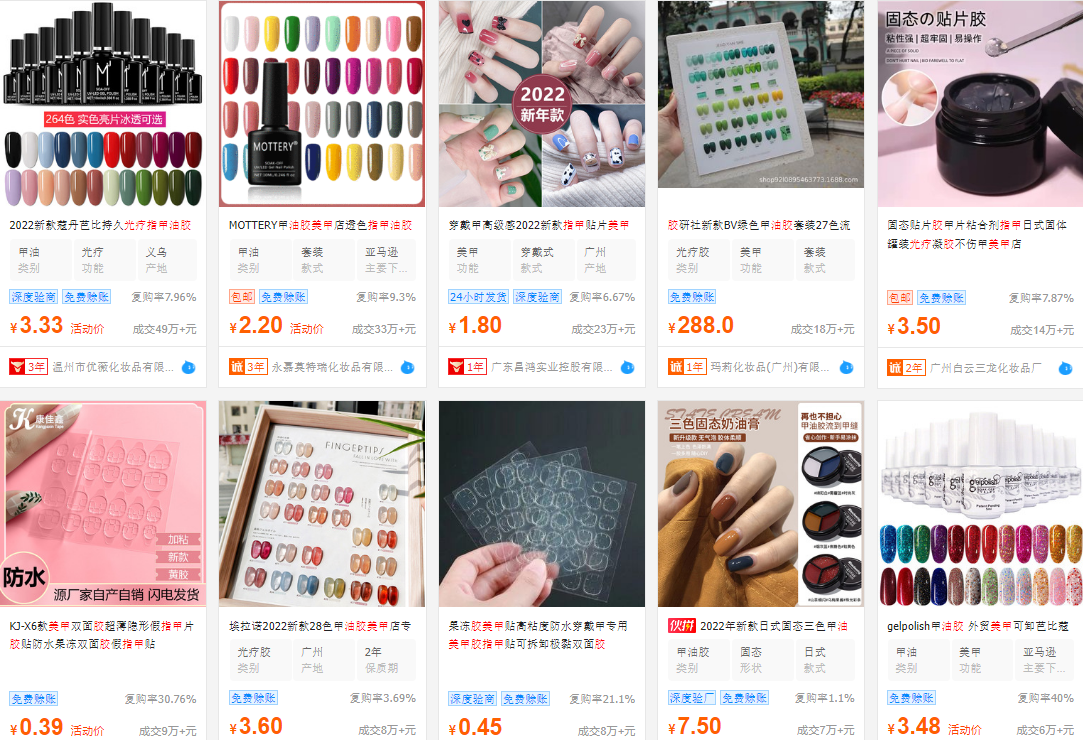 Acrylic Nail Products
Hot-selling products: acrylic powder, crystal acrylic powder, acrylic sixty-six suits, etc.
Consumer concerns: simple and convenient to use, fast drying, firm and durable in shape, and can support a variety of styles and fancy styles. Dropshippers can improve consumer satisfaction and stickiness by publishing videos and updating style menus from time to time.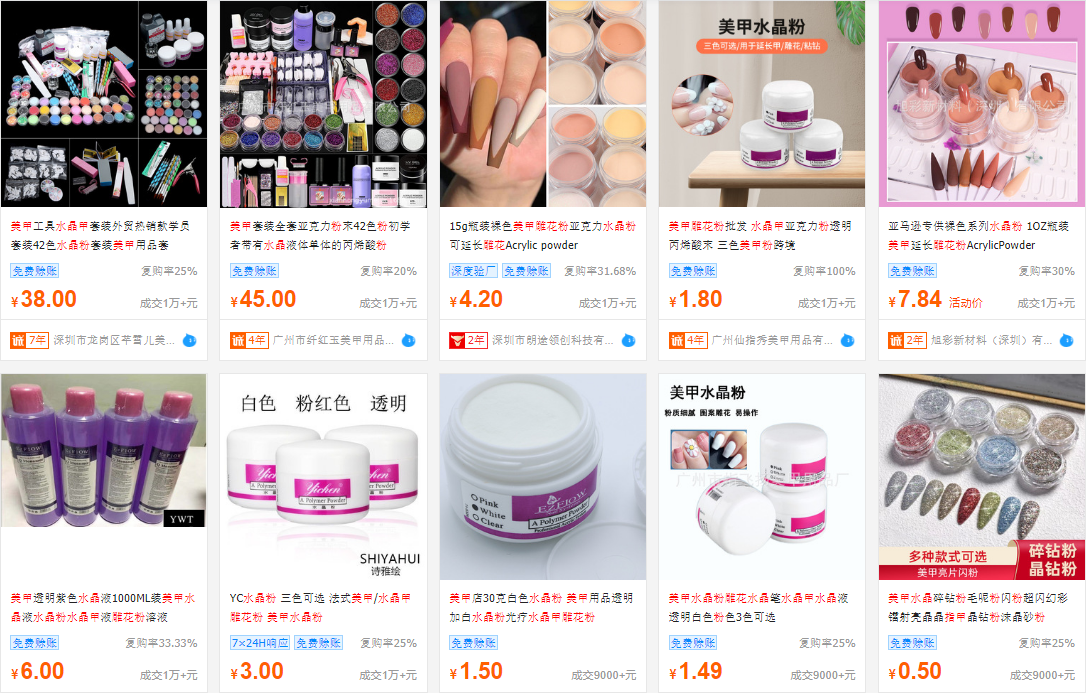 nail clippers
Hot Selling Product: Nail Clipper Set
Consumer concerns: ergonomic design, non-slip, and easy to use; durable and non-rusting material; with box for easy storage; reasonable price
Price range: $3 to $15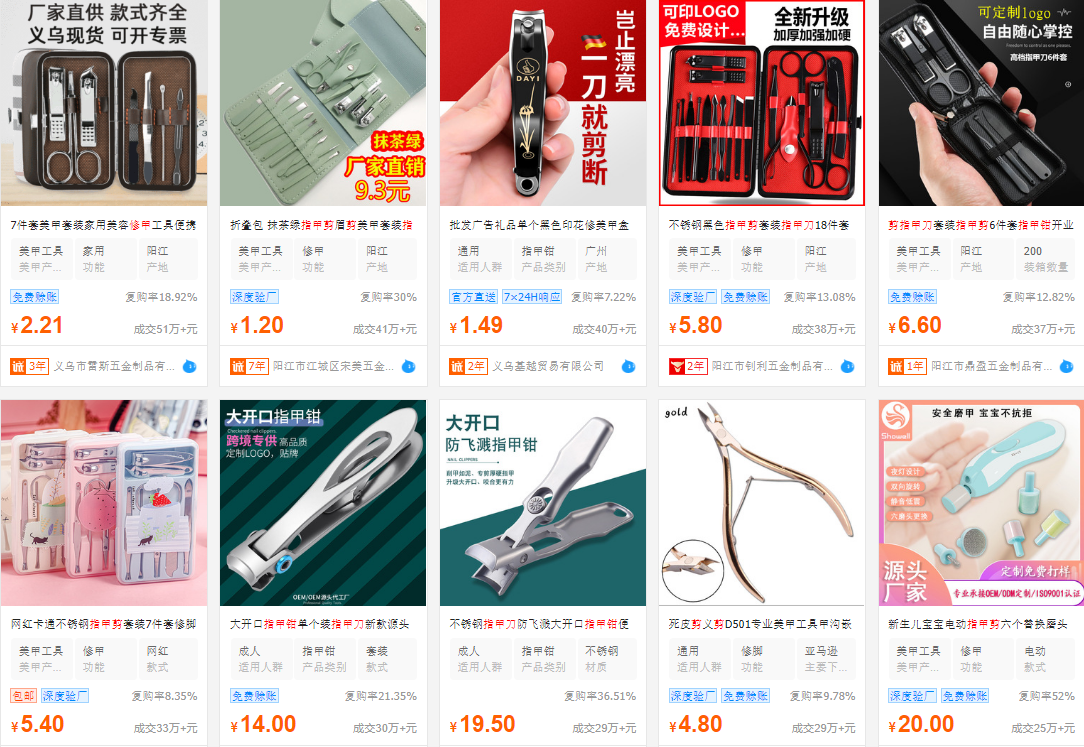 Makeup
eye shadow
Best-selling products: eyeshadow palettes, eyeshadow pencils, etc.
Consumer concerns: Since eye shadow products are generally sold in multiple colors, the color scheme is an aspect that consumers consider when looking at fish. Consumers hope that the color matching is rich and user-friendly, and it is suitable for use in a variety of venues; at the same time, We also hope to keep up with the trend of the current season. Therefore, sellers need to continuously introduce new products in combination with fashion trends. For example, recent fashion trends include sequin effects, designer collaborations, etc. Innovative and beautiful packaging and appearance are easy to attract consumers to make purchases. In addition, brands and KOLs have a strong influence in consumers' decision-making process for color cosmetics products. Finally, the feeling of use and the effect of use are also valued by consumers, and eye shadow products are required to be easy to color, not to take off makeup, and to be easily removed.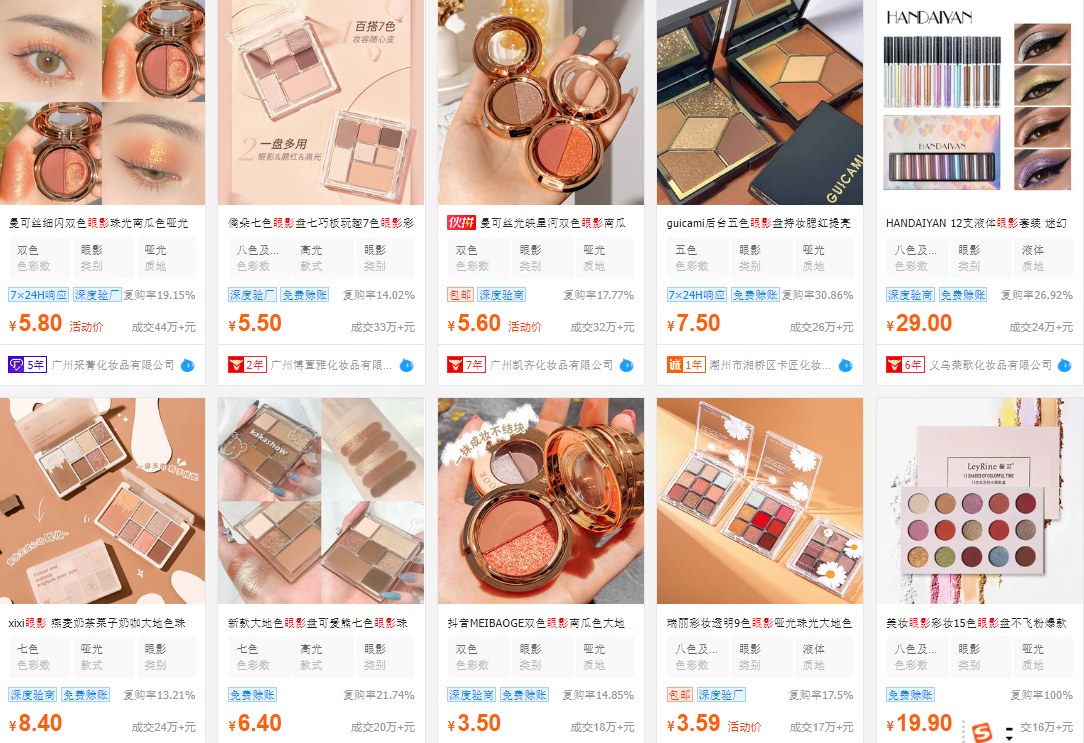 Facial mask
Hot-selling products: washable facial mask, tear-off facial mask, paper facial mask, facial mask set, etc.
Consumer concerns: For facial masks, consumers hope to get obvious results after use; functional requirements focus on moisturizing, whitening, anti-wrinkle, sunburn repair, sensitive redness, etc.; products with natural and organic ingredients are long-term It is loved by consumers, but special and innovative additives are the key to attracting consumers to continue to buy. For example, the recent popular ones include masks with low-concentration fruit acid and masks with 24K gold.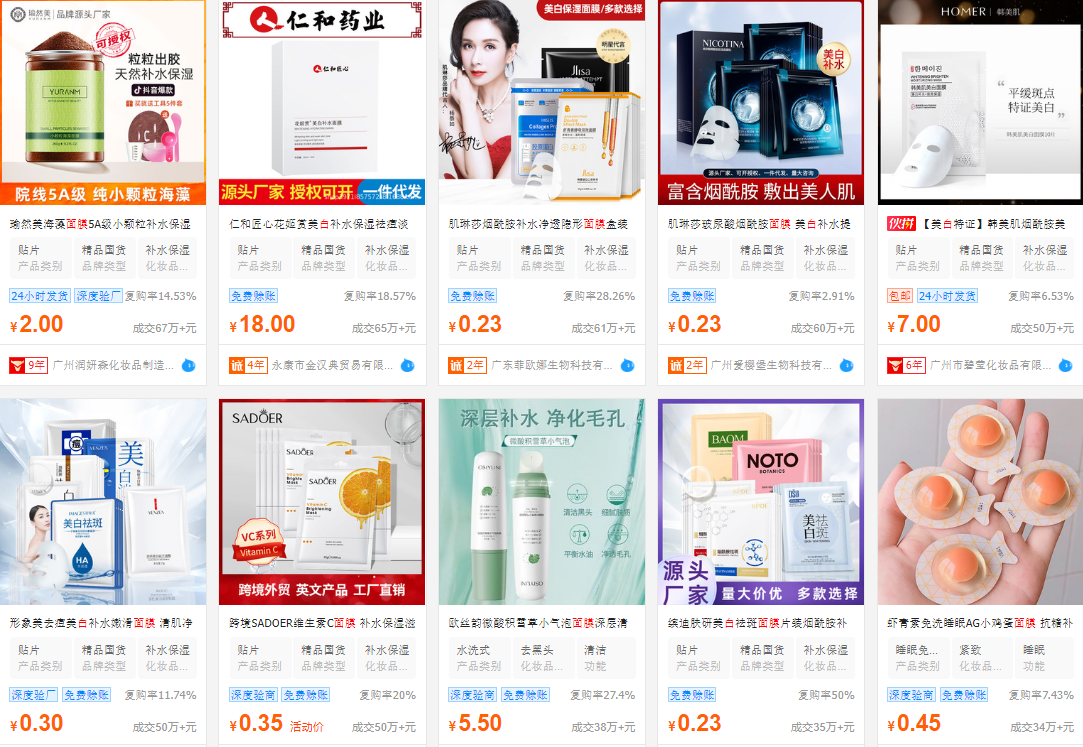 Health care
massager
Consumer concerns: massage intensity, whether there is obvious noise, detachable (massage head), multiple function modes and massage intensity, whether the angle is adjustable, moderate volume and easy to store.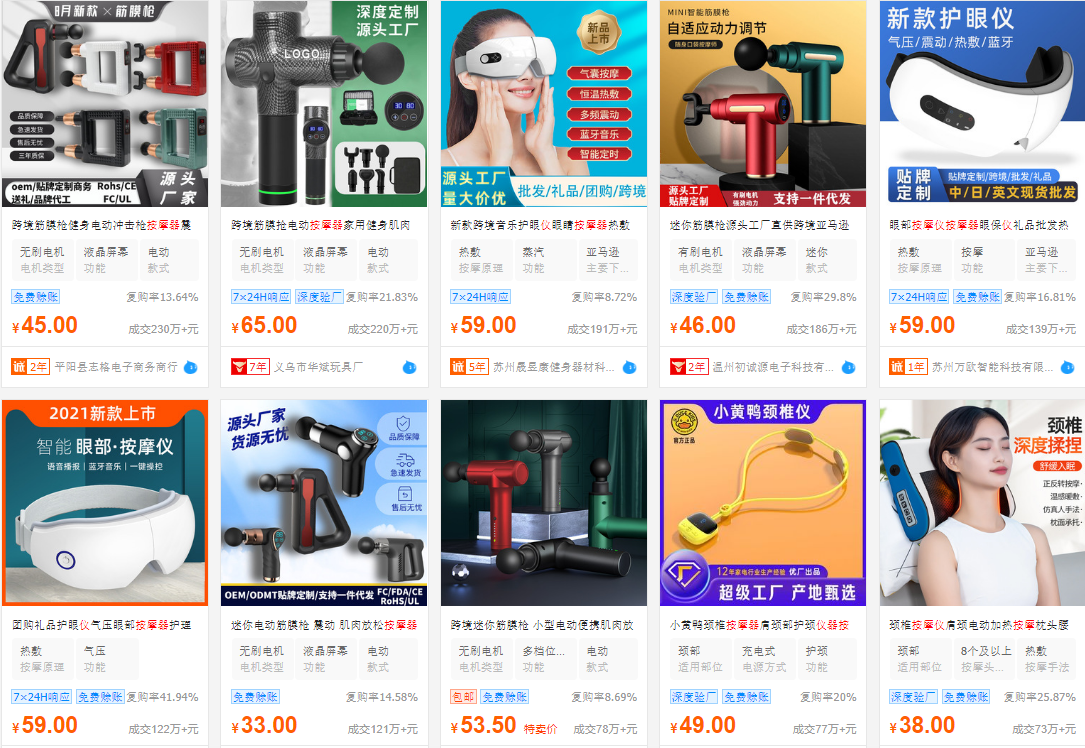 electronic scale
Consumer concerns: intelligent recording of body data, Bluetooth connection fixation, APP adaptation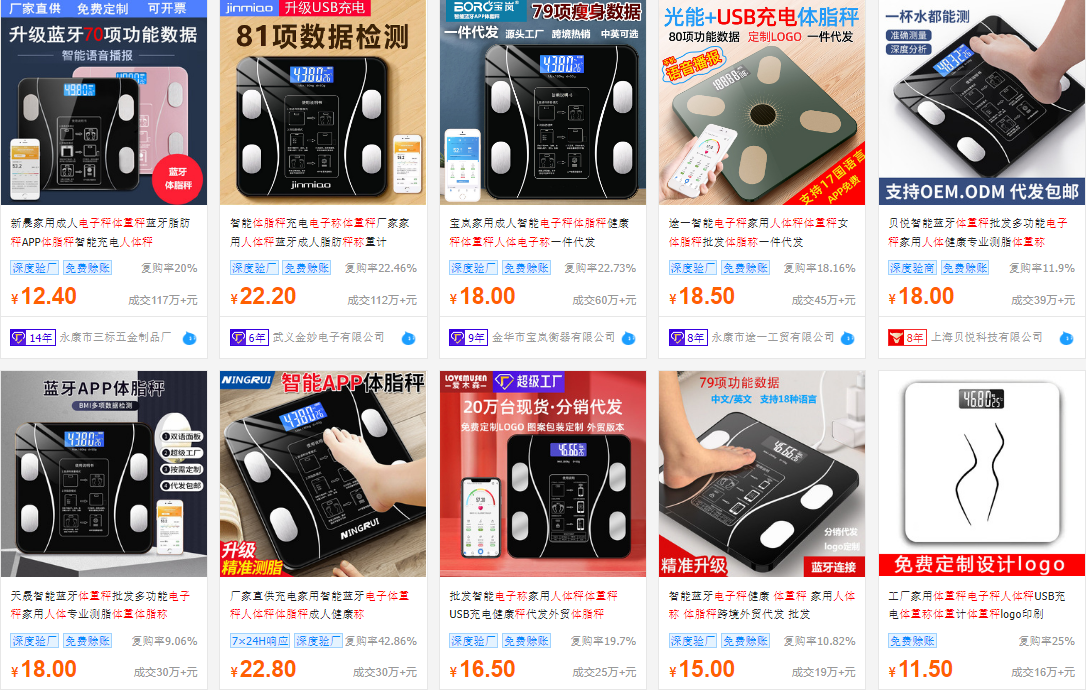 blood glucose meter sphygmomanometer
Consumer concerns: ease of use, accuracy, appearance design
Category opportunity: After-sales service with data management is an industry opportunity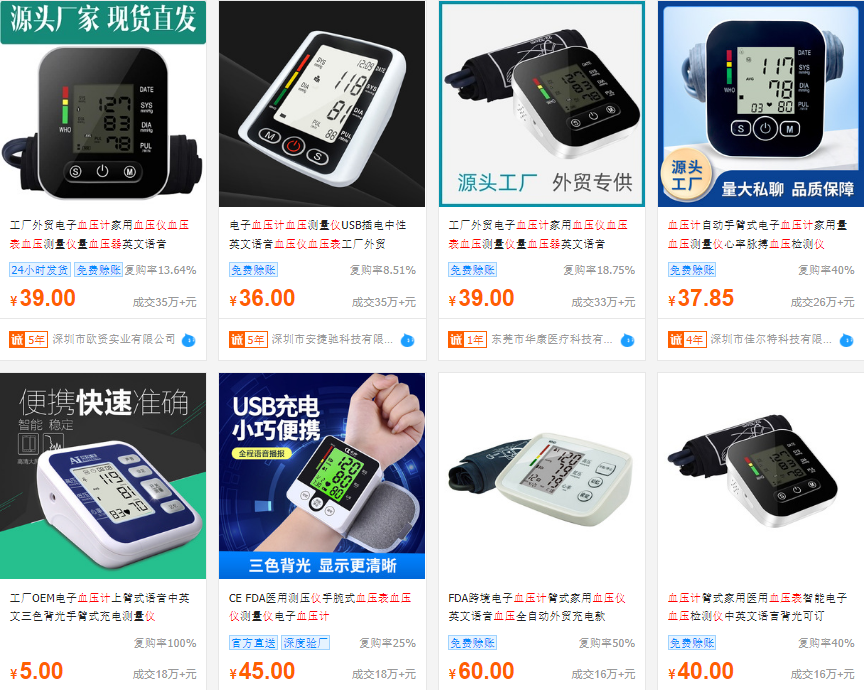 Baby Products
baby camera
Consumer concerns: Portability, mobility, easy disassembly, variable distance, device compatibility, data security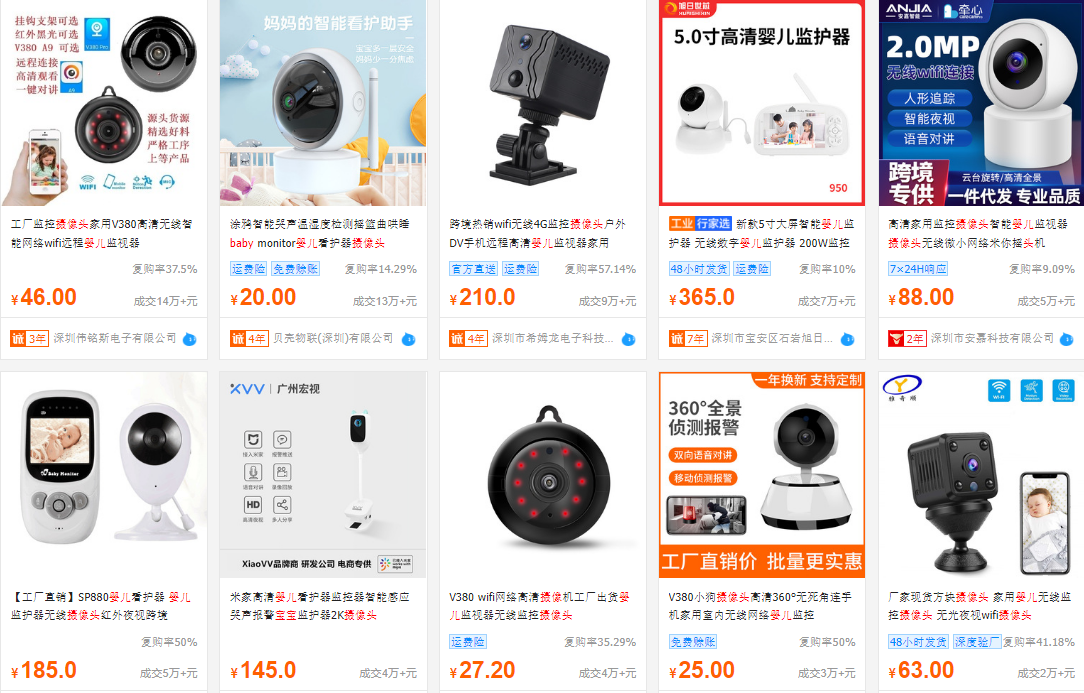 baby bib, apron
Consumer concerns: Whether the product material is harmless, easy to wash, reusable, size and applicable age, multiple products are sold in packages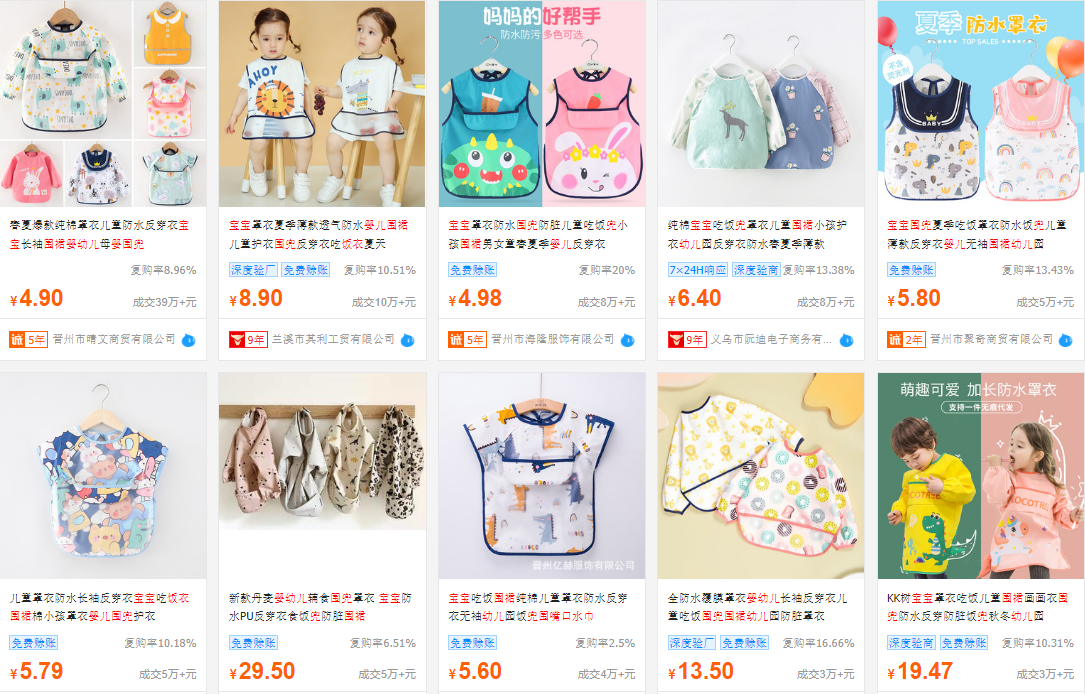 In addition, there are few tips for Amazon Prime Day promotion:
1> Grasp the direction of product selection: mid-year promotions, consumers will still prefer to buy all-season, summer, and autumn products;
2>Generally, traffic is accumulated in advance a few weeks before the event, and compared with the arrival of new products a few days before the event, try to optimize several rounds of detail pages and keywords in advance, and it is more likely to obtain better sales performance during the event. Time for purchasing, logistics, etc.
3>The product quantity is estimated well: the event is usually accompanied by tight inventory and possible emergency replenishment before the event ends. Pay attention to the use of Fulfillment by Amazon (FBA) and local warehouses;
4>Promotional tools such as Deals and Coupons during the big promotion usually have earlier declaration time, higher activity fees, and better expected results. If there is no recommended position, use coupons and exclusive discounts for members.
ShipAnt provide professional Amazon FBA FBM service to help Amazon sellers sourcing and ship from China to Amazon FBA, you are welcome to inquire if you have any questions.