In February 2022, Decor was #1 on Etsy — for the first time! With 215,319 searches, decor is up 2,324% year over year (YoY)! Of course, decoration is a broad keyword. Too broad to be used alone in a label. According to eRank's Keyword Tool, Etsy's decoration competition currently stands at 14,830,370. Instead, we recommend that you find long-tail keywords that fit your niche. Let's take a look at the Top20 Best seller product on Etsy 2020 Feb.
February's Top 20 Etsy Searches
| | | |
| --- | --- | --- |
| # | February 2022 | January 2022 |
| 1. | decor | gifts for her |
| 2. | gifts for him | gifts for him |
| 3. | gifts for her | decor |
| 4. | gifts | valentines gifts for him |
| 5. | minimalist | minimalist |
| 6. | personalized gifts | personalized gifts |
| 7. | handmade jewelry | valentines day |
| 8. | stickers | engagement rings |
| 9. | valentines gifts for him | stickers |
| 10. | digital planner | gift |
| 11. | painting | wall art |
| 12. | wall art | valentines gifts for her |
| 13. | gift | jewelry |
| 14. | earrings | mid century modern |
| 15. | mid century modern | digital planner |
| 16. | home decor | valentines gifts for him |
| 17. | valentines day | embroidery |
| 18. | bridesmaid gifts | valentines day decor |
| 19. | wedding decor | earrings |
| 20. | crystals | wall decor |
Since February, Valentine's Day gifts will be slowly withdrawn from sales. Many non-U.S. stores are unable to meet the Valentine's Day due to shipping time constraints. Easter 2022 will take place on Sunday, April 17th. Easter is a "moving feast" that is always held on Sundays between March 22nd and April 25th.
Erank's data shows there were already 7,399 searches for Easter decorations in January. In February, it soared to 11,135 searches on Etsy's top 1,000, along with Easter #31, Easter svg #322, Easter wreath #374, and Easter basket #435.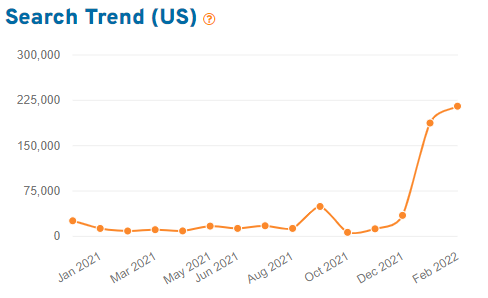 Home decor
This is the manual search result for organic ranking as shown below. There are 31 Popular Now on the homepage.
Of the 60 products in organic searches, more than halfway through. But Etsy's Pick only has one, and Bestseller has only two.
It is said that this market is not yet in the hot competition, there are still lots of chance to find the best seller products which are mainly focus on the three categories of home decor, wedding decor, wall decor.

There are the top19 search keywords where the word decoration appeared in the top 1,000 on Etsy. In rank order:
decor, home decor, wedding decor, wall decor, boho decor, mushroom decor, bedroom decor, easter decor, office decor, farmhouse decor, decor wall art original canvas, boho wall decor, nursery decor, car decor, cottagecore decor, minimalist decor , kitchen decor, witch decor, and witchy decor.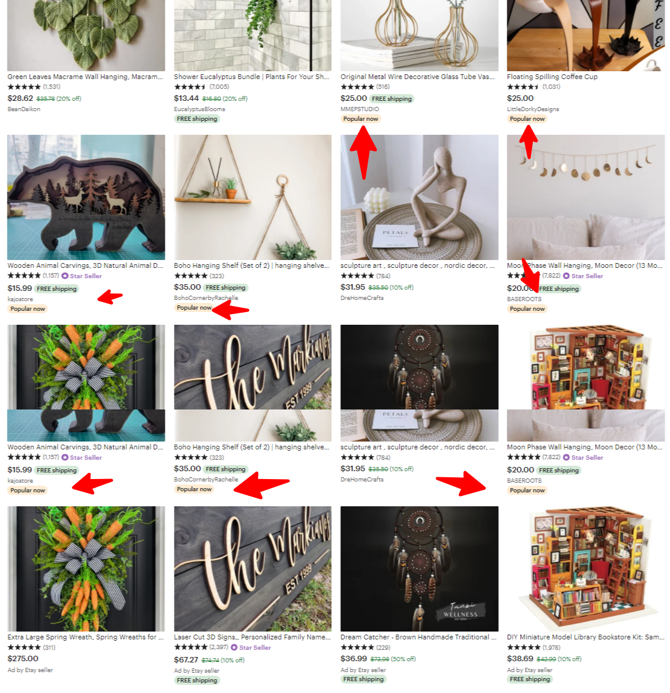 Once you know the trending home decor on Etsy, following is how to dropship home decor via Etsy? You can take a look at How to fulfill Etsy orders from China to USA EU to check the procedures to dropship from China 1688 via Etsy. Why dropship from 1688? Let's take a look floating coffee cup for example, it is $25 on Etsy from the above photo, the dropshipping price is 23 yuan on 1688.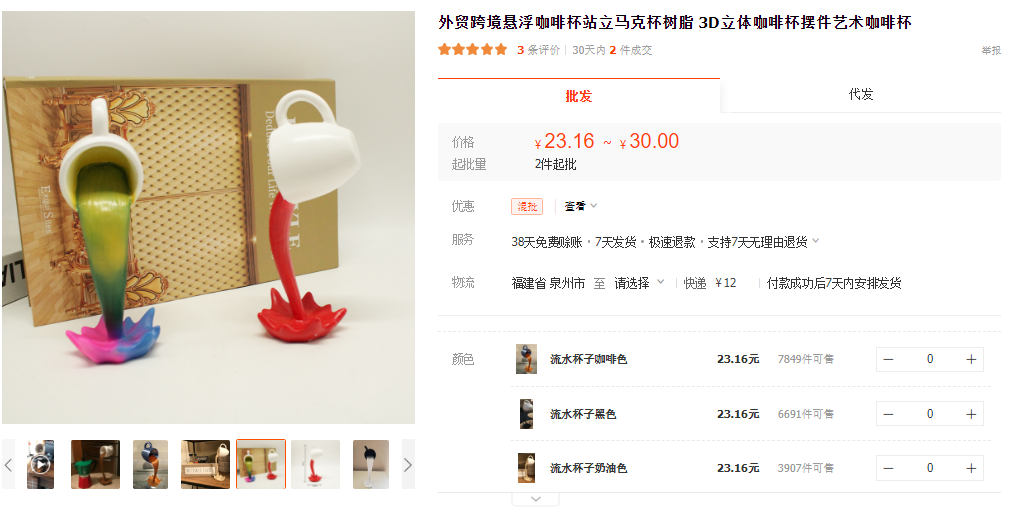 There are at least 50% profit margin to sell the coffee cup on Etsy. Another product is the moon string light, it is $24.99 on Etsy, let's take a look the price on 1688.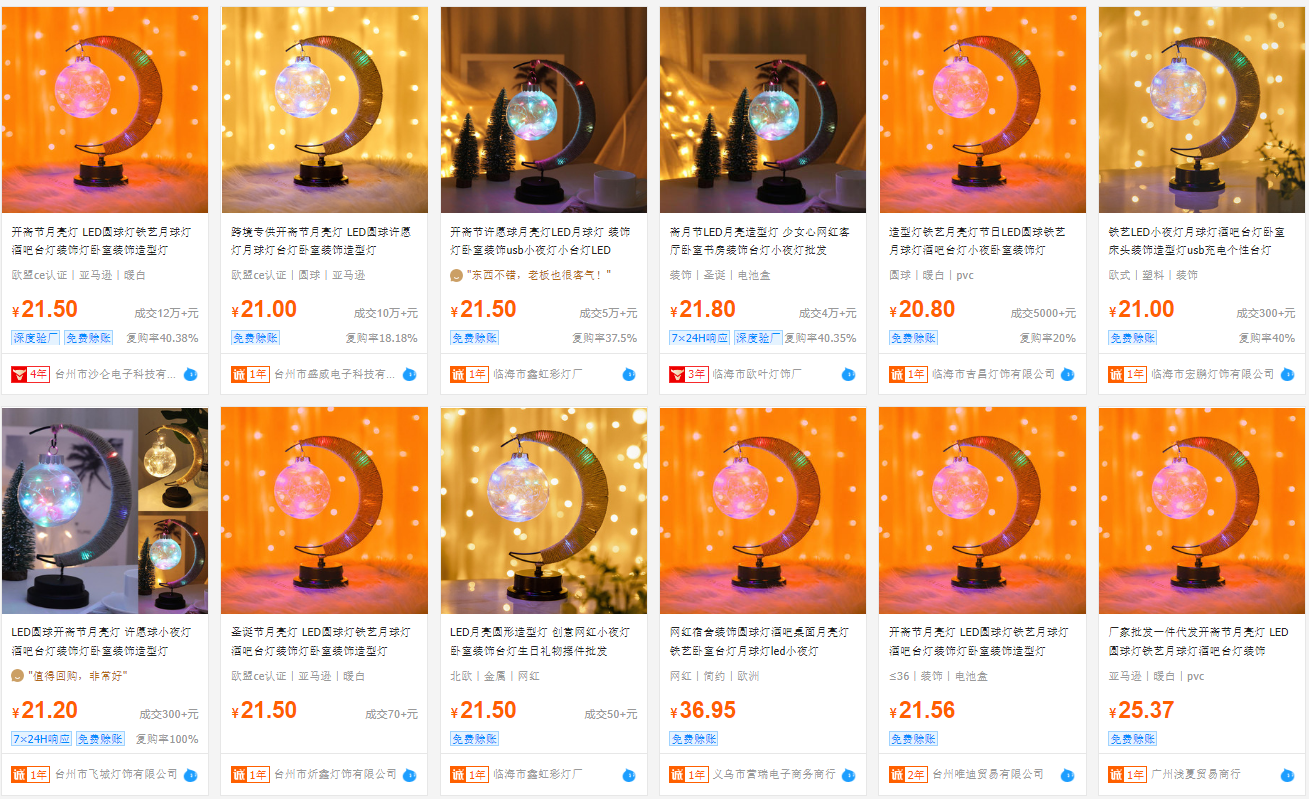 I believe dropship the moon string light from 1688 and sell on etsy also has around 50% profit margin. If you are interested, you can also do more product research, you will find more quality dropshipping suppliers on 1688.
What are the other trending products on Etsy in addition to home decor?
emerald green
What is the trending color of etsy in 2022? It is emerald green. You can search emerald green on Etsy you will seeemerald green platter ranking the 69th on Etsy. If you are already selling on Etsy, maybe you can also add some products with emerald green color.
Vikings and pirates
Viking horses, Viking dreadlocks, pirate boots, adult helmets and axes, knives and swords, accessories, clothes, badges, patches, pins. Dice, flask.
According to ERANK's forecast, this category of custom cosplay may be a big market.
But I personally think that this product is very good because I am afraid of infringement and IP problems.
In fact, many products related to such big IPs are selling very well. It's just that the Etsy account doesn't last long.
Crystals
The crystal products flow plummeted, Moldova and Carnelian? Carnelian is down 74% and Moldavite is down 91%! (Moldavius actually made the top 20 in its heyday.) Current gemstones? The top search was for opal rings at #108, followed by amethyst at #109. You can doing these kind of business only you interested and knowing the tricks well.
figurines
I am more optimistic about the small gadget selling on Etsy, these are all the best seller products.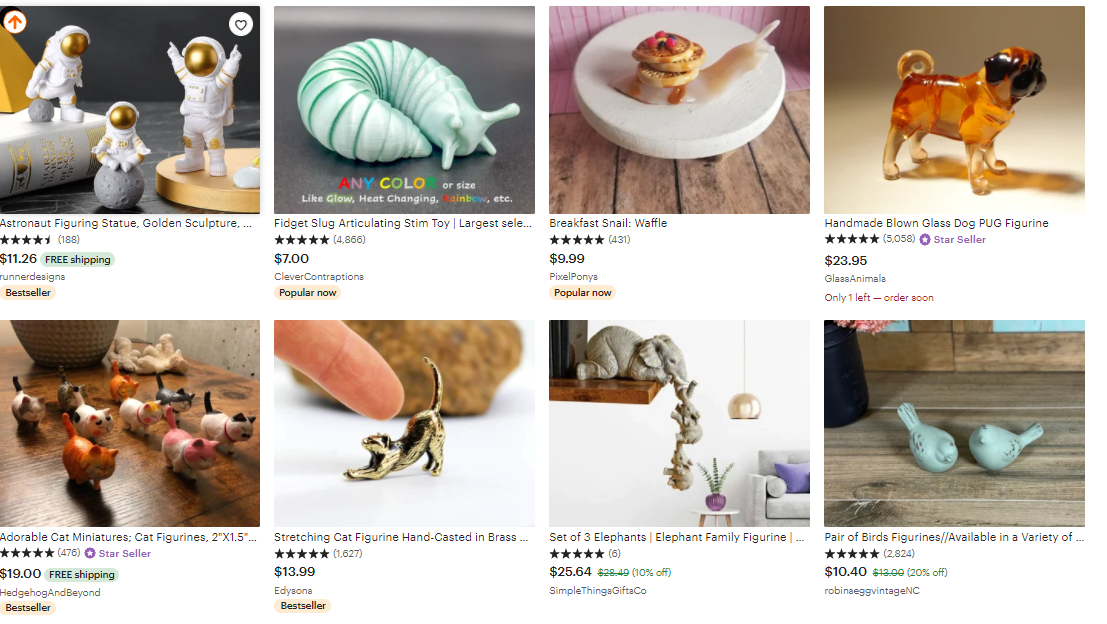 Let's take a look at the astronaut figuring statue on 1688, you will see how much profit you can make.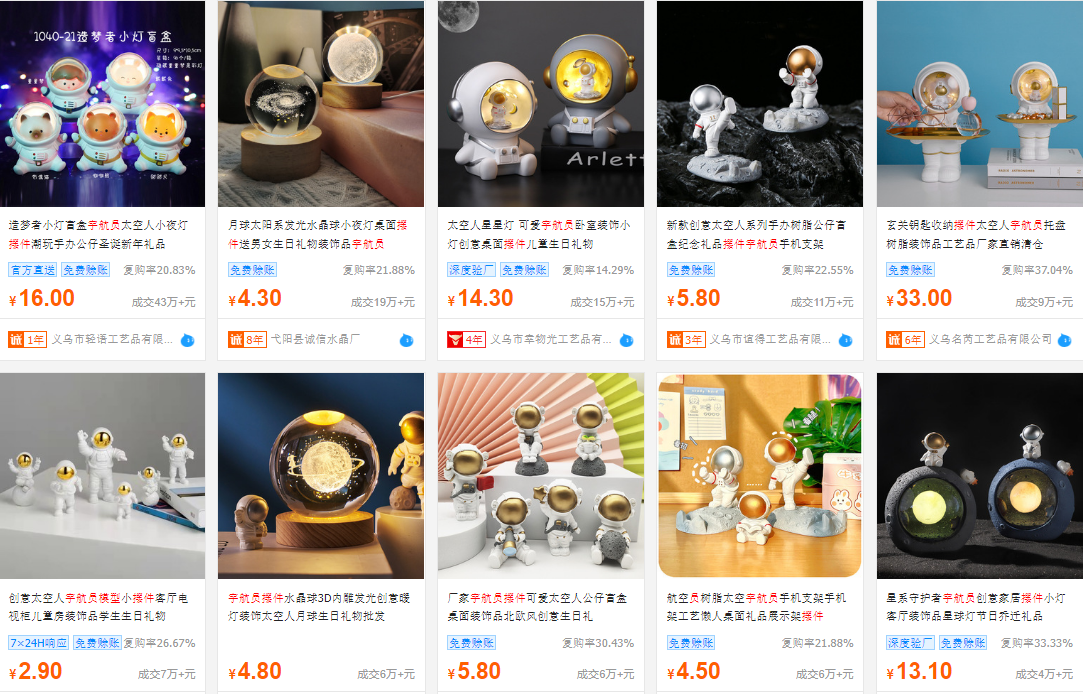 The price ranking from 0.8 usd to 5 usd on 1688, I believe you can sell at least $14.99 to $29.99 while make its price more competitive.
Currently the biggest issue for Etsy sellers to dropship from 1688 are the language, payment and shipping versus dropship from Aliexpress. 1688 is in Chinese and mostly supplier customer service speak Chinese, although you might take advantage of google translate and other transaltion tools, you still have the language issue to source and communicate on 1688.
The 2nd issue is the payment issue. 1688 does support mainland payment way instead of international payment, thus you cannot pay on 1688 even you activate Alipay via Visa or Mastercard.
The 3rd issue is the shipping. 1688 currently only support shipping in China mainland, it cannot ship from China to USA and EU countries.
The coming question is how to dropship from 1688 via Etsy?
ShipAnt offers all in one dropshipping order fulfillment service from 1688 to Etsy. Our ERP system could integrate Etsy to update orders and then source on 1688, purchase, repacking and ship to clients directly, you can take a look ShipAnt dropshipping service in details.
If you are new to Etsy dropshipping, there are a few tips for you as a reference.
Select light weight volume goods to sell on Etsy. Why? The international shipping cost is extremely expensive which cut mostly of your profits;
Select low competition higher value goods. The higher price means the higher profit margin, it allows you offer better user experience by customize packaging, provide faster shipping delivery while keep enough profits;
Select stable and cost effective delivery service. As we said the shipping cost is high but clients cannot wait for months for their packages. Thus faster delivery service is required for Etsy dropshipping. 7 to 15 days delivery service is the most cost effective shipping delivery service which could help you balance the shipping cost and delivery time.
You are welcome to inquire ShipAnt if you want to dropship best seller products from 1688 to Etsy.