Are you looking for a dropshipping agent for your business and have you found the right one yet?We can see the same topics on Facebook and Reddit frequently which similar to how to find the best dropshipping agent with no moq orders, and below the topic there are usually many comments recommended, at the end someone might find out the right agent but mostly didnt. If you are looking for a Chinese dropshipping agent to help you fulfill orders from China to worldwide countries, you can spent a few minutes to take a look.
When you start to looking for a dropshipping agent have you thought about the following questions:
What kind of dropshipping service you need? Why you need an order fulfillment agent to help you dropshipping? How the dropshipping agent partner with you to grow your business? Do you have enough profit margin after paid the dropshipping service fee? What's your standard to judge the best dropshipping agent?
The more questions for your business and dropshipping service, the more clear you know about for both the pain point and service requirements for your business, the more likely you know the way to find the best dropshipping agent for your business.
Why you need a dropshipping agent?
We used to launch a survey for ecommerce sellers who inquired our dropshipping service, the answer arent the same, some dropshippers need to source quality dropshipping suppliers, someone need to provide faster delivery time versus Aliexpress, someone need to reduce the dropshipping cost, someone need to brand their store and assist their marketing purpose,  someone need to collect products from multiple dropshipping suppliers, someone need to check the product quality and remove supplier ads info before shipping, while someone want get rid of the cumbersome order fulfillment works on their store. In short, those ecommerce sellers who are looking for dropshipping agent mainly want to provide better user experience and fulfill orders more efficiently at cheaper cost.
When you need a dropshipping agent?
I think it is a very important question mostly new sellers never thought about it, there are too many dropshipping tutorials online for how to private label products, how to outsource the order fulfillment work with dropshipping agent to focus on store marketing, how to optimize ads for higher traffics and conversion rates but seldomly people tell you how to deeply understand the dropshipping model and when is the right time to work with dropshipping agent to provide better user experience and reduce the dropshipping cost.
Mostly people came into dropshipping business because of it is no stock requirements, easy to start with small funds and easy to make big money. Thus they rush into the business without any plan and end the business in 1 to 3 months after funds run out or cannot make profits.
As a starter the most important thing is to test the dropshipping model first and know the key factor in the supplychain that affect your business and improve step by step, dropshipping is easy to start, but it is hard to profit, that's quite common when you saw does dropshipping still profitable in 2022. Only you know the importance how to select the products, how to decorate your store and how to optimize the ads for the target clients, you have the chance to make profits via dropshipping,  it is the right time find a reliable dropshipping agent to work together to get the dropshipping snowball bigger and bigger.
When you need a dropshipping agent? If you just start dropshipping it is no need to find dropshipping agent, no need to think about private labeling and user experience. Just dropship from Aliexpress or other dropshipping platform and focus on product ads test. When you have stable orders and you can earn money from the dropshipping business and have a bigger market plan you can partner with dropshipping agent under the following conditions:
1> At least 100 to 300 orders per month. It is a deadline for dropshipping, without stable orders you cannot earn profits to support your work and life;
2>High value products(above $20). Higher goods value means higher profits margin to support ads and dropshipping service, if you dropship small toys or jewelries under $10 it is useless to apply agent service as the ads and dropshipping service are high.
3>Better user experience. It include many aspects in dropshipping supply chain, for example, quality goods, customize packaging, fast delivery and professional aftersale policy all help you built user loyalty for your business.
4>Time and cost saving. Without enough orders and profits support, it is hard to balance the service cost and efficiency. Does dropshipping agent help you save money versus Aliexpress dropshipping? It doesnt logical as faster shipping charger higher shipping rates while dropshipping service fee not free. Only when you running your business well the dropshipping agent service are the catalyst for your business and help you save time and cost.
Why more and more dropshipping agent have moq order requirements?
It is easy to understand, similar to dropshipping you sell the goods to clients for profits, the dropshipping agent sell their dropshipping service to you to make profits, if you do not have stable sales then the dropshipping agent have no stable income, while they should always keep the worker staff stand by to provide the dropshipping service listed on website, the labor cost is one of the biggest cost for dropshipping agent. If they dont have enough orders during off season, mostly small dropshipping agents might willing to serve your business as it wont affect their daily works. however, during the hotsale season from September to December each year the orders flooding into the warehouse, then mostly dropshipping agents will focus on human resource on clients who could provide stable orders,   that means your orders will be delayed.
You may wonder why dropshipping agent do not willing to hire more people for all the dropshipper clients in the hotsale season, that's related to another concern, mostly new dropshippers end their business in 1 to 3 months after they cannot make quick money from the business, the more people dropshipping agent hired the more money they gonna to loose. Thus more and more dropshipping agents have moq order threshold to distinguish their clients and focus on providing better service for their currently dropshippers who have stable orders.
As a Chinese dropshipping agent, ShipAnt was founded in 2017 and register company in 2018, at the beginning we do not have moq order quantities for dropshippers, after 2 years we found we can hardly make profits by providing dropshipping service to new dropshippers even we have hundreds of clients compared to our currently clients who have stable orders. Meanwhile, our clients who have stable orders continue to complaint our respond time for aftersale and order fulfillment. We are also continually to upgrade the warehouse hardware and ERP system to increase work efficiency but the data shown the income hardly cover the cost.
On 2020, ShipAnt set up a 100 order monthly orders threhold for new clients, it isnt we do not want to work with new dropshippers to grow business together, we just want to pick up dropshippers who are willing to persist in dropshipping business instead of give up in 1 to 3 months when they cannot earn quick money, then all of the basical works we prepared like sourcing and custom packaging have been wasted.
How to find the best dropshipping agent?
Different dropshippers have different service requriements, thus different dropshippers have different criteria define the best dropshipping agent. As we listed above the service requirements include comprehensive dropshipping service, order fulfillment automate, private label packaging customization, faster delivery time at cost effective shipping rates, 24-hour order processing, quick respond time, fluent English speaking, cheap service fee, strict quality inspection, real time inventory, user friendly ERP system etc.
Based on the service requirements we summarized the following 6 aspects to define the best dropshipping agent:
1> Order fulfillment efficiency. It includes all the human resources, warehouse ficilities, hardware, software(ERP and website member system) that helps 1 to 2 days order processing;
2>Comprehensive dropshipping service. No matter sourcing, QC, repacking, warehousing, pick pack and shipping, all the necessery steps involved in dropshipping should be available;
3>Cheap service fee and shipping rates. The shipping should be fast and stable while the rates should be cost effective, same as the dropshipping service, dropshipper should have enough profits after paid those cost;
4>Faster delivery. 7 to 15 days delivery from China to EU and USA are basical shipping requirements, 3 to 5 days delivery(local warehouse) prefered by more and more dropshipper;
5>Hussle free communication. 7/24 customer service for the aftersale orders and inquires with professional English speaking;
6>Service guarantee and compensation standard. The more powful dropshipping agent the more service guarantee and aftersale compensation they offered.
With 5 years dropshipping agent experience, ShipAnt offers all in one comprehensive dropshipping service to help Shopify Amazon eBay Etsy sellers dropship from China to worldwide countries.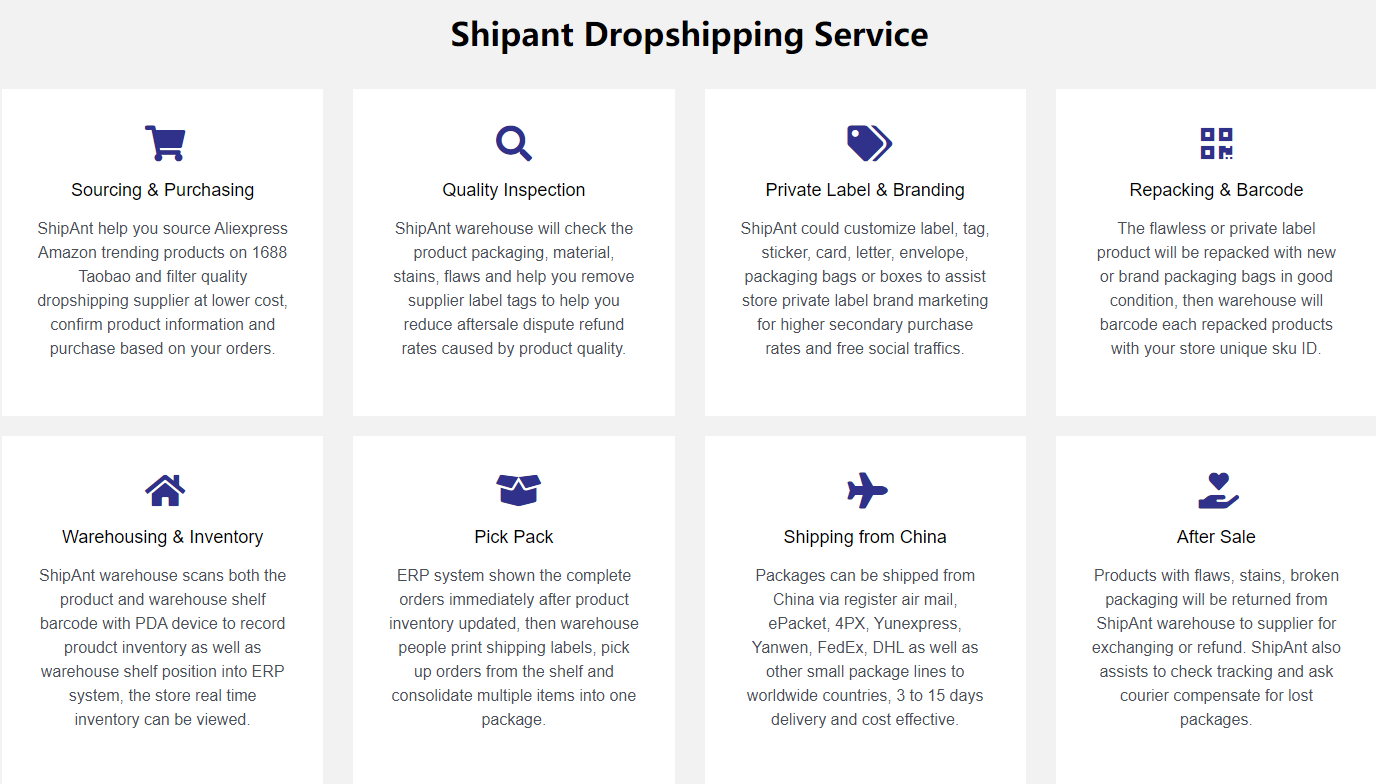 in addition, ShipAnt also offers special services on private label men women clothing, cosmetics, fragile dropshipping from China, you are welcome to inquire.
What's the best dropshipping agent with no moq orders?
Although some new dropshippers cannot get stable orders at the beginning, there are few still need dropshipping service to help them. How to find the best dropshipping agent with no moq orders? You can follow the steps:
1> Google dropshipping agent you will find a complete list. Join some facebook dropshipping groups there you can also enlarge the dropshipping agent list, if you need more you can check reddit or quora;
2>Filter them with 0(zero) moq orders then inquire with your service requirements and service charges;
3>Test agent service on the list.
Similar to we test best seller products on our store, there's no shortcut to find best dropshipping agent unless spent time to communicate service requirements and work together,  there are many VA or personal dropshipping agent who offers dropshipping service with no moq order requirements, but you may also need to concern about their gurantee and aftersale policy.