After the outbreak of the global epidemic, more and more people have given up shopping in offline stores and chose online shopping instead. Thus Black Friday online traffics has brought a lot of potential revenue to shopify sellers. What's the best marketing strategies for Black Friday? How to maximize Shopify store sales during Black Friday? Here we list 12 Black Friday marketing strategies for Shopify sellers as a reference.
1> Build a mailbox list of potential customers
As we all know, email marketing plays a pivotal role in Black Friday sales. In order to make email marketing more effective, it is recommended that sellers add a list of customer email addresses that are interested in Black Friday promotions.
In the daily marketing operation, you can create a pop-up window to collect email information for visitors interested in your store promotion. It should be noted that the pop-up design and exclusive benefit-driven call-to-action (CTA) are used here-give me the best discount.
At the same time, sellers can also provide these customers with additional discounts, free shipping or gifts based on their budget to further increase the number of registrations.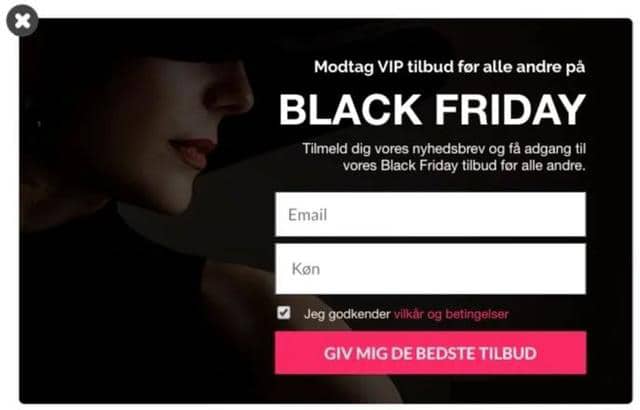 As Black Friday approaches, sellers can send out coupons or early access via email to thank these subscribers and attract them to shop.
2> Set up pop-up windows reasonably
The Shopify store pop-up window can be used not only to collect customer e-mail information, but also for many other purposes. For example, guiding visitors to obtain Black Friday special offers, saving customers who have abandoned purchases, and providing delivery time, etc., can all be set in advance to create a pop-up window.
Consumers have many choices on Black Friday, and sellers have to deliver information to the right people through multiple targeted pop-up windows.
3> Staggered peak operation
Nearly all the large and small Shopify sellers will do marketing on Black Friday, and consumers are easily tired and lacking in interest in all kinds of information bombings. Acting start early will have more opportunities to attract their attention, there are lots of Shopify sellers did not wait until Friday, but started marketing on Thursday and called this day "Black Thursday." This way, they can stay one step ahead of the subscriber's inbox and wallet. Usually, Black Friday emails include a simple sales announcement and a scarcity-driven CTA, but Wool and the Gang made some changes: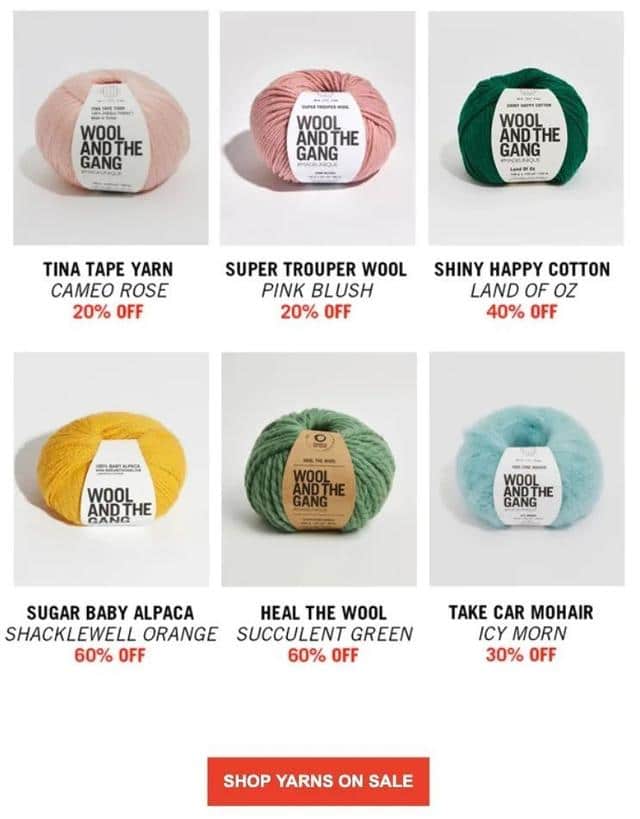 They have added a product recommendation form that is being discounted to let everyone know where to start shopping, which can help consumers who don't know what to buy have a clearer direction of consumption.
There are also other Shopify stores adopt early bird discount strategy like Why wait until Black Friday? Enjoy up to 60% off now.
Most people like surprises. Shopify sellers took advantage of this and held a surprise promotion before Black Friday to make consumers who can't wait for Black Friday to wait one day less.
Black Friday is when consumers are looking for bargains, and more affordable products are more likely to attract them.
Through the profit-driven CTA button "buy gifts of $100 and below", attract customers to visit the store website, and then they can recommend higher-priced products to customers on the store.
Offering early bird discounts is a sales strategy, as opposed to another strategy is postponed marketing. Because consumers associate the term "Black Friday" with unmissable offers, sellers can use them throughout the year to imply unmissable offers.
There are Shopify sellers notice clients discount by claiming that they will bring back Black Friday, it implies that great deals are waiting for their customers. Although the store discount does not exceed 30%, they succeeded in creating the impression that the event's discount is comparable to Black Friday.
If you want to do marketing outside of Black Friday, or want to stand out from the Black Friday competition, please try to build your own Black Friday marketing through early or postponement actions.
4> Make your sales unforgettable
Perhaps the Shopify sellers claim to provide the best price or the fastest delivery option, but this seller is not alone. Every seller is trying to compete for the attention of potential customers, and the competition is particularly fierce during Black Friday.
Consumers are also not easy during this period. They need to browse different stores, compare and create shopping lists, so that they can buy their favorite products before they are sold out.
During Black Friday, Glossier sent this email to subscribers to help them prepare. In addition to writing down the start date and time of the big sale, Glossier also provides the option to add to the calendar by clicking the "Add to Calendar" button.
Glossier added a direct link to its website directly in the calendar, reducing consumers' thinking time.
With this seemingly thoughtful email, Glossier left a deep impression on consumers and increased their email conversion rate.
5> Use surprise marketing
Surprises are exciting,  if used properly, they are also a powerful marketing tool.
Displaying discount numbers in the subject line of emails is a common practice that works well, but sellers can choose to hide the numbers if they want to be different on Black Friday. Happy Socks urges customers to open their emails by hiding the amount of discount they offer.
There's also another way for the surprise marketing, Shopify sellers send subscribers a curiosity-inspiring email that says "This is your random gift code."
The Shopify seller will send a random unique code to the customer, and the customer can only view the specific offer by using the code at checkout, which will bring a second surprise.
This is a great way to make Black Friday deals more interesting. In addition, this method can increase the number of e-mail openings and stimulate more subscribers to visit the site and check out.
6> Take more preferential methods
Some Shopify sellers think that Black Friday is just a discount.
In fact, Black Friday is a good time to provide customers with more benefits, such as free shipping, returns or bonuses.
Estee Lauder knows this and offers additional benefits to its Black Friday customers:
They combine Black Friday offers and membership marketing, and members who purchase on the day will get twice the product points.
This will not only attract more consumers to join members, but also increase the number of members who spend on Black Friday.
There are also sellers used free gifts to incentivize Black Friday purchases. However, they do not give gifts to each customer in the same way, but provides different free gifts based on the amount of consumption. The company also makes its gifts more attractive by marking the amount of goods.
Taking this approach can not only increase the average order value, but also does not harm profit margins.
7> Make the subject of the mail stand out
Black Friday is not a battle of discounts, but a battle of attention.
If you want to win this battle, the first goal should be to get attention in the subscriber's inbox. It is important to write an attractive subject for the email.
The subject of most emails is like this:
Ends soon – Black Friday discounts
Black Friday Exclusive: 20% off sitewide
Black Friday Alert: up to 75% off ends tomorrow
Smart sellers have smarter methods, The topic "Black Friday was canceled" suddenly stood out among many Black Friday marketing emails, and made subscribers interested in the content of the email. There are different ways to catch clients eyeballs.
8> Redefining Black Friday
What is redefining Black Friday? Take a look at this example from Cotton Bureau:
Black Friday? More like Blank Friday.
When consumers are curious about what blank Friday is and open the email, they will see the blank T shirt with discounts.
There are also Shopify sellers turned from extreme discounts to social responsibility.
For example, Shopify sellers will donate Black Friday profits to a fund used to clean the ocean, and an order is equivalent to one pound of plastic lost.
By creating the Black Friday Fund, Shopify sellers redefines this greedy shopping frenzy as a day of good deeds.
This not only gives the store a good reason to invite customers to come and consume, but also a better reason for customers to consume.
9> Pave the way for the next activity
Although many consumers will go shopping spree during the Black Friday, not everyone will buy goods on the same day. "Black Friday" is just one day of the long holiday shopping week. Sellers should not only plan their promotional strategies for the past few days, but also make longer-term holiday marketing plans.
If you want to make full use of Black Friday, you can announce the next major shopping day at the end of Black Friday, such as Cyber Monday, Christmas or local holidays, and hint that there will be no low discounts.
Some Shopify sellers tell customers that they will extend the Black Friday promotion to Cyber Monday.
In this way, the company converted potential customers they could not convert on Black Friday and increased their overall sales.
10>Warm up sales by posting a blog or social media
Promoting sales through content marketing is a good choice. Blog content should be tailored to the needs that consumers care about the most, so that it can be easily discovered by customers. In addition to driving sales, publishing valuable content can also help you become an influencer in your field, and it is easier to establish a trustworthy relationship with customers, thereby increasing repurchase.
Social media is very important for Shopify sellers. Whether it is before or after the big promotion, or in the final sprint, you can use it to drain traffic outside the site.
11> Introduce segment promotion
According to stats, there are several shopping peaks on Black Friday, which are 9 am, 12-14 pm, and 21-24 pm. According to this rule, sellers can launch flash sales activities in different time periods based on discounts. Further expand the promotion effect and increase sales.
12> Create a gift guide
For consumers, a considerable part of the products they buy on Black Friday are gifts for others. By creating a gift guide, new shoppers can be attracted to place orders.
The above are 12 Black Friday marketing strategies for Shopify sellers, after years of development for the online shopping, now Black Friday is not a battle of discounts, but a battle of "attention". If you want to win this battle, your first goal should be to get attention in your users' inboxes. Email marketing may play a bigger role in the holiday sales success of most stores. Sales details can be sent to existing customers in advance, and reminder emails can be sent when sales officially begin.