2022 is coming, have you made good plan for your dropshipping business yet? You may already face the order fulfillment problem in 2022 CNY if you are experienced dropshipper or ecommerce seller dropship from China. The traditional Chinese New Year is the biggest holiday in China, workers, couriers, traders travel hundreds or even thousands of miles going home to union with family during CNY, all the dropshipping supply chain paused. How to dropship from China during CNY 2022? How to prepare dropshipping during Chinese New Year? It might be the mostly frequently asked questions by many dropshippers. ShipAnt would like to share some useful tips to help you dropship during CNY 2022.
Holiday schedule in Chinese New Year 2022
The 2022 Chinese New Year Eve is 31th Jan 2022, official Chinese New Year holiday starts from 1st Feb 2022 to 6th Feb 2022. Although it only has 7 days vacation, it affects all the factories in China. Currently we still have around 40 days to prepare the dropshipping works during CNY, lets take a look the holiday schedule for different industries in China during CNY for you as a reference.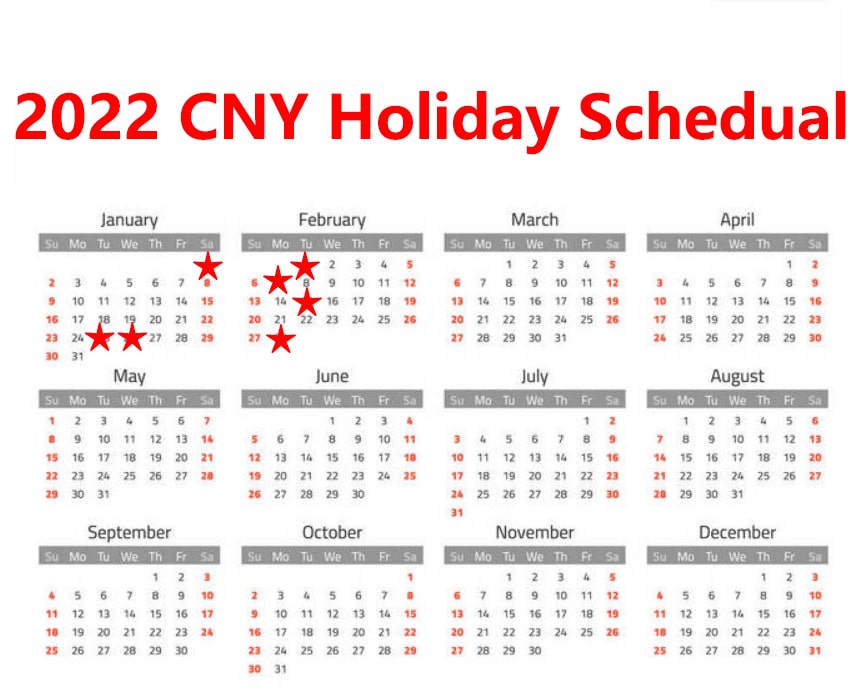 Although CNY only have 7 days vacation, the vation span 2 months in different industries with 3 traditional holidays in China. Here we focus on the red five-pointed star date on the calendar, it is better for you to understand the Chinese tradition and plan better for your dropshipping business during Chinese CNY.
January 1st 2022.  It is the Gregorian New Year and it is also the start of the CNY as 3th Jan is the twelfth lunar month starts on 3th Jan 2022, which equals December, the last month in the year. From Jan 1st to 10th 2022, the students from kindergarten, elementary school, middle school and university starts on winter vacation. During this period, the small businesses, self-employed worker starts to go home.
Jan 10th to Jan 24th. Small factories and big factories workers start to go home, factories usually close at 20th to 24th Jan. From 18th to 24th Jan the domestic courier gradually pause national delivery and focus on delivery in the province erea. In this period, the dropshipping supply chain being affected and started to pause as mostly suppliers and couriers close business in this period.
25th 26th Jan. From 25th to 30th Jan it is the mostly busy week before CNY, people going home and shopping foods, decorations, gifts, daily necessities etc. to prepare for CNY. 25th Jan is also the lunar small CNY Eve for North China, 26th Jan is the lunar small CNY Eve for South China, family union together to celebrate. Except the goverment, every kind of industries in China starts on vacation. Dropshipping agent off duty, freight forwarder company and international courier service start to pause business. Which means from 27th Jan you can hardly ship orders from China to overseas.
31th Jan 2022. It is the CNY Eve, goverment department also on vacation in 31th Jan. Except special public service all the the people in China celebrate CNY at home.
1st Feb to 6th Feb 2022. It is the CNY vacation. People in China mainly visit their relatives and mermerize the ancestors as well as closest relatives past away.
7th Feb 2022. CNY vacation finished and goverment department as well as companies employees back to work. Workers, dropshipping agent, domestic courier and international courier business start to recover.
15th Feb 2022. It is the anual traditional Lantern Festival, people in China guess the riddles at the temple fair to celebrate the festival. After 15th Feb, students winter vacation is over and back to school. Meanwhile, the small business and self employeed worker start to came back to work, factories start to take new orders for production. During this time the dropshipping supply chain only recovered 50% to 60%.
28th Feb 2022. Lunar January ends, workers, traders, freight forwarders, dropshipping agent and all the industries in the supply chain start to running normally, dropshipping business back to normal condition again.
From the 2022 CNY holiday schedual you can see although the vacation only take 7 days, it span 2 months and at least affect your dropshipping business 2 to 4 weeks. If you have good sales in Jan and Feb 2022 it will be affected greatly. How to dropship from China during CNY 2022?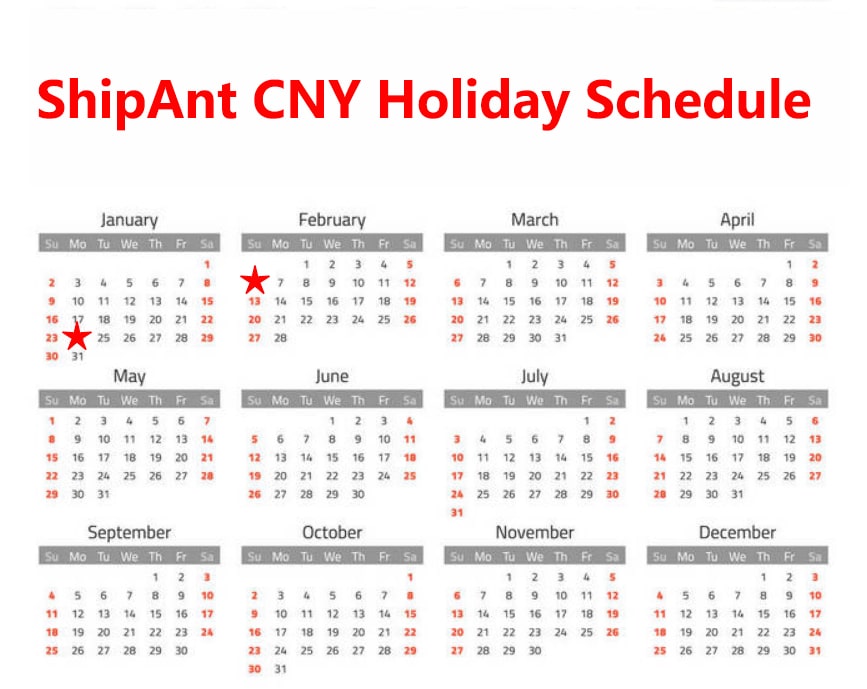 Tips on dropshipping from China during CNY 2022
There are usually 2 ways to dropship from China, dropship from Chinese supplier from Aliexpress or Alibaba directly, or dropship via Chinese fulfillment agent. Once you know the CNY holiday schedule you can plan in advance to reduce affect for your business. The following are some tips for you.
Tips No.1 Confirm CNY holiday schedule with supplier and order fulfillment agent
If you dropship from Aliexpress or Alibaba or DHgate as well as other Chinese dropshipping platforms, you will need to confirm with the supplier their CNY holdiy schedule, when they are on vacation, when they come back, how many stock they have, if you have one supplier confirm with one, if you have several suppliers confirm with all of them. Then plan your dropshipping business during CNY.
Usually the Chinese dropshipping agent service on vacation later and come back earlier than the factory supplier. If you dropship from China, find a reliable Chinese dropshipping agent could maxmumly reduce the order fulfillment affect during CNY.
Tips No.2 Find alternative dropshipping suppliers
If your currently dropshipping suppliers unavailable or have very few stock, then you may need to source alternative dropshipping suppliers during CNY. There are 3 tips for you, firstly find some giant dropshipping suppliers who offers same products you sell, they usually have very short vacation and enough stock inventory during CNY; Source Chinese dropshipping supplier who has overseas stock, although China is on CNY vacation, their overseas warehouse still work as normal way, in this case your dropshipping business wont been affected; Source EU USA or South East Asia suppliers, those countries usually dont have CNY vacation, if you apply overseas dropshipping supplier be sure to check product sample quality before you switch supplier source during CNY vacation.
There are many eu usa dropshipping platforms available for dropshipping, if you found the same products on their website or inventory catalogs, you may also consider them even with higher price and less profit margin, your dropshipping business will not being affected.
Tips No.3 Buy best seller products stock in advance
As a professional dropshipping agent, ShipAnt usually notice clients 1 to 2 months to plan best seller stock inventory before CNY, we help them confirm with suppliers the best seller products on their store and order them in bulk to stock in warehouse based on the store monthly sales. In this way, dropshippers could get better price than usual, meanwhile the dropshipping order fulfillment only delay 10 days in the CNY vacation.
If you are dropship from China via dropshipping agent service, we suggest you stock 1 month inventory for the best seller products in China or ship to EU USA warehouse in advance, in this way the CNY vacation affect can be reduced utmostly.
Also you can stock in your home if there arent too many product skus in your store, you can stock a few best seller products, and focus on promoting them during CNY vacation and fulfill orders yourself.
Tips No.4 Notice clients the delay delivery during CNY
If you stick the dropship from Aliexpress or Alibaba, the delay is inevitable during CNY, you can confirm with dropshipping supplier the vacation and products inventory then notice the delay time on the store product page or homepage. It will surely affects the conversion rates with higher refund rates if clients unwilling to wait too long time, then you can also reduce the ads correspondingly during CNY.
That's the 4 tips for you as a reference to dropship from China during CNY 2022, you may need to plan the dropshipping business in advance no matter you stock or choose different dropshipping suppliers. You are welcome to inquire ShipAnt if you have any dropshipping questions during Chinese CNY, we will try our best to reply and serve your business dropship from China.