Along with Tiktok more and more popular in our daily life, more and more ecommerce sellers start to sell best seller goods shown on Tiktok videos especially toys. During epidemic period, whether adults or children, "toys" have become a necessity for them to pass their boring lives. The time spent at home in 2020 has increased significantly, and the demand for toys from consumers has also risen. According to Verified market research, the toy market will be worth $90.7 billion in 2020 and is expected to reach $132.1 billion by 2028, with a compound annual growth rate of 4.3% from 2021 to 2028. Let's take a look the Top7 best seller toy categories on Tiktok, it might give you some inspiration for your dropshipping business.


From the above photo, the blue color is the toy sales from 1st to 15th Dec 2021, the green color is the sales from 16th to 31th dec 2021. The best seller toy categories can be roughly divided into 7 categories. Early education toys, electric toys, funny toys, plush toys, block toys, outdoor toys and music toys. Among them, early education/educational toys have the highest proportion of products and GMV. What is more eye-catching is that this category has won 41.09% of the GMV proportion with 32.6% of the number of products. The overall trend is good; followed by the model and electric category, which ranks TOP2 with 24.1% of GMV. The sales of each toy sub-category have increased to varying degrees, and the upward trend is obvious. Among them, the GMV of music toys has the smallest proportion, but the increase is the largest. Compared with the highest early education/educational toys, comparing the two time periods, the GMV also increased by 43.4% month-on-month.
Best seller toys on early education category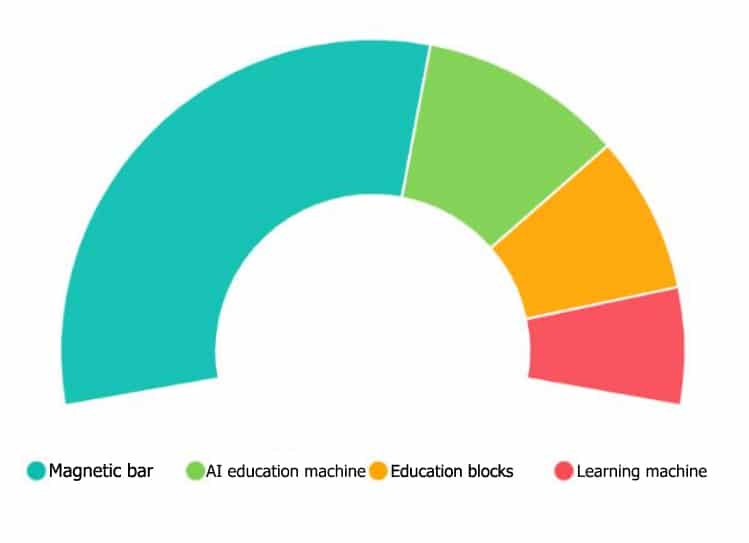 Among the early education/educational toys, the data shows that the early education magnetic rod ranks TOP1 with a GMV ratio of 38.9%. Compared with ordinary large-particle early education building blocks, the magnetism of the magnetic rod not only helps children to build more creatively , The use of imagination can also allow parents to quickly clean up scattered toys, killing two birds with one stone. Let's take a look what's the best seller magnetic bar on 1688.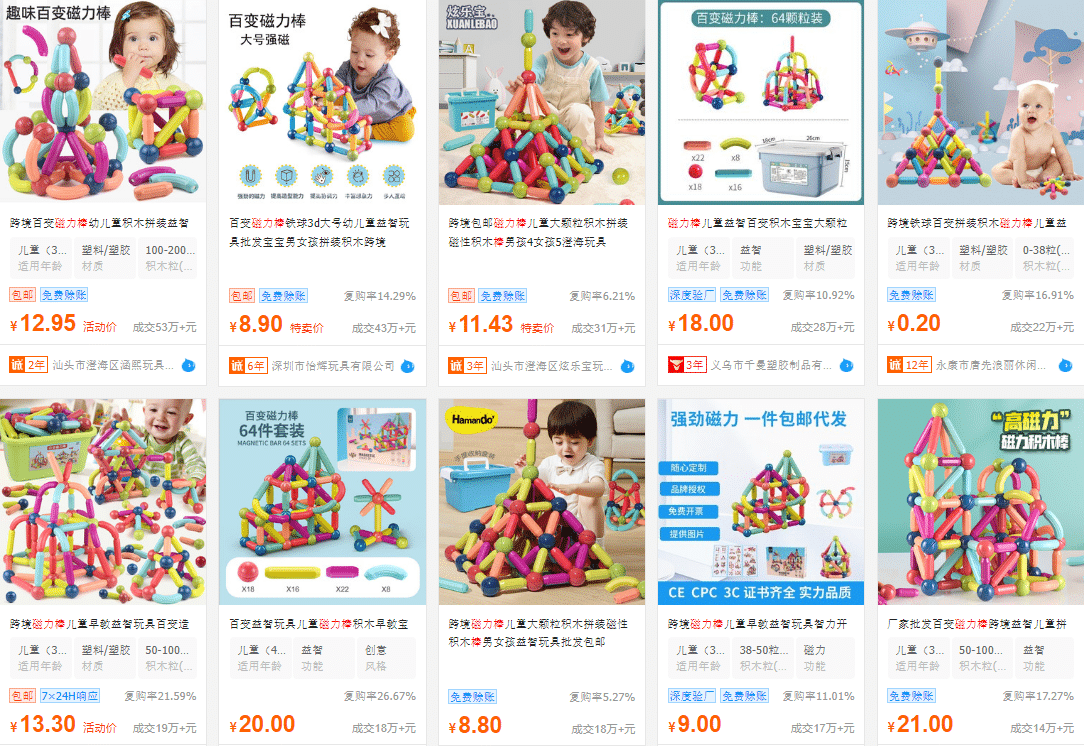 Electric model toys
The electric model toys mainly related to the anime characters which usually sell offline due to the IP infringement concern, for example, the most famous model toys Iron Man, One Piece etc. Here we do not list the best seller electric model toys, if you interested you can source them on 1688.
Funny toys
The funny toys are usually used to make people laugh or relieve stress. The funny toys are usually very creative, let's take the enchanting sunflower for example, from the first galance, , it looks like a normal pot of sunflowers, but when the saxophone music starts, it is very funny to see his body twisting and his weird expression on it.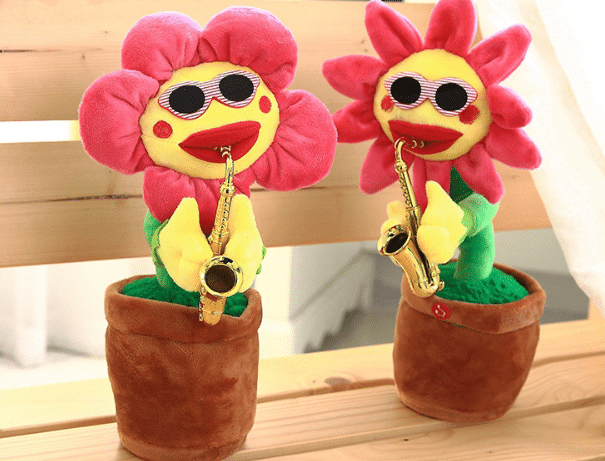 Similar to sunflower, the dancing cactus toy are also very hot funy toys on tiktok. Of course, there are also many decompression toys very hot on tiktok.
Plush toy
At present, there are two main product lines in the plush toy category: the first is plush animal pillows and children's sleeping pillows, which are favored by many buyers because of their plush toy characteristics and practicality. Among them, small and medium-sized plush toys made of velvet, coral velvet and other materials are mainly sold.
The second is IP plush toys. As a derivative of IP brands, IP plush toys are inherently popular. At present, the keyword search volume of IP plush toys on the platform accounts for nearly 53% of the total plush toys searches. The large demand from buyers is a powerful tool for the rapid growth for dropshipping business. For example, the recently hottest toy of the Beijing Winter Olympics is the panda named Bingdundun.
Mostly plush toy are very cute and large volume for dropshipping, which means there are extra shipping cost which could cut the profits, if you dropship the plush toys you may need to ask supplier compress the volume of the toy, or ship via courier who do not calculate volume weight under certain size, for example, ePacket.
Block toy
During the epidemic, the sales of home entertainment products were booming, such as building products – Lego bricks. In addition, there are also many different block toys very popular. A survey reported by Research And Markets pointed out that the global building block toy market is estimated to be US$7.3 billion in 2020, and is expected to reach US$10.4 billion by 2027, with a compound annual growth rate of 5.1%. The market potential of building block toy products is huge. As a subdivision of educational toys for science and technology, building block toys are evergreen trees in toys. Consumers include all age groups. Building block toys have the characteristics of puzzle, education, play and learning.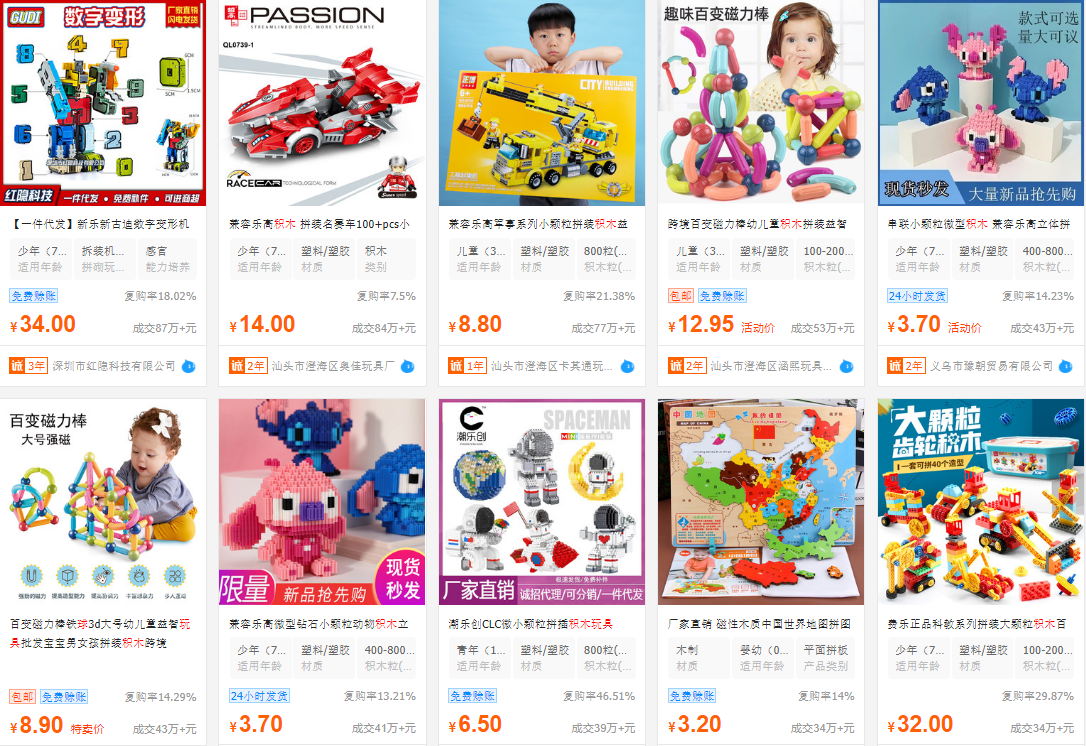 Outdoor toy
The outdoor toy is very popular in 2021, car toy, scooter, trampoline, padding pool, water gun, swing etc. The outdoor toy price are usually higher than other toys, the average price between $50 to $300. According to NDP statistics, Total U.S. toy sales in the first three quarters of 2021 increased by 19.1% to a total of $13.7 billion. The outdoor toys were the largest category, with sales of nearly $3.5 billion, accounting for more than one-third of total sales, reaching 36%. Let's see what's the best seller outdoor toy for dropshipping on 1688.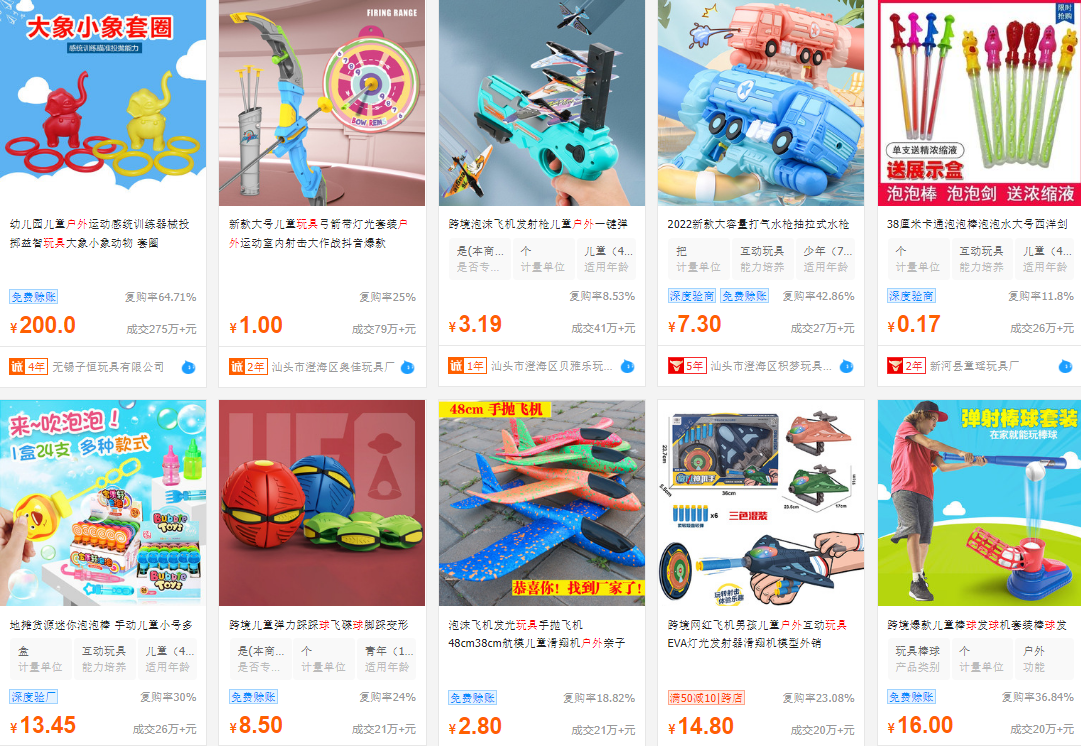 Musical toy
Musical toys are yoys that make music. Such as various analog musical instruments (small bells, small pianos, tambourines, xylophones, wooden bangs, small trumpets, gongs, cymbals, sand hammers, small drums, etc.), dolls, animals, etc. that will emit music or singing. Helps children learn to distinguish the sounds of different musical instruments, distinguish the strength, distance, and distance of sounds, and develop auditory sensibility, thus the musical toy usually used for early education. Let's see what's the best seller musical toy on 1688 for dropshipping.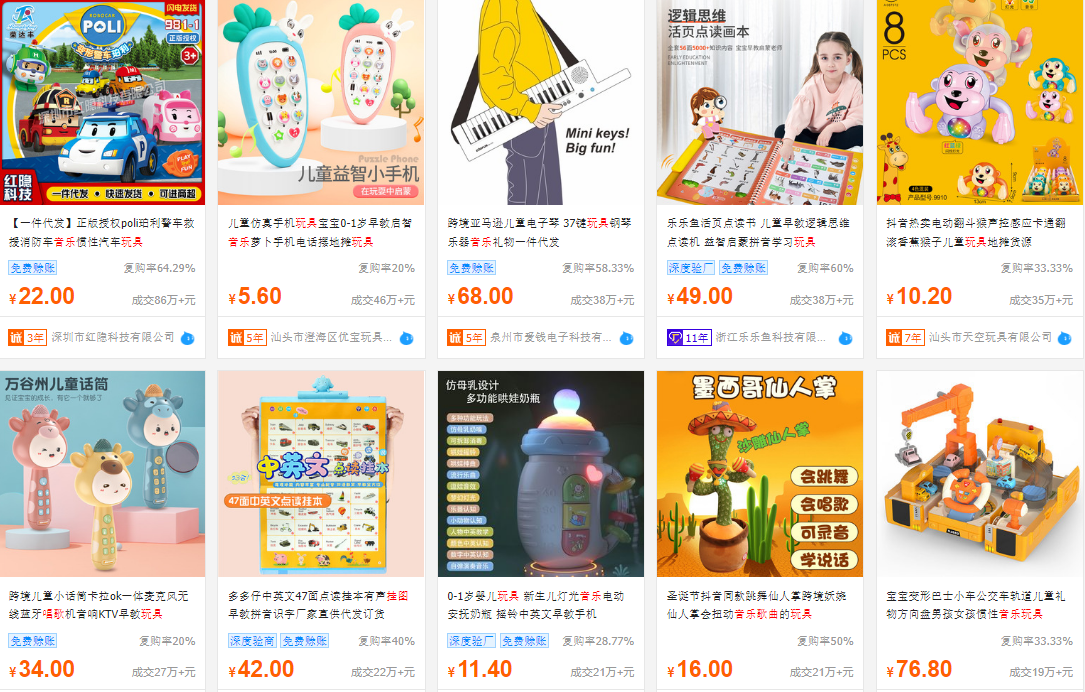 The above toy categories are the best seller toy categories on Tiktok 2021 Dec. If you are selling toys you can take it as a reference and take more time to doing marketing research on the best seller toys in each categories which suitable for your dropshipping business.