The fashion e-commerce industry is arrogantly catering new changes in the industry like a confident model wearing Prada. Change is an important feature of the fashion industry. Almost every season's fashion show will have a certain degree of change. However, the coming year 2022 may bring about the most drastic changes in the industry to date. In order to deal with the impact of the epidemic, the fashion clothing industry has made new attempts. Both sustainable and affordable clothing is entering the public eye. At the same time, with the changes in the global economy, the second-hand clothing trading industry is also booming. Consumers expect to maximize their benefits every time they make a purchase. Therefore, the growing market for non-seasonal goods is replacing large-scale fashion events. The following are 9 fashion clothing e-commerce trends in USA 2021, you can build your own fashion clothing business based on the new trend.
ReCommerce becomes mainstream
ReCommerce is the process of renting, reselling or saving previously owned clothing through online or offline stores, that is, second-hand transactions. Consumers are increasingly looking for more economical and sustainable ways to buy or own new clothes instead of buying brand new clothes.
As the fashion industry shifts to a more sustainable development model, and consumer preferences after the epidemic have forced brands to become more socially responsible, resale is already a fashion e-commerce trend undergoing a rebirth. From 7 billion U.S. dollars in 2019 to an estimated 36 billion U.S. dollars in 2024, with an estimated annual growth rate of 39%, the online and offline resale industry seeks to keep up in a more cost-effective and sustainable fashion trends.
After the Great Depression from 2008 to 2016, U.S. resale revenue increased by more than 50%. At the same time, department store sales have fallen by 25%, and history seems to be repeating itself.
In 2019, the growth rate of resale has been 25% faster than that of the retail industry. According to a report released by First Research, there are about 20,000 second-hand stores in the United States with annual sales of $17.5 billion.
It is estimated that between 2019 and 2021, the growth of second-hand fashion e-commerce stores will also reach 69%, which is far before shoppers are actively looking for more affordable home furnishing options during the quarantine period.
Sustainable fashion clothing will be the new trend
The clothing industry has long been criticized for its negative impact on the environment and has been rated as one of the most polluting industries in the world. On average, producing a pair of jeans consumes 75 pounds of carbon dioxide, while producing a new T-shirt consumes 700 gallons of water. Perhaps worse, in 2019 alone, the purchase and subsequent destruction or disposal of disposable equipment generated 208 million pounds of garbage.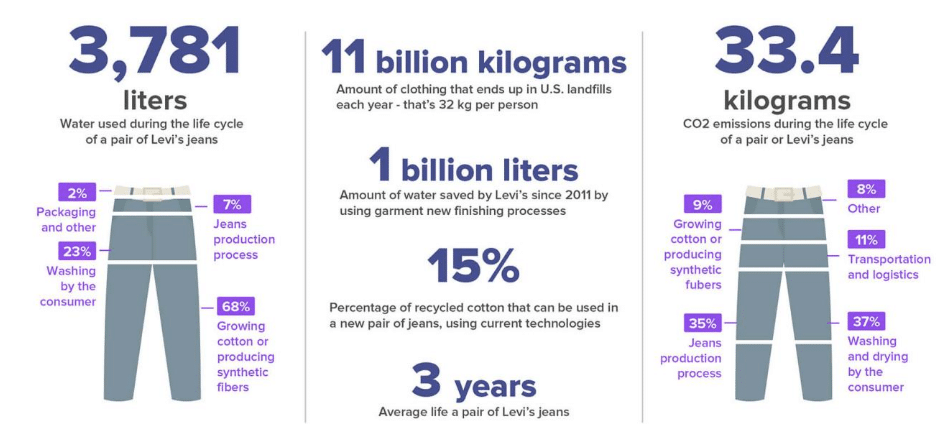 However, there are signs that consumer interest in sustainable and ethical fashion is now on a steady rise. The search volume for sustainable development-related clothing keywords increased by 75% year-on-year, with an average of 27,000 searches for sustainable fashion every month.
The search volume for "vegan leather" has been increasing year by year. In the past six months, the search volume has increased by 69% year-on-year. Searches for the keyword "recyclable fashion" increased by 42%.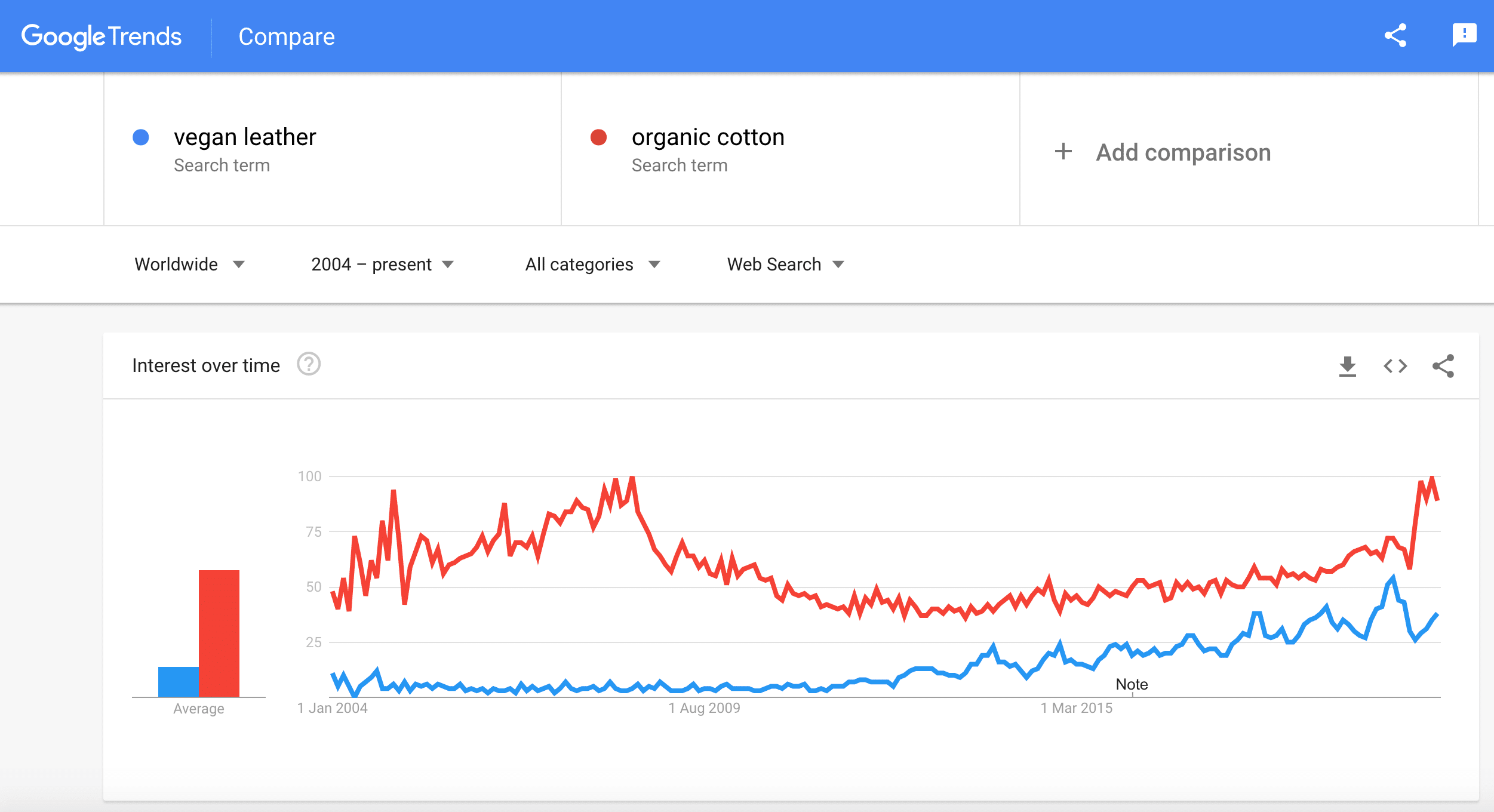 The continuous improvement of sustainability and transparency is the result of consumers choosing to buy brands whose values and ethics reflect their own. These ethics not only extend to the protection and remediation of the natural environment, but also include human rights issues.
Artificial intelligence becomes a virtual assistant
As more and more shoppers choose to purchase products from retailers that conform to their values, the personalized and relevant behaviors of consumers are a continuing growth trend in any e-commerce industry. To help solve the new problem of how to place customers at the core of marketing strategies, fashion e-commerce retailers are increasingly turning to a solution: artificial intelligence and, most importantly, artificial intelligence chatbots.
Non-seasonal clothing brings slow fashion
Gucci's creative director, Alessandro Michele, shared in the diary that the fashion company will no longer cater to the traditional "four seasons" fashion cycle, but will change to twice a year without being affected by the seasons. Arrangement of large-scale fashion events.
Gucci is not the only company doing this. Saint Laurent also chose not to use the regular schedule, and Vogue agreed that they could arrange their own schedule according to their wishes.
Sports and leisure clothing changed into mainstream luxury
According to a study by market research company NPD Group, sports and leisure shoes will continue to maintain an annual growth rate of 7%, leading the US footwear market to 2021. The definition of luxury streetwear and sportswear is constantly evolving.
Search volumes for "streetwear" and "sportswear" are the biggest trends this year. Consumers spent an average of US$192 on a pair of new sports shoes, a year-on-year increase of 39%.
But these multifunctional and everyday comfortable themes ensure that sports and leisure styles begin to dominate not just the footwear market. Data and analysis company GlobalData predicted in its August report that the global sports and casual wear market will grow by 9% in 2020, exceeding the overall growth rate of the apparel and footwear market after 2023.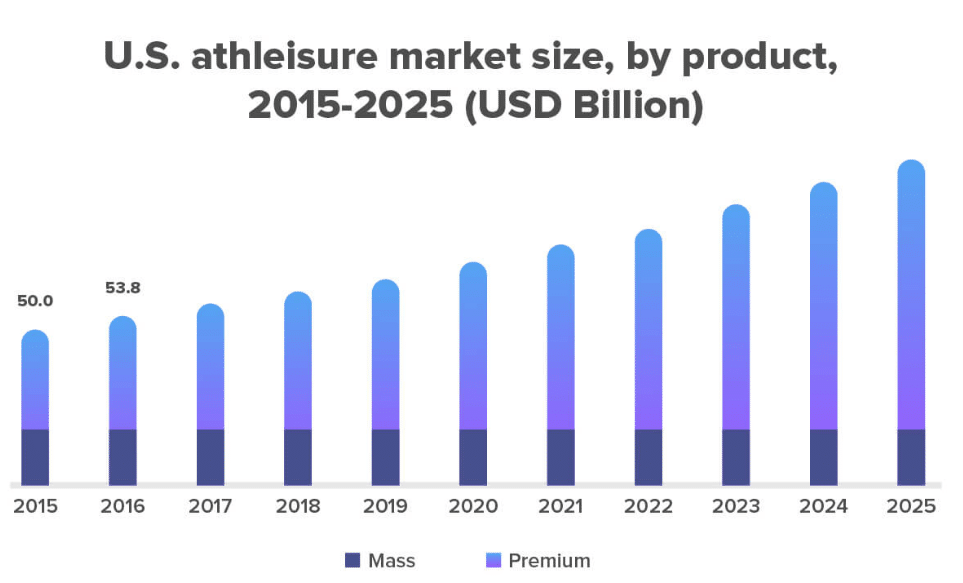 Menwhile, sports and leisure clothing have also been given a new concept: luxury.
The activities of celebrities such as Beyoncé, Rihanna and Rita Ora are beautifying the wearability of sportswear as a key element of their "behind the scenes" lifestyle Therefore, it is often photographed wearing well-fitting sportswear on private jets or expensive private cars, which provides an extremely comfortable wearing experience.
Luxury goods buy first, pay later
In February 2021, the "Style360" New York Fashion Week event organized by the propaganda company A-list communications gave up inviting celebrity guests and replaced it with a Swedish bank called Klarna.
Klarna has become the focus of media attention because it recently partnered with e-commerce brands to allow consumers to purchase products through instalments instead of paying for potentially unpleasant upfront costs. One example is Jeffrey Campbell shoes, which sell for $140, which can be purchased in four-month installments for $35 each.
Unisex fashion clothing means everyone is suitable
In 2018, the Council of Fashion Designers of America, which organized this week's event, added a new category: unisex/non-binary. At that time, this move was considered a great feat of the LGBTQ group and was widely praised by the entire society.
Since then, more progress has been made in the understanding of gender norms and the tolerance of non-binary gender identities, and the changes in the entire fashion industry are obvious to all. Searches for the keywords "gender neutral fashion" and "genderless fashion" increased by 52%.
Omni-channel retail will make stores everywhere
A survey by a consulting company showed that from March 2020 to March 2019, online orders increased by 21% year-on-year. In another survey, 41% of respondents said that they are currently shopping online, buying things they would normally buy in offline stores.
Although the COVID19 epidemic is the main reason for these major changes, it has further increased the difficulty of most fashion stores, making them feel confused and stressed. What about their offline store?
To help solve this problem, fashion retailers have turned to omnichannel strategies, such as direct-to-consumer sales. These marketing strategies allow fashion e-commerce retailers to provide a seamless online and offline shopping experience, and find a balance between physical stores and soaring e-commerce sales.
For offline retailers, if they strengthen their digital business like Zara, they can bring traffic to their physical stores, and they can also make their product catalogs easier for online users to open and browse like nordstrom.
For e-commerce retailers, having a two-pronged approach to promote the presence of consumers online and offline can not only unify the brand experience, but also help maintain the profitability of the physical store, and it can also meet the needs of different consumers by segmenting the supply method. , For example, only produce certain products in an online direct-to-consumer strategy.
AR & VR technology realizes fitting experience
With the continuous development and change of the digital world, more and more fashion e-commerce retailers are trying to retain existing customers and attract new customers by using augmented reality (AR) technology and virtual reality (VR) technology experience.
In a 2018 Gartner survey, 46% of surveyed retailers stated that they plan to deploy AR or VR solutions to meet customer experience needs.
One approach that fashion retailers pay particular attention to is the use of AR and VR fitting room experiences. These experiences allow visitors to see themselves wearing a certain brand of clothing without having to go to the store, which is a relatively persuasive purchase attempt.
In terms of virtual reality experience, Rhone Apparel has achieved remarkable success. The company cooperated with Rakuten to launch a virtual fitting service "Rakuten Fits Me" .
Based on the 9 fashion clothing e-commerce trends in USA 2021, The fashion industry will open up new business chance. With every change, fashion returns to its roots of accessibility and identity, uses new technologies to attract new audiences, adjusts its values and sense of morality to meet the requirements of genderless and sustainable fashion. For Shopify fashion clothing sellers, it's time to try these transitional changes that are easier to make. Shopify make accessible payment options easier to implement, and the trend of direct-to-consumer fashion means that if the optimization solution is correct, you can be on the front line of the trending fashion clothing.