The Q4 hotsale season already coming, are you still worry about the order fulfillment on the store? Have you thinking about outsource the order fulfillment works to professional dropshipping order fulfillment company or just looking for some order fulfillment app to reduce your works. In this blog we will list the Top10 Shopify dropshipping apps in 2021 as well as ShipAnt professional order fulfillment service to help you dropship from China to EU and USA.
What's Shopify dropshipping?
Once upon a time, running a business meant creating your own products, spending a lot of upfront cash, and handling everything from packaging to sihpping delivery and customer service. in the past 10 years, this situation has changed a lot, and one of the most popular sales models is dropshipping.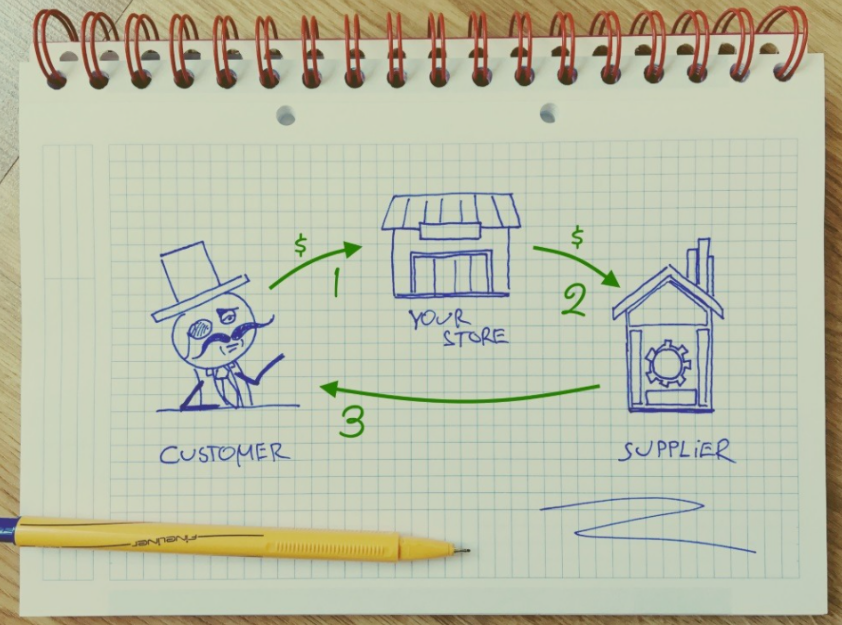 The uniqueness of the entire dropshipping process is that it does not start with you buying the product from the supplier, but from the customer placing an order in your store and paying for it (1). In other words, in the delivery process, you have received payment even before the product enters the store. Next, you pay the supplier and let them complete the order for you (2).
The supplier handles the fulfillment order on its own, and you have never touched the product-it ships directly from the supplier to the customer (3). Therefore, in essence, your only job is to run your e-commerce website and engage in marketing.
Your dropshipping store must run on an online platform. Shopify is that online platform. In fact, it is the best dropshipping platform with complete app ecology from store interface to shipping aftersale.
We like Shopify as an e-commerce platform because it is economical and has a "universal" interface. You can access beautiful design tools, thousands of apps and payment processing settings to help you protect transactions and speed up the checkout process. It is also one of the best platforms for creating drop shipping business.
It also include order fulfillment apps to help you reduce the tedious work, Shopify has dozens of such order fulfillment apps, some of which provide a diverse selection of products, while others focus on one or two types of products. We listed the Top10 Shopify dropshipping apps in 2021.
How to select the best Shopify Dropshipping apps
Before we dive into the wider world of the Shopify dropshipping plugins, let us first understand some background information you should know. Not all drop shipping apps are the same. In fact, the drop shipping industry has many shortcomings, especially if you work with the wrong supplier or APP.
The following are things you need to know:
The best Shopify dropshipping APP allows you to select products directly from Shopify or instantly synchronize your selected products with your shop;
Looking for apps from selected high-quality dropshipping suppliers or distributors. This requires some research, but you can learn from the supplier's ratings and reviews;
One big problem with Shopify dropshipping is the long shipping time. Look for dropshipping suppliers from all over the world (or at least close to where your customers are) to provide good service. For example, Chicago dropshippers will look for suppliers from the United States. Otherwise, your customers may have to wait long time to receive goods from places such as Vietnam and China;
Another difficulty of dropshipping is to keep prices low, but profit margins can still make money. Since you are not responsible for transportation or storage, the dropshipping supplier will often charge you higher than the wholesale price. The key here is to research each APP provider and see if you can really make a profit without deceiving customers.
Can you get product samples? This is one of the ways to maintain quality control through drop shipping.
Can you private label product packaging? You don't want your product to be shipped without any brand on the box. This confuses customers because they cannot recognize the packaging from your store. They may not even accept such packages with various coupon cards and delivery address.
Top10 Shopify dropshipping apps in 2021
Oberlo
Oberlo is probably the most popular of all Shopify drop shipping apps. This is because Oberlo was one of the first companies to implement a system that automatically synchronizes products, order tracking, and product information with your Shopify store.
Thanks to Oberlo's great success, Shopify now bundles it in the new store app, without even having to install the app yourself!
In general, you can browse a large number of new product catalogs in different categories. You can choose where you want to ship the product so that you don't have to worry about any such issues in the future.
Through each product list, you can also get information about the number of stores currently offering that product, and even show the number of orders generated through other stores that support Oberlo. This gives you a lot of options, you can choose only the products you actually want to sell.
What makes Oberlo one of the best Shopify dropshipping apps?
You can search for products from many suppliers. The Oberlo market has become one of the best options for dropshipping.
Once you find a product you like, Oberlo will immediately synchronize the information to your store.
All items in your store are kept up to date. Therefore, if the product is out of stock, your website will immediately remove the product.
Oberlo provides a free entry plan that allows affiliates to use it easily without much upfront capital.
When you add a product, you will get information about the sales volume and popularity of the related product.
Printful
Printful provides you with a different form of delivery. Although the other apps in this list provide a large number of suppliers to choose from, so that your store has more different products, Printful is your preferred "print on demand" affiliate.
Printful combines custom printing and forwarding, so you can sell anything from posters to T-shirts, pillows to cups. The important thing about Printful is that it has a growing collection of high-quality products, and the design module structure is reasonable, you can upload your design and start selling on Shopify.
All you need to do to use Printful is to select the products you want to sell and upload your design. Whenever someone orders from you, Printful will handle the printing and delivery.
Printful is more than just custom T-shirts. You can also sell customized waist bags, mobile phone cases, backpacks, stickers, bags, flip-flops, swimwear, posters, coffee cups and more.
What makes Printful one of the best Shopify print on demond dropshipping apps?
It in charges of the printing and order fulfillment. The graphic upload tool is easy to use, you only need to upload your own design drawings.
Printful offers thousands of products in its library, making it easy to sell customized and branded products.
Printful has a number of cooperative agents, including California and North Carolina. Therefore, you can ship products to customers within a reasonable time frame.
You don't need to pay anything upfront for Printful. Each item in the catalog has its own price, and then you can set your own retail price tag on this basis. In addition, with this e-commerce business model, you don't need to spend anything before you actually start making money.
Printify
Printify is a Printful alternatives. The products they offer are very similar-shirts, accessories, mugs, phone cases and other items with your design.
Printify connects you to a network of more than 90 printing providers, with a total of more than 200 different items to choose from. In addition to selling through Shopify, you can also provide your products through Etsy and WooCommerce, and eBay's platform support is coming soon.
If you plan to sell custom printed products and drop shipping business for them, we would suggest you to try two kinds of Printful and Printify to see which one will make you better return and more sales. You can test it for a period of time before making a final decision.
What makes Printify one of the best Shopify dropshipping apps?
You can choose from more than 200 customized products on Printify.
Printify has a huge network of printers, so you can always get the highest quality products.
You can put your own brand on the packaging.
The model generator is easy to operate and upload your own designs.
You can also integrate your products with Etsy and WooCommerce.
Spocket
Spocket is a highly rated and excellent alternative to Oberlo. In fact, we think it is better than Oberlo in terms of supplier quality.
Most of the suppliers are from Europe and the United States, so it is very useful for merchants located all over the world.
If you want to build a Shopify dropshipping store, but still keep it fairly localized, and support suppliers from Europe or the United States, this makes Spocket a great tool.
In addition to Shopify integration, Spocket also provides a module for WooCommerce, which may be useful for those who already run their main website on WordPress.
What makes Spocket one of the best Shopify drop shipping apps?
You can work with European and American manufacturers, so shipping to stores located there is usually faster.
Spocket pricing is some of the most competitive among all the apps on this list. The average discount for merchants is 45%, which provides you with plenty of profit margins.
Your company brand will be added to all receipts and invoices issued. It is not exactly the same as the logo on the package, but it is better than nothing.
Real-time shipment tracking keeps your customers informed.
Since the products mainly come from the United States, Canada and Europe, we noticed that they are usually of higher quality.
Spocket can choose to test the product before putting it on your website.
Automizely
As one of the easiest drop shipping tools on the market today, Automizely quickly gained attention. It has simplified drop shipping to just a few clicks. The service is perfect for Shopify, allowing customers to quickly and easily categorize the products they want to add to the store in a matter of minutes, so you can focus on making sales.
Although Automizely can be used with other platforms, it is specifically aimed at Shopify customers. With Automizely, you will be able to choose from dozens of drop-shipping products and immediately start selling online.
Unlike other drop shipping providers, Automizely also helps you strengthen your relationship with customers by providing traceable free shipping services in the United States. You can quickly build trust with customers and even automate pricing strategies.
The automatic pricing system means that setting a listing price based on your preferred profit margin is quick and easy. Automizely also has a batch product editor that can be imported into Shopify with one click.
What makes Automizely one of the best Shopify drop shipping apps?
Trusted brand: Automizely is an enterprise-level platform built for industry compliance and currently supports more than 5,000 Shopify stores.
Security and compliance: You can get the built-in ISO 27001 certification, giving you peace of mind. In addition, security and privacy are easily maintained through GDPR design
Excellent customer service and guidance. 24/7 live chat support will help you make the most of the service, even if you want to experiment with the API.
Run more than one business and observe the growth of your ecosystem: support multiple organizations, so you can run various stores at the same time
Teamwork: Multi-user support means you can collaborate more effectively with team members.
Modalyst
From the first galance, Modalyst is similar to some of the other apps on this list-you can search for products and synchronize them with your online store.
The main difference is that Modalyst focuses on providing connections with well-known brand suppliers such as Calvin Klein, Timberland and Puma. Yes, the pricing is much higher than the average Chinese supplier, but you can provide your customers with the best products. Moreover, you will find that you can find many lucrative high-quality goods.
In fact, Modalyst offers a complete product catalog of selected dropshipping suppliers from the United States and Europe. These are the products you won't find in any other drop shipping apps.
You can also communicate directly with your suppliers to build better relationships with them.
What makes Modalyst one of the best Shopify drop shipping apps?
Modalyst mainly ships famous brand products, so your customers will not be bothered by suspicious items provided by random suppliers.
You can also work with independent brands, which is a great way to increase profit margins (because the perceived value of these products is higher).
The shipping speed is faster than most Shopify shipping apps. You can also ship to the United States for free, because most shippers are from the United States.
Modalyst provides an excellent tool for pricing rules. It helps to automatically set and change prices based on the profit you want to earn.
Provide a free plan with up to 25 products per month.
SMART Express
SMART Express is similar to Oberlo and Spocket, but has some unique advantages. First of all, it is Shopify's complete delivery solution, with a large number of products to choose from.
SMART Express and AliExpress provide a very good integration, allowing you to import products with one click. These imports include product descriptions, images, and variants. Then, you can fulfill your order in the same simple way-with one click, the order will be delivered to the customer.
In addition, you can ask SMART Express to find suppliers for existing products already in your store. In this case, you no longer need to store or transport items as before.
What makes SMART Express one of the best Shopify shipping apps?
The integration process of SMART Express and Shopify is very smooth. You can link to AliExpress and immediately transfer your favorite products to your store.
You can choose to purchase the previously listed products and complete them by the supplier. This is unique to SMAR7 Express.
Although most of the AliExpress suppliers are in Southeast Asia, SMART Express still tries to shorten the shipping time by using ePacket and other shipping option.
Inventory Source
Inventory Source is attractive in the drop shipping field, because it can not only publish your products to Shopify, but also publish your products to other markets, such as Amazon and eBay.
In fact, it supports more than 20 different e-commerce platforms, providing you with greater flexibility and contact with customers.
Inventory Source gives you access to more than 180 pre-integrated suppliers and also allows you to add your own suppliers.
All product data will be automatically uploaded and connected to inventory synchronization. Then, you can use Inventory Source's cataloging and customization tools to manage your catalog.
Another advantage of Inventory Source is that they do not charge any intermediary fees. You only need to pay for the monthly subscription to the inventory source. The price of the product you get comes directly from the supplier.
What makes Inventory Source one of the best Shopify dropshipping apps?
Inventory Source's delivery network has more than 180 suppliers, with dozens of categories for you to choose from.
Its automation tools and order fulfillment management is fairly easy to understand.
Inventory Source has a free account with access to all vendors and niche markets.
If you upgrade to one of the paid plans, you can even add custom or private integrations.
Customer support is willing to work with you on many aspects of the e-commerce business, including backorders and returns.
Dripshipper
Dripshipper is a very niche Shopify shipping application. Most of the other apps on this list allow you to choose from multiple categories, and Dripshipper only works with coffee.
Yes, you can sell branded coffee with your own logo. Want to be a coffee tycoon? Your chance is here.
Dripshipper's reviews are very good, and the app has a large number of users. If you want to sell coffee through Shopify, then Dripshipper is what you need.
The APP allows you to design your own coffee and coffee packaging, as well as the labels and other information on the packaging. Then, when you make a sale, the order will be sent to your customer.
What makes Dripshipper one of the best Shopify drop shipping apps?
This is a super niche market-if you want to enter the coffee industry, this is the perfect dropshipping app.
The shipping time for American customers is within three days.
You only need to focus on one market segment, so product management is easier.
Packaging and coffee design tools are stylish and easy to understand.
Everything on the coffee is branded with your company.
There is a 14-day free trial period.
Spreadr
The Spreadr application uses an interesting method for dropshipping business. Instead of letting you contact different vendors and import their products into your Shopify store, you will link your store directly to Amazon.
The difference here is that you don't have much cooperation with suppliers, but instead promote their products in your store and charge a small commission.
You must first register for Amazon's membership program. The general commission level is 4%.
Although Spreadr does provide more classic dropshipping settings—you can collect orders in your store and let Amazon suppliers fulfill them—but this may not be the most optimal type of dropshipping business setting. For this, you'd better use other apps.
What makes Spreadr one of the best Shopify dropshipping apps?
The APP provides you with a unique way to sell products that are already best-selling on Amazon.
It provides a quick import tool, you can search for Amazon products and immediately add the products to your store for sale.
Dropshipping is allowed, but if you want, you can simply charge a membership commission.
Gooten
We love and hate Gooten. On the one hand, it has the largest selection of customized products to date for you to sell in the Shopify shipping store. All of this is customized, so you can find and design more unique things, such as handbags, mobile phone cases, etc. In terms of choice, it is better than Printify and Printful. However, these products come from different printers, so if your customers add five items from five different printers, they will receive five boxes and must pay the shipping costs for all items separately.
Having said that, the product catalog is really impressive and contains many unique items. For example, you can sell baby towels, bedspreads, printed canvas, notebooks, diaries, travel bags, and of course common things like T-shirts and mugs.
Just like Printful, using this Shopify Dropshipping APP, you only need to pay for the product itself, no monthly fees are involved.
What makes Gooten one of the best Shopify drop shipping apps?
You can customize printing and delivery.
The product range is impressive and the product category is unique.
Both customers and merchants can easily monitor orders.
The company is located in New York City, so shipping in the US will be faster.
The app is completely free to install, so you only need to pay when you sell it.
Which Shopify drop shipping apps is the best?
It all depends on your needs. But in our opinion, here are some scenarios and their best delivery options:
If you want to sell goods globally by accessing an extensive supplier catalog, then your best choice may be Oberlo. Whether you just want to sell one product or more types of products, you can easily find suppliers on Oberlo.
If you want to sell products from American or European suppliers, try Spocket.
If you want to sell products through famous brand suppliers, please try Modalyst.
For POD products, please choose Printful, Printify or Gooten.
Want to get started quickly and sell Amazon products? Used together with Spreadr, but this is not a drop shipping.
Finally, if you want to sell coffee, Dripshipper!
Of course, select dropshipping apps is the very first stage for Shopify dropshipping, once your business is stable and have more personalized order fulfillment requirements, partner with dropshipping order fulfillment agent is better choice for dropshipping. ShipAnt provides all in one order fulfillment service to help you dropship from China with hassle free.
ShipAnt order fulfillment service for Shopify dropshipping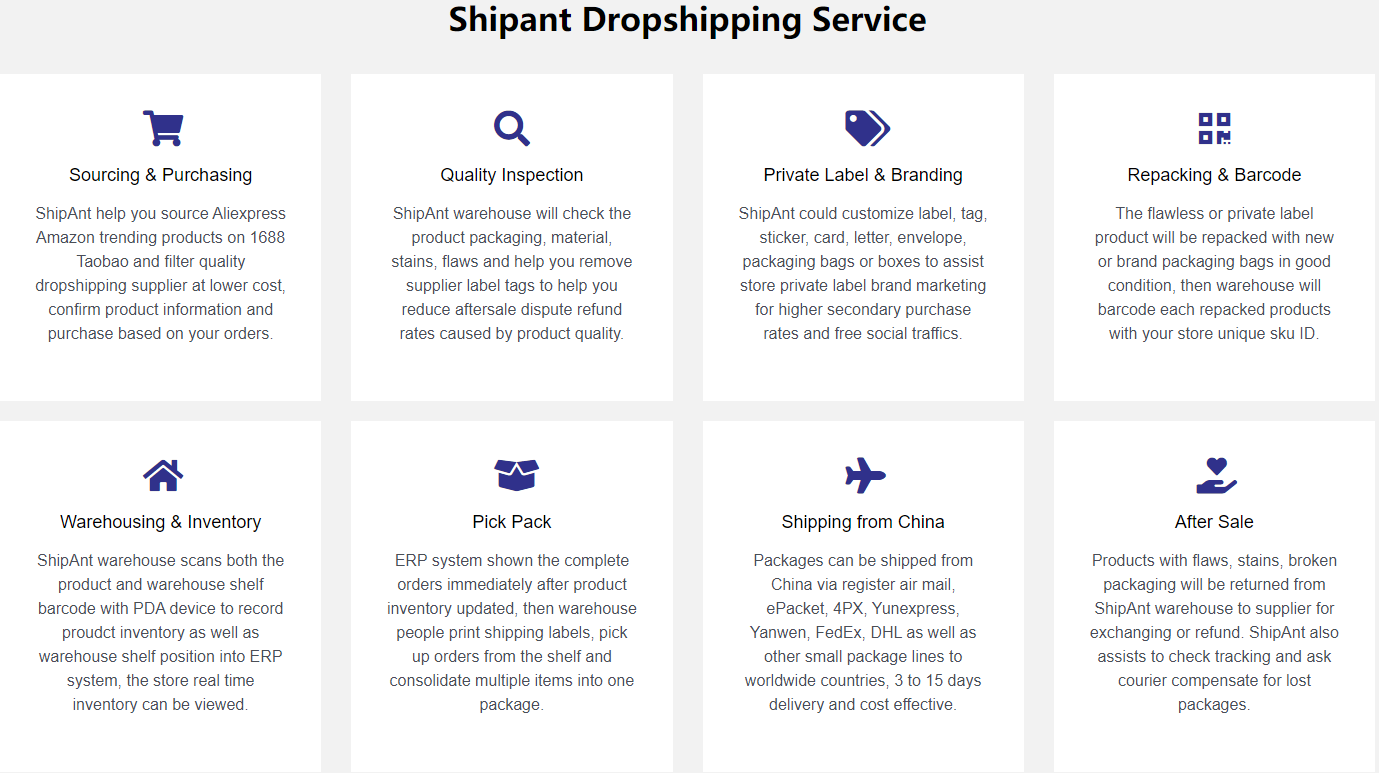 Let's take men women clothing dropshipping for example, ShipAnt dropshipping service include:
Sourcing. We are located in Guangzhou, the biggest men women clothing wholesale city in the world. As long as you have stable orders, we can help you source the best men women clothing suppliers from both online and offline men women clothing wholesale market.
Sample/purchasing. Unlike Aliexpress, mostly dropshippers overseas cannot purchase and pay Chinese clothing suppliers directly. ShipAnt sample/purchasing service could help you pay them easily.
Quality check. When ShipAnt warehouse received clothing from new suppliers, our staff will check the clothing material, workmanship, color, quantities and measure size based on the size chart. Pick up the flaw clothing with stains, holes, scratches etc. and take photos to confirm with supplier for return exchange.
Clothing with good quality will be remove label tag if necessary then take out the supplier coupon cards and logo packagings.
Repacking. ShipAnt warehouse will repack the clothing in original shape with brandnew plain plastic bags.
Private label service. If you need private label packaging, we can help you customize clothing label, tag and packaging based on your marketing requirements, then repace supplier label, tag and packaging during repacking step.
Barcode. Since men women clothing store usually have more than 100 skus, sometimes more than 1000 skus. All the clothing repacked will need to match the product sku in the store and print sku to barcode on the packaging, thus the sku need to be unique and accurate match clothing.
Inventory warehousing. ShipAnt warehouse will update your store inventory by scan the clothing barcode, after that all the clothings will be stock on the warehouse shelves and record position in ERP system.
Photo shooting. ShipAnt also cooperate with local photo studios to help dropshipper shoot unique clothing photos based on requirements, however, since it takes long time to communicate requirements between dropshipper and studio, currently we only offer photo shooting service for few clients who have stable sales.
Print shipping label. ShipAnt warehouse will print the shipping label once orders complete after the staff updated inventory.
Pick pack. Warehouse people will pick up the clothing on the shelf with the order list and shipping label.
Fast delivery. ShipAnt offers 5 to 15 days delivery service shipping from China to EU and USA as well as other ePacket countries, stable and cost effective.
Tracking upload. The tracking will be upload to store and notice clients after we shipped.
You are welcome to check Shipant order fulfillment service and procedure as well as FAQs then inquire via skype, email or whatsapp if you have any questions dropshipping from China.