With over 2 billion downloads and over 1 billion monthly active users, TikTok has counterattacked its high position in just a few years and has become another social media giant. TikTok is highly sought after by Gen Z (under 22) users, there are dropshippers already realized the huge potential on Tiktok marketing. How to brand shopify store on Tiktok to get more traffics? What kind of marketing strategy you should take to enlarge the brand awareness of your Shopify store? There are some tips on frequency of posting, channel and video rating indicators, and the style, tone and content of popular videos on Tiktok based on its marketing data in 2021.
Top15 TikTok data statistics in 2021
• 50% of the top brands have not yet settled in TikTok, including Google, Facebook, YouTube and IKEA and other multi-billion dollar industry giants.
• The best-performing brands on TikTok post an average of 3.52 times per week.
• For every 1% increase in the number of fans, the average video playback volume can increase by 0.65%.
• 80% of popular videos are equipped with background music, among which light songs are the most popular.
• Technology, food, and gaming brands have the highest average video views.
• Calculated by the average number of videos played, the 5 most popular brands are So Satisfying, Samsung, TikTok, Chevrolet and Flighthouse.
• Five of the 10 most popular short videos are from TikTok's own account.
• 90% of the videos have embedded ads, and 30% of the videos follow the humorous route.
• About 25% of the videos invited celebrities or Internet celebrities to collaborate on creation.
• Brand announcement videos attracted nearly 20 million views.
• The playback volume of creative videos with animation or character overlays can generally exceed 11 million times.
• The average length of the video description is 87 characters (TikTok has a limit of 150 characters).
• The video description contains an average of 3.26 tags.
• 87.3% of videos have at least one tag added.
• An average of 12 interactions can be generated for every 100 clicks. The interactive content includes comments, likes, and sharing.
TikTok brand distribution
Among the 317 brand samples, nearly 50% of the brands do not have TikTok accounts, or have registered accounts but have not posted any posts, including industry giants worth billions of dollars, such as Google, Facebook, YouTube, IKEA, Nestlé, Audi , Toyota, etc.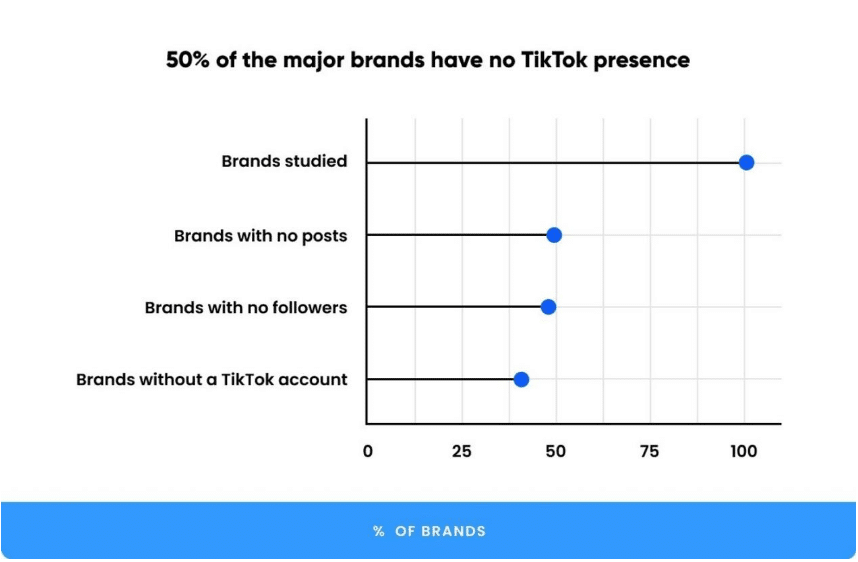 Similar to those big brands, You should establish your presence on TikTok as soon as possible, seize marketing advantages in advance, and continue to post to demonstrate brand demeanor. It is not impossible to defeat big-name giants.
TikTok posting strategy
The TikTok algorithm rewards accounts that persist in posting. On average, the best-performing brands (with an average of 10,000 or more views per video) release 3.1 new videos every week. The effect of posting more than 5 posts per week will not be much improved, but there are exceptions.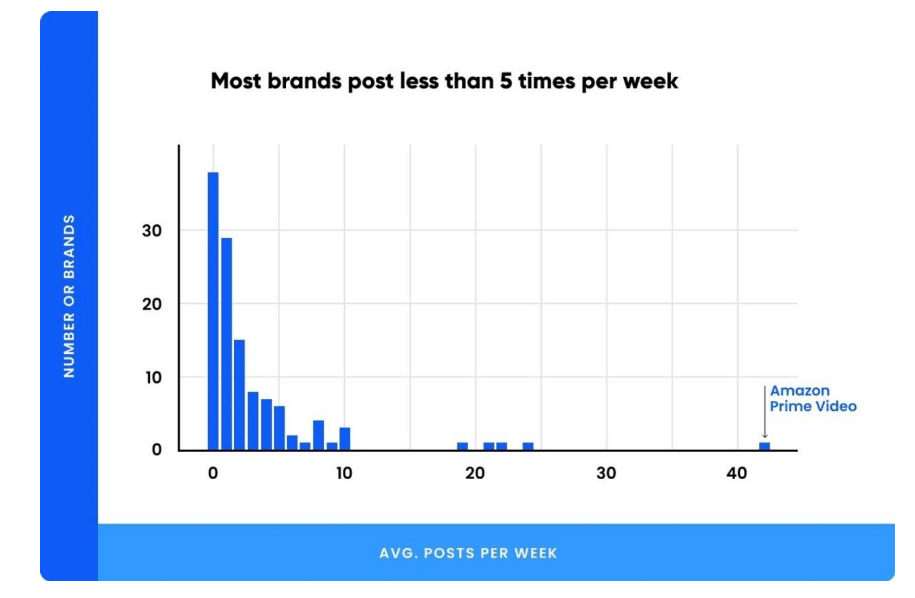 Shopify sellers publishes at least three videos a week to ensure that the frequency of posting is more frequent and stable than the competitors.
TikTok marketing strategy
The number of fans a brand has is highly correlated with the average view volume and interaction rate of its posts. The more fans, the more likely to explosure in its fans social circle. Therefore, building a large and loyal fan base is one of the top tasks of TikTok marketing.
Brands often launch free gifts and sweepstakes. Users can participate after following the brand account on social media. The main purpose of such activities is to attract more fans.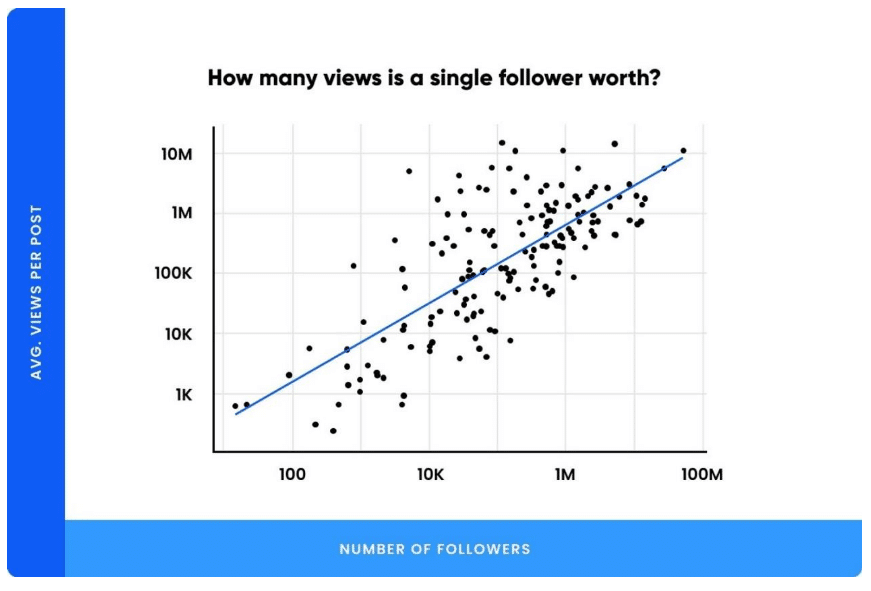 Judging from the regression curve in the figure above, for every 1% of new followers, the average number of posts will increase by 0.65%.  Thus you should incorporate the distribution of gifts and paid activities into the brand's TikTok marketing strategy to increase the overall coverage of the content while attracting followers.
Popular brands on Tiktok
We calculated the average number of video views for each brand, and further divided it into different industry sectors, and obtained the following ranking data: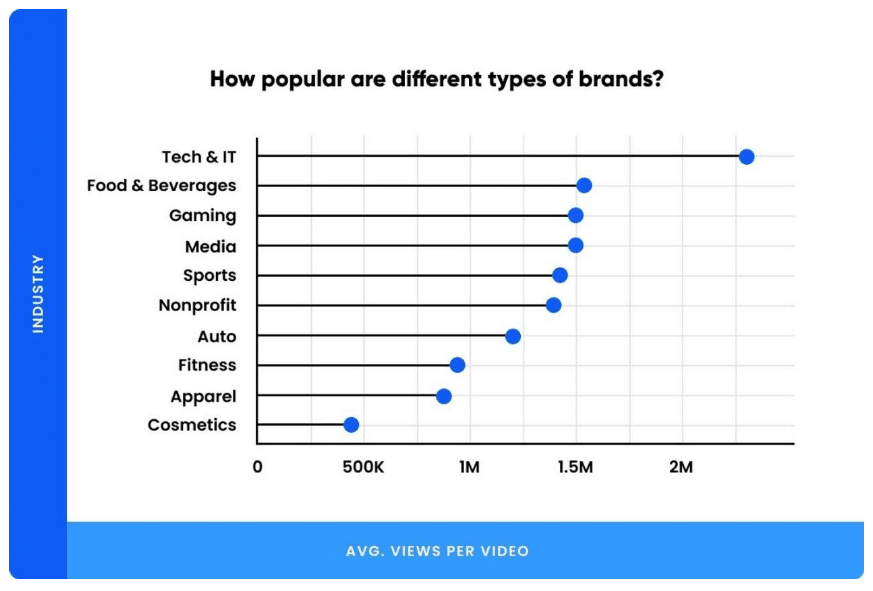 The results showed that IT technology brands performed best, with more than 2.3 million views of each short video, followed by food and beverage and gaming media brands. But this does not mean that certain industries have an absolute advantage on TikTok. The creativity and richness of its videos are the fundamental reasons for attracting users to click.
Among all the research subjects, the most popular TikTok brand is So Satisfying. They use daily necessities to create alternative videos. The average number of views for each video is as high as 14 million, and the most popular video has gained 76 million views.
TikTok is also handy to play on its own platform. Five of the top 10 videos with the most views are from TikTok's official accounts.
The World Health Organization also uses TikTok to publish popular science videos to raise people's social awareness. The picture below is a screenshot of a dubbed video that WHO promotes the dangers of smoking. This video has attracted more than 54 million views.
Brands in each industry attract different audiences, but creativity is the ultimate criterion for the success of TikTok videos.
Music achieves Tiktok video
Music is the background color of TikTok videos. Of the 650 videos studied, nearly 80% of the posts have added background music. Upbeat music is the most popular choice (62%), and about 10% of the videos use suspenseful or soothing music.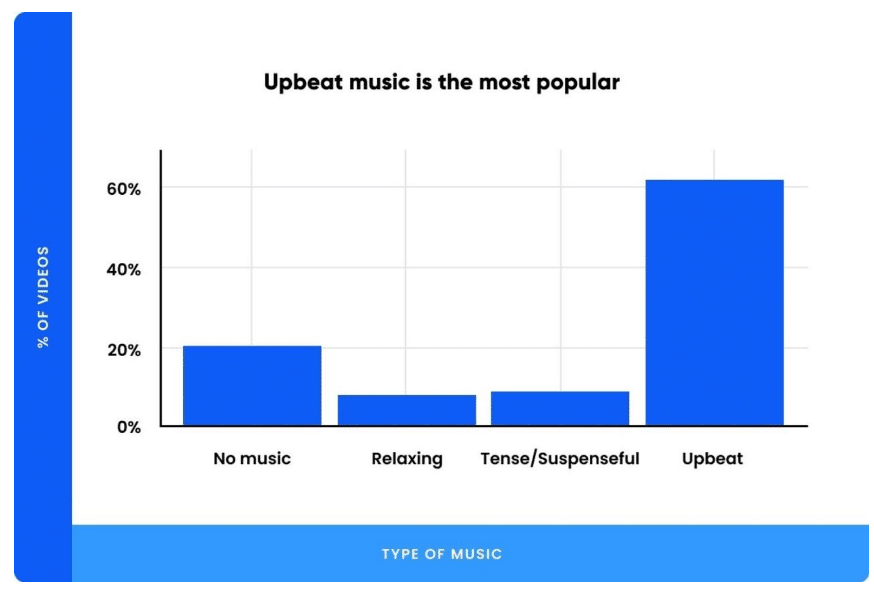 Thus when you select background music for tiktok videos, the upbeat music is your best choice.
The universal formula for creating high-quality TikTok videos
Content creation has never been the best answer, but the common feature of popular videos can be described as the brand's quality learning materials. More than 90% of brand videos have some form of brand implantation, which is the meaning of social media marketing.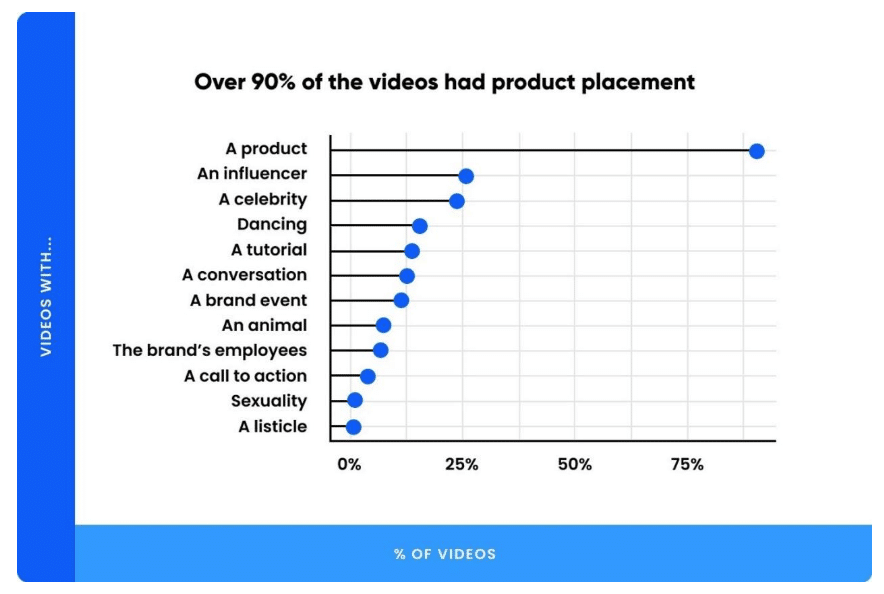 Celebrities and influencers are also the only way for brand marketing, and about a quarter of the videos are endorsements or collaborative content. Only 3.7% of videos contain call to action content, requiring viewers to follow their channel or other social media accounts. Few accounts use adult content as gimmicks. Among the 650 video samples, only 6 videos contain straightforward or subtle sexual content, and 5 of them are from Victoria's Secret. But the average number of views of these videos is as high as 13.4 million.
The official TikTok account has 5 videos with more than 100 million views, and the video content is all event previews. Therefore, in addition to ad placement, TikTok is also a good channel for product announcements and event previews.
Videos containing elements of animals (or animal mascots) also performed quite well on TikTok. For example, the video of Blue, the mascot of the Indianapolis Colts, broke into the top ten most viewed lists. The San Diego Zoo's account is also very popular, and each video can attract millions of users to click and watch.
In addition, dances, tutorials, celebrities and internet celebrity endorsement videos are also very popular on TikTok.
Content tone and emotional call of Tiktok video
Marketing is essentially a process from empathy to empathy, by mobilizing the positive emotions of the audience, encouraging them to interact with the brand and make purchase actions.
The tone of the video content depends on the specific product and brand image. Energy drinks may create an adventurous and exciting atmosphere, while airlines want to reflect the feeling of calm and safety, and music is the best partner to render the atmosphere.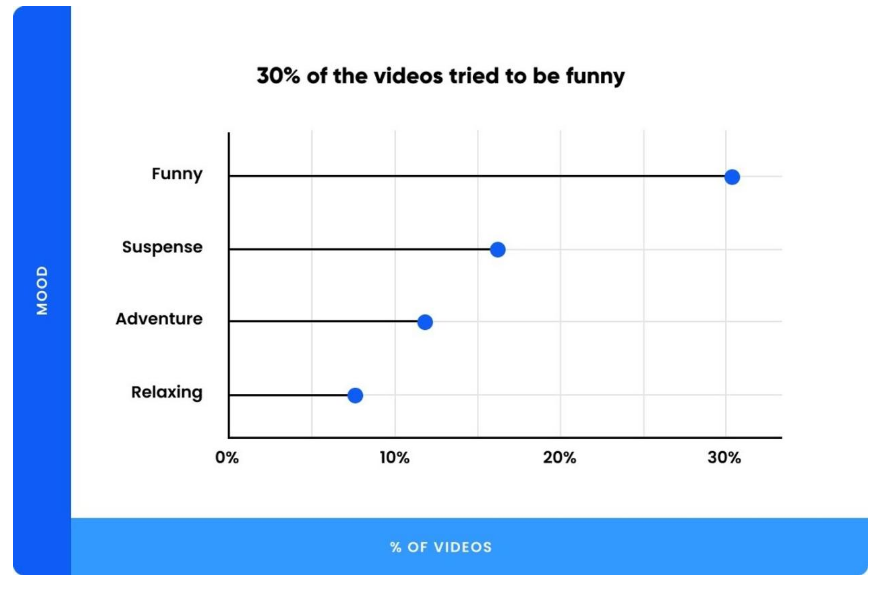 As the saying goes, laughter is the best medicine. Data shows that 30% of videos use humorous narratives. Lively and interesting videos have always been the main tone of TikTok videos, which are suitable for almost all brands, and it can be said that it is a choice that can't go wrong.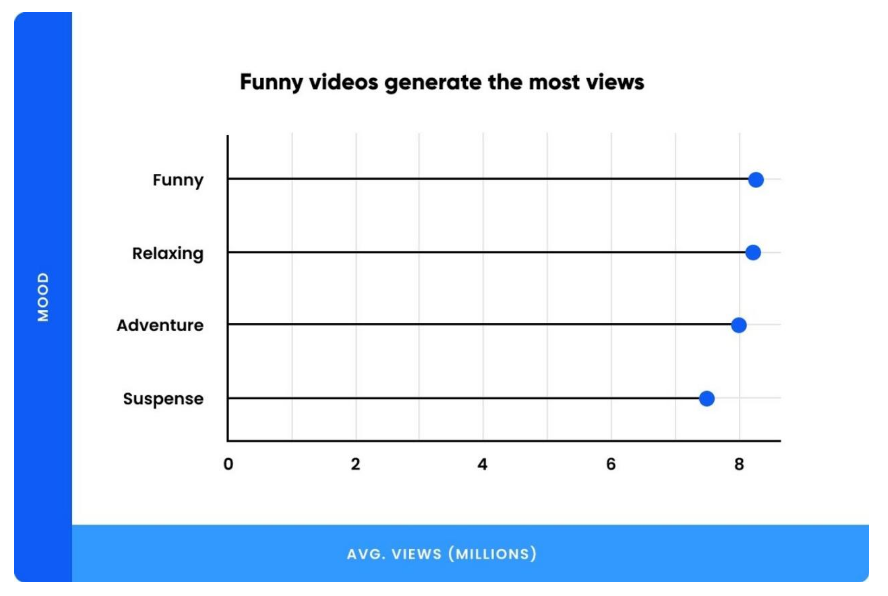 Tiktok video style
The visual design is the icing on the cake for content creation. TikTok provides a variety of filters, character overlays and special effects to help users beautify videos.
According to the video sample data studied, most videos have embedded text descriptions, which is also a great way for brands to add calls to action or other promotional codes.
Approximately 16% of videos have added animation elements, but emojis are surprisingly "out of the eye."
Only 3.9% of the videos use character overlays, and this type of video has the highest number of views. Animation videos can often attract a large number of user clicks (11.3 million times on average), which once again proves the importance of creativity and free expression in TikTok content creation.
TikTok Trends in 2021
One of the easiest ways to get started with TikTok marketing is to follow TikTok's hot trends. You can take advantage of the following 5 popular trends.
Vogue challenge
The Vogue Challenge, as the name suggests, users choose their favorite photos and make them the cover of Vogue magazine. Brands can use this trend to showcase events or product photos.
Picture trend
The picture trend is similar to the Vogue challenge. It is used to show one's daily life, work, etc., and is an excellent opportunity for brand exposure.
Album cover challenge
This is one of TikTok's most interesting challenges. Follow the music beat to freeze the frame and shoot your own creative album cover. Brands can use this trend to showcase their products, or reveal the behind-the-scenes story of the brand to the audience.
DM (Private Message) Sharing Trend
Users often receive a variety of private messages, sharing strange or interesting private messages in the form of videos. Such videos are popular on TikTok. Brands can post short customer reviews, frequently asked questions, or interesting private messages.
"I'm from XXX" trend
This is a popular trend to show the audience the scenery, food or experience of their hometown. Brands can take this opportunity to show the company's face or the source of product materials.
How to drive Tiktok traffics to Shopify store
Recently, TikTok has reached a cooperation with Shopify. TikTok users will be able to add links to Shopify in their videos. This undoubtedly provides Shopify dropshippers with a new channel for traffic conversion. More than 1 million Shopify sellers can place ads on TikTok, and the ads will appear in the user's information stream in the form of videos. Different from the previous ones, merchants can operate directly in Shopify's background, filter user groups through corresponding tags such as youth, gender, and preferences, and determine the scope and time of delivery.
The whole logic of dropshipping is also very simple and it belongs to affiliate marketing. The two are almost the same in essence, and the practical methods are also similar:
1. Find niche markets and products
2. Build a Shopify store
3. Synchronize the selected products info from Aliexpress
4. Properly optimize product description
5. Drive free and paid traffics through TikTok
6. The user places an order in your shop
7. You can place an order at the AliExpress or 1688 Taobao
8. The customer receives the goods and you receive the money
Tiktok marketing is similar to Youtube but it is more suitable for ecommerce which has been improved in China market, the top tiktok influencers can easily sell hundreds of millions dollars in 3 to 4 hours. If you are Shopify sellers you can also take advantages of Tiktok to drive free and paid traffics to Shopify to make profits for dropshipping business.