The women clothing is one of the most competitive product category but it is also one of the most profitable categories for dropshipping once you found reliable women clothing suppliers. China is the biggest women clothing manufacturer country in the world especially during the pandemic period. Select trending women clothing style is only the first step when you planning women clothing dropshipping business, find a reliable trending women clothing supplier is more important. We will divide the article into 3 parts.
How to find hot sale women clothing for dropshipping

How to reduce return rates for women clothing dropshipping

How to source reliable women clothing dropshipping suppliers from China
How to find hot sale women clothing for dropshipping
When we purchase something online we used to buy the product with higher sales and  positive reviews. When we source hot sale women clothings we should also follow the same way to take advantage of the big data on the B2B or B2C platform like Aliexpress, Amazon, Wish, eBay, Etsy etc. Based on those eCoomerce platforms there are many free and paid product selection tools available to help you find trending women clothings. Here we list a few for you as a reference:
Free & paid trending product selection tools
Google trend & google adword
Jungle scout
Merchant Words
BigTracker
Terepeak
Unicorn Smasher
Watcheditem
Ali Insider
Thieve
Findniche
Oberlo
I suggest you focus on Amazon or Aliexpress as there are many free and paid product selection tools to help you filter hot sale women clothing for dropshipping. For new startups I suggest you find niche women clothing like XL size women clothing, women Yoga clothing, women hippop streetwear clothing etc. which will be more easier for dropshipping.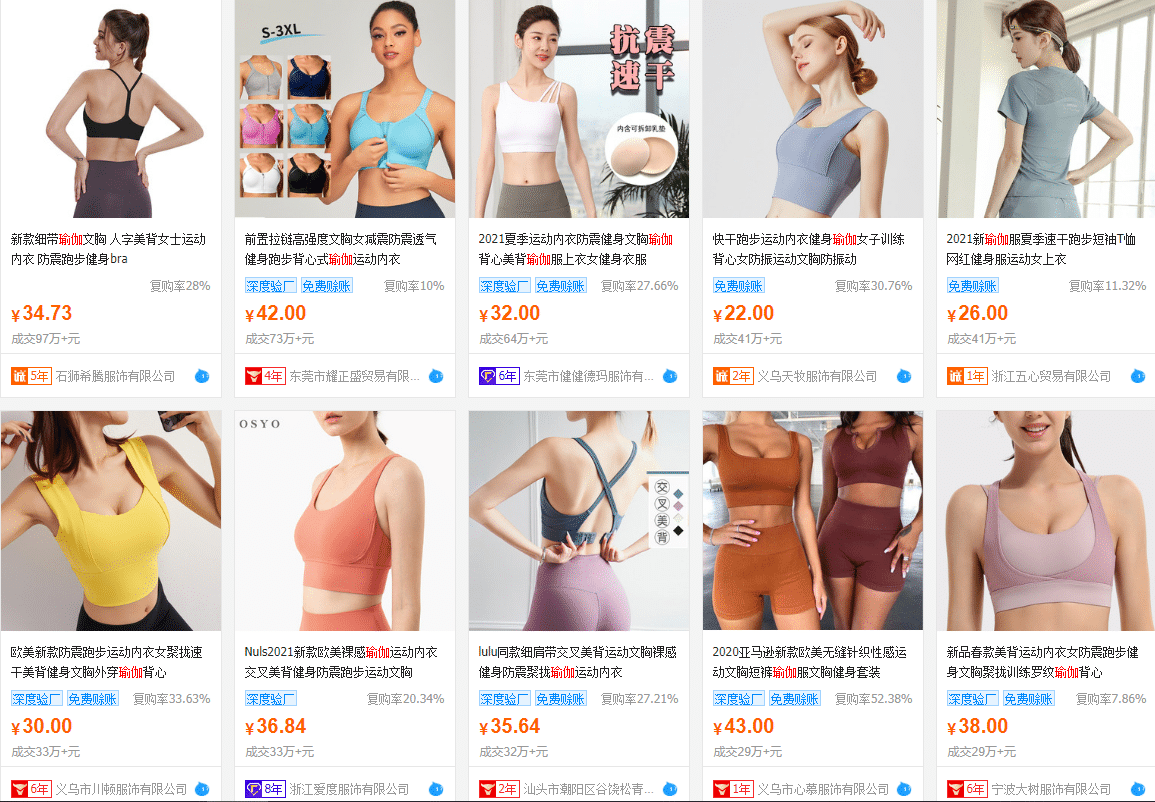 How to reduce return rates for women clothing dropshipping
Although women clothing is profitable, it has higher return rates than other products when you dropship from China.The main reasons can be listed as follow:
Quality issue. It is the main reason caused high return rates. There are many ecommerce sellers prefer to dropship cheap women clothing, the cheaper the better while they ignored the women clothing cost related closely to quality. let's take the printed pleated strap dress from 1688 for example,

The dress price from 10 yuan to 40 yuan, thus the quality also have big difference between different suppliers. the main cost of the dress are the fabric material and workmanship. When you choose the cheapest supplier, they may change poor material with cheaper cost, and hire people at cheaper cost without any requirements, in this case they can control the dress cost to make profits.
In addition to the price, the women clothing might also has quality issues such as flaws like stains, scratch, line threads, asymmetric etc. which also caused aftersale return. In order to reduce the return rates, when we select women clothing dropshipping suppliers from China we shouldnt based on price only. Moreover, the clothing need pass the quality check before shipping from China.
Size issue. Due to the women body type in west countries are larger than Asia people, the size issue also caused aftersale return when clients received small size clothing, the chinese women size are usually 1 to 2 sizes smaller than EU size. How to make sure you dropship the right women clothing size? Firstly you need to confirm the women clothing size chart listed in supplier clothing page description, then confirm with the supplier if the size are Chinese or EU size. At last choose the women clothing suppliers focus on EU and USA market which provides more standard clothing size.
Too many suppliers. When we dropship women clothing we usually search for trending hot sale styles, if all the women clothing styles you selected based on product selection tools that means you will have multiple women clothing suppliers which caused the women clothing are ununified in materials, workmanship, labels, packagings etc. Which cause very bad user experience, just imagine when you dropship women clothing from Aliexpress, different suppliers means different women clothing brands, different packaging, different qualities, different shipping deliveries. To improve better user experience, you may need to control the supplier quantities in certain period along with your store promotion, meanwhile, try your best to unify the label packaging of the women clothing from different suppliers in China.
Difference between clothing and photo. Women are most likely impulsively shopping, while the women clothing supplier are intend to shoot beautifil model photos then processing via photoshop, which usually caused the colorful clothing in photos while received far beyond their expectation, then returned. when you select women clothing you can ask for some suppliers for the phisical photos or shooting clothing photos yourself if you have the condition.
ShipAnt offer one stop women clothing private label dropshipping service to help you improve user experience and reduce return rates.
How to source reliable women clothing dropshipping suppliers from China
Since 1688 is one of the main B2B source for Aliexpress and Amazon, here we take 1688 to explain how to source reliable women clothing supplier for dropshipping and wholesale.
When you source women clothing on 1688, I suggest you register one account and download a 1688 app(no matter you can or not just have a try, if you cant ask 1688 agent ShipAnt). Here we mainly introduce photo search to source on 1688. We still take the above dress for example,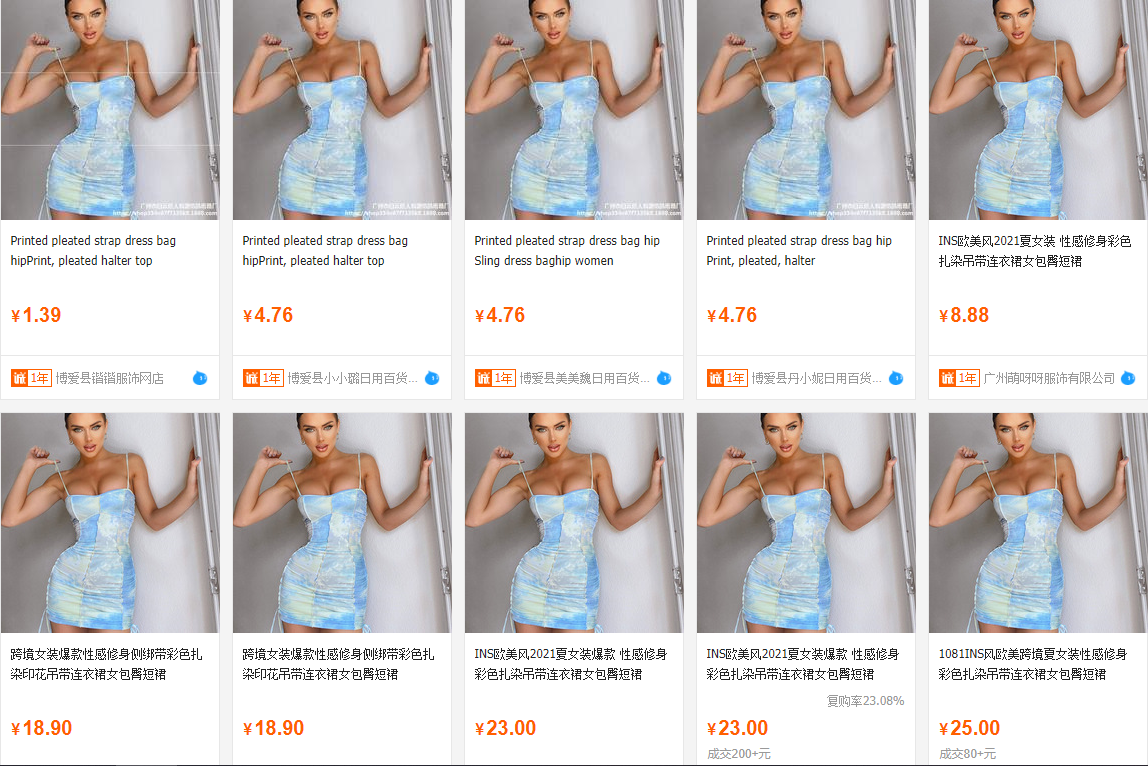 When we use photo search we will find the manufacturer supplier who offer exactly the same women clothing style. Then we will need to filter the suppliers.
Step 1. We can sort the suppliers by sales and price, it is very important step to filter suppliers. Here we take price as a reference and use sales as the main parameter to filter suppliers and list the top 5 sales.

The parameters in the first red rectangular is the repurchase rate, the higher the better, the parameters in the second red rectangular is the sales, the higher the better. In the above photo, we know the price range for the dress from 26 yuan to 34.25 yuan.
At the bottom we can see the years of experience of the supplier on 1688, from left to right 6 year, 2 years, 1 year, 5 years and 3 years.
Step 2. Check dress description. In the dress description page, you will see the size chart, model photos, real clothing photos, the more detail the better.
Step 3. Check the supplier credits on 1688. 1688 mainly score via procurement consulting, delivery time, return exchange experience, dispute settlement, quality experience, of course the comperehensive score the higher the better;
Step 4. Check the women clothing style upate frequency. It means a lot when you select a reilable supplier as they usually update 50 to 100 styles per month; If they are reliable women clothing supplier, you can update their styles to your store regularly;
Step 5. Check company profile. There you can see the company credit score, transaction records, buyer quantities, repurchase rates, refund exchange rates, dispute rates and other basic company information.
Step 6. Filter 2 to 3 suppliers among the 5 suppliers to communicate with them about the dress information such as material, size, stock inventory, delivery time, aftersale policy etc.; If you do not know how to communicate via Chinese, pls list all your questions and send to ShipAnt, we can help you communicate with suppliers;
Step 7. Select 1 to 2 suppliers to make sample orders. You can also update the hot sale women clothing in the 2 supplier stores, when you get feedback from your clients, you will know which supplier is more reliable to make business.
Although the procedure to source reliable women clothing supplier on 1688 seems difficult and time consuming, once you found the reliable women clothing supplier for dropshipping wholesale, it saved you lots of time and money for aftersale. If you still have questions how to source reliable Chinese women clothing supplier for dropshipping wholesale, you are welcome to inquire ShipAnt, we provide one stop private label women clothing service to help you dropship wholesale from China.