Along with more and more eCommerce sellers dropship wholesale from China factories in recent years, the 3PL company plays a very important role in the supplychain, more Amazon eBay Shopify sellers are planning to outsource the product sourcing, order fulfillment and shipping to 3PL in order to save order processing time and cost for the products shipping from China to end users. What's the best Chinese 3PL company for dropshipping? We will reveal in this article.
What's 3PL?
According to wikipedia, the 3rd party logistics refers to a company with substantial assets that provides logistics-related services to other companies, such as transportation, warehousing, inventory management, order fulfillment, information integration and value-added services, or related logistics services. A professional logistics company that cooperates ecoomerce sellers to provide more complete services.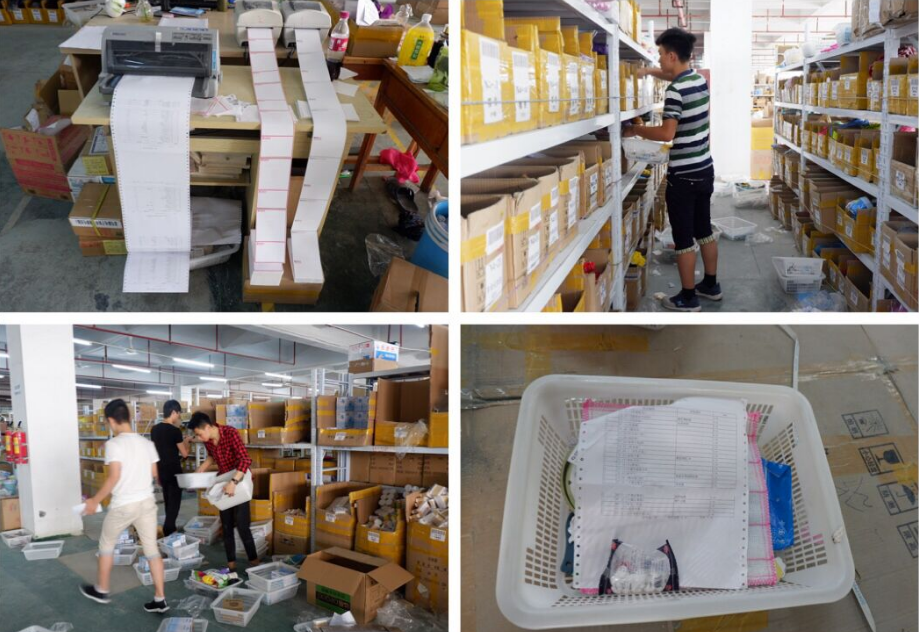 3PL service requirements
Firstly you may need to know what kind of service you need for your buisness to ship from China, then you can find the best China 3PL company based on your requirements. Different ecommerce type on different business stage might focus on different 3PL service requirements. Let's take Wish, Amazon FBA and Shopify sellers for example to list the service requirements.
Wish 3PL service requirements
If you shopping on wish you will see all the products selling at very low price. However, the Wish seller still need to make money at cheap price, thus they will figure out the cheapest cost in the supplychain from supplier to shipping.
The Wish sellers usually have at least tens or hundreds of orders per day, thus they usually contact the factory directly to cut the middle steps to control the product cost at extremely low price, so does international shipping, they only prefer 3PL shipping rates close to China post air mail with no registered service for the light weight products.
For Wish sellers, the 3PL company who could provide cheapest shipping rates for small packages are the best Chinese 3PL company.
Amazon FBA 3PL service requirements
Compared to Shopify sellers, the Amazon FBA seller usually are professional ecomerce team or company, they usually bulk wholesale products from China and ship to Amazon FBA warehouse in worldwide countries.
Unless urgent orders in small batch they ship via air or courier service, mostly ship via sea or train(EU countries). For amazon sellers, the Chinese 3PL companies who could print product barcode, Amazon FBA label and provide cheapest DHL, UPS, FedEx, air, train and sea shipping rates for bulk wholesale goods are the best China 3PL company.
Shopify 3PL service requirements
Compared to Wish and Amazon FBA sellers, Professional Shopify sellers focus more on providing better user experience compared to dropship from Aliexpress. For example, better product quality and faster delivery time. Although Aliexpress is convenient for Shopify dropshipping, its supplier product quality and delivery time has been complaint for years.
For Shopify seller, the 3PL service could provide better user experience, stable and fast delivery time at similar or lower cost than Aliexpress are the best Chinese 3PL company.
From the above comparision you can see different ecommerce types at different business stage have different 3PL service requirements. The Chinese 3PL company who could satisfy them at the cheapest cost are the best Chinese 3PL.
Which means, different ecommerce sellers have different logistics service requirements. Third-party logistics needs to provide highly targeted services according to the different requirements of different logistics consumers in terms of corporate image, business process, product characteristics, customer demand characteristics, and competitive needs. Personalized logistics services and value-added services.
How to select Chinese 3PL company dropship from China
If you are eBay, Amazon FBM, Etsy and Shopify seller, you can take a look our previous blog How to dropship from China 1688 to eBay. There we listed
Top4 issues dropshipping from 1688 to eBay VS Aliexpress
How to fulfill orders from 1688 to eBay
How to select trending products for eBay dropshipping
eBay dropshipping cost from 1688
eBay packages shipping from China
When you select 3PL company help you dropship from China, you can review the pain points dropship from Aliexpress, and make a list of questions on Chinese 3PL service you may need based on the dropshipping procedure, take your time to search and inquire, you will find the best Chinese 3PL company to partner with your dropshipping business. From our previously blog How to find a reliable Chinese agent for dropshipping wholesale, we listed the dropshipping agent service and cost in details, you can take as a reference.
Advantages of applying 3PL service dropshipping from China
The mainly purpose applying 3PL service to help you dropship from China is to provide better user experience to built user loyalty for your store, while increase order fulfillment effiency and reduce dropshipping cost. Let's take a look the advantages of applying 3PL service dropshipping from China.
Better user experience
Quality control. The 3PL QC service could help you check the products quality before ship from China, which could significantly help you reduce aftersale rates caused by product quality and enhance user satisfication on your store, all you need to do is to refine your quality standard list with 3PL;
Supplier info removal. If you dont want supplier info shown on the package ship to clients, the 3PL warehouse could help you remove the supplier cards, flyers, packaging and even label then repack them with clear and clean status ship to clients; It helps to enhance the user experience;
Unify packaging. If you have multiple suppliers in China, the 3PL custom label packaging service could help you customize label and packaging to unify the packages from different suppliers, which not only help you private label dropshipping but also make your clients more satisfied;
Conlidate packing. No matter how many vendor products in one order, the 3PL service could help you consolidate into one package and strengthen the packaging to reduce product broken rates during shipping. It not only make clients receive less packages but also help you save shipping cost;
Faster delivery time. Unlike Aliexpress 20 to 60 shipping days, the 3PL provides stable and fast delivery service for package shipping from China to EU and USA, it usually takes 7 to 15 days, stable, fast, cost effective and trackable.
Higher order fulfillment efficiency
The Chinese 3PL have dedicated employees for each service they provided and adjust quantities based on the business scale, in addition the warehouse have professional ERP system to connect your store and hardwares to speed up the order processing.
Sourcing. The 3PL can source more efficiently then you based on your budget price and quality requirements as they usually have supplier base and know the intensive industrial belt in China which ensure they sourcing faster than you;
Pick pack. The 3PL warehouse works like a streamline under the warehouse system and hardware equipment, they can automate the dropshipping procedure to make your order fulfillment hassle free.
Release you from tedious fulfillment work
Outsource order fulfillment works to 3PL could release yourself from the the tedious fulfillment work and focus on important marketing works only.
Save human cost
Compared fulfill orders yourself, 3PL could help you save human cost on order fulfillment for the long-term running by providing clients better user experience and stable shipping service.
Can I apply 3PL order fulfillment service even I just start up dropshipping?
Frankly speaking we don't suggest 3PL service for dropshipping for the following 2 situations:
1.Low price products. Low price means low profits,  in addition, the 3PL shipping rates is higher than Aliexpress standard, which means the product cost is higher, although the 3PL order fulfillment service isnt high, it is still cut your profits.
2. No stable sales. If you only have less than 3 orders per day at the beginning, it is useless to apply 3PL service at that stage unless you can get huge profits and wang to focus on marketing.
There are many Chinese 3PL company can help you dropship without MOQ, however, the service quality cannot be guaranteed as they should fulfill big client order in priority, unless the Chinese 3PL service is indispensable for your dropshipping business, you do not have to apply when you just startup. When you business grows, you can find Chinese 3PL company with your service requirements, it takes time but you can find the best Chinese 3PL company for dropshipping finally.