There are lots of Shopify sellers complainted about Aliexpress suppliers for the delivery too slow, product quality issues etc. Thus they want to find a professional order fulfillment agent to dropship from China and there are lots of questions on Quora. What are the benefits by using order fulfillment service? What's the cheapest order fulfillment companies in China? How to find a cost effective China warehouse which could fulfill more than 500 orders per day? What's the best order fulfillment solution for Shopify startup? Actually what kind of role the order fulfillment company played in your ecommerce business totally depend on what kind of dropshipping service you may need and if there has a balance between the service cost and your profit margin. Let's take a look at the advantage and disadantags of order fulfillment service VS Aliexpress supplier dropship from China.
Advantages of order fulfillment service VS Aliexpress supplier
When you applying order fulfillment service to help you dropship from China vs dropshipping from Aliexpress, its advantages can be listed in 4 aspects, user experience, order fulfillment efficiency and store marketing.
User experience
Let's take a look how the dropshipping agent service help you improve user experience in it quality inspection, repacking, consolidating as well as shipping delivery service.
Quality inspection. The product quality is key to dropshipping business, if the product has bad quality or higher flaw rates it will cause lots of aftersale or refund charge back which cause big loss on the ad cost and store sales, furthermore, it takes even more time and money to remove the negative reviews by the quality issue. If you havent found a reliable supplier from Aliexpress you will face the quality issue which not only affect the user experience by also the store sales.
The order fulfillment agent usually offer quality inspection service which also name QC service, let's take the most complicated product category clothing for example, once the products shipped to agent warehouse, they will check the clothing flaws, stains, holes, scratches, clothing threads, compare color difference, material, then pick up the poor quality products return to supplier for exchange. In this way the agent service could help you improve the user experience and reduce the aftersale dispute rates.
Compared to Aliexpress supplier, the order fulfillment company QC service usually have higher standard on products to help you improve user experience.
Repacking
Let's take clothing for example, if you have multiple suppliers, with repacking service, the warehouse will help you remove the supplier label, tag, packaging and supplier promotional coupon thanks card if required, and help you make the clothing unified with blank transparent bags or with your brand packaging bags.
While if you dropship from Aliexpress, different suppliers have different label and tags as well as packaging which will deeply affect your user experience.
Consolidating 
It is a big headache if you have multiple Aliexpress suppliers and the orders might from different suppliers with different brands, which means the clients need to receive multiple packages with that order, and the label packaging are totally different.
With agent consolidating service, they will pick pack all the items from different suppliers in one order as long as they meet the courier weight restriction. Which not only help you save shipping cost but also improve user experience.
Shipping delivery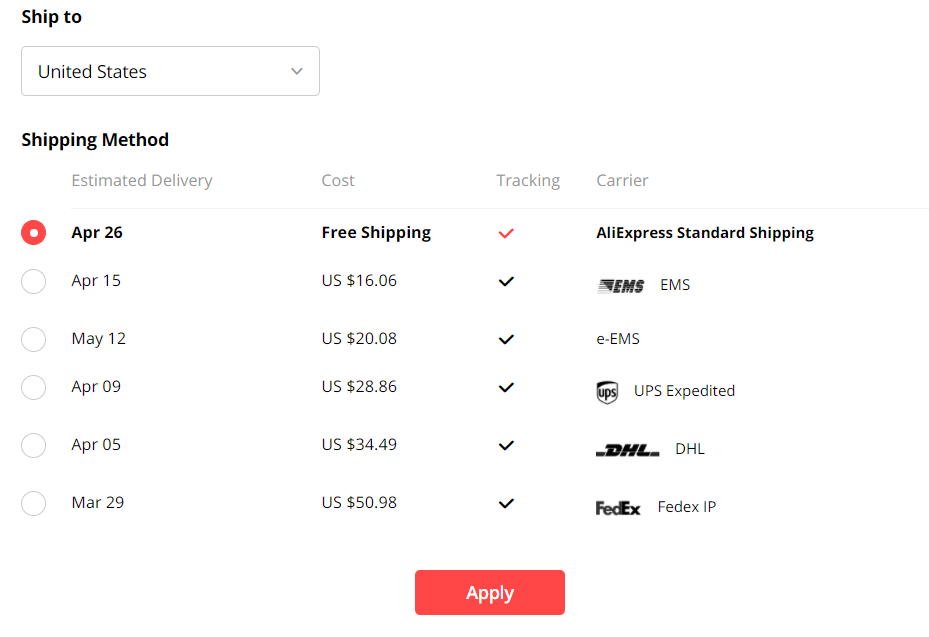 When dropshipping from Aliexpress mostly Shopify sellers choose free shipping or aliexpress standard shipping as the other shipping courier are extremely expensive. However, Aliexpress free shipping or standard shipping usually take 45 days to ship from China to USA.
With agent service the shipping delivery usually takes 7 to 14 days from China to USA, stable and cost effective.
Private label packaging
Aliexpress suppliers usually do not offer private label packaging service unless you have very stable sales as they will need to help you customize label and packaging based on your requirements, meanwhile, it usually has higher quality requirements.
With agent private label packaging service, you only need to provide the label packaging design, packaging material you prefer, size and meet the print factory MOQ, the agent warehouse will help you private label and packaging with reasonable service fee to help you improve user experience and assist store marketing activities.
Order fulfillment effiency
The order fulfillment warehouse usually work like a factory assembly line with ERP system, each staff being assigned a job under the dropshipping service they offered, for example, when product packages arrived warehouse, there are people scan tracking to recognize stores, confirm quantities, colors, print sku barcode, then move to QC, after QC, the products will be repacked and stick barcode for warehouse inventory, after the staff put products on the warehouse shelf and scanned barcode, the product postion will be recorded, the pick pack staff check the orders available in the warehouse and print orders to pick up them, then the order with different items will be sent for packing, weight and ready for shipping, the tracking number will be upload to shopify store.
Compared to Aliexpress supplier, the order fulfillment company usually fulfill orders in 1 to 2 days, based on their order fulfillment procedure your store order fulfillment can be automated and you will have more time to focus on product selection as well as store marketing.
Store marketing
If you pay attention to some disputes you will find the package has Aliexpress supplier store promotional coupons or thank you card which will affect your user loyalty and secondary purchase rates. In other words, you and Aliexpress supplier target the same clients and you share the clients info with Aliexpress supplier for them to compete with absolutely lower price.
In addition to private label and packaging, the agent warehouse also help you customize thank you card, coupon card, sticker etc. to assist your store marketing and you do not have to worry about the client info as your business is totally different.
Disadvantages of order fulfillment service VS Aliexpress supplier
After we talked about the avantages of order fulfillment service VS Aliexpress supplier, we will also take about its disadvantages in time and cost. Due to the order fulfillment service havent played the supplier role which means it takes extra time ship from supplier to agent warehouse and the cost usually higher.
Stock prepare time
Mostly industial belt and trading shipping companies located in East or South China, Let's take ShipAnt for example, we are located in Guangzhou, south China, the top 4 biggest cities, 200km far from Shenzhen and Hongkong. If your supplier located in South China and they have stock it usually takes 1 to 2 days deliver to our warehouse, if your supplier located in East China like Jiangsu province, Zhejiang province, Shandong province or Shanghai, it takes 3 to 4 days to our warehouse, if your suppliers located in North East China then it takes 5 to 7 days ship to our warehouse as there are  more than 4000km distance.
If the supplier has no stock the stock prepare time is even longer, but it is the same in Aliexpress as mostly suppliers are traders instead of manufacturers.
How to reduce the stock prepare time? The only way is to sell niche products and stock best sellers, why? If you seller niche products it usually means your store sku are no more than 50, usually less than 20, then you wont have too much cash requirements to stock products compared to hundreds of SKUs. Meanwhile, if you have stock in agent warehouse, your product margin will be increased and delivery time will be more faster, but the potential risks are the cash flow being occupied.
Total cost
Does the cost will be cheaper to find an order fulfillment than dropship from Aliexpress? The answer is no, let's take a look at the supply china first. If you dropship from Aliexpress, the procedure is Aliexpress supplier to clients, if you dropship via order fulfillment company, the prcedure is supplier, agent and then clients. The more steps the higher cost.
If you applied product sourcing and purchasing service, the total cost include 4 parts:
Total cost=Product cost+domestic shipping(from supplier to agent warehouse)+service fee+international shipping fee
If you dropship from Aliexpress directly, the cost include:
Total cost=Product cost (free shipping)
Total cost=Product cost+Aliexpress standard shipping
Total cost=Product cost+priorior shipping
Based on the cost it seems the agent cost higher, let's take yoga pants price to compare the order fulfillment company and Aliexpress supplier cost: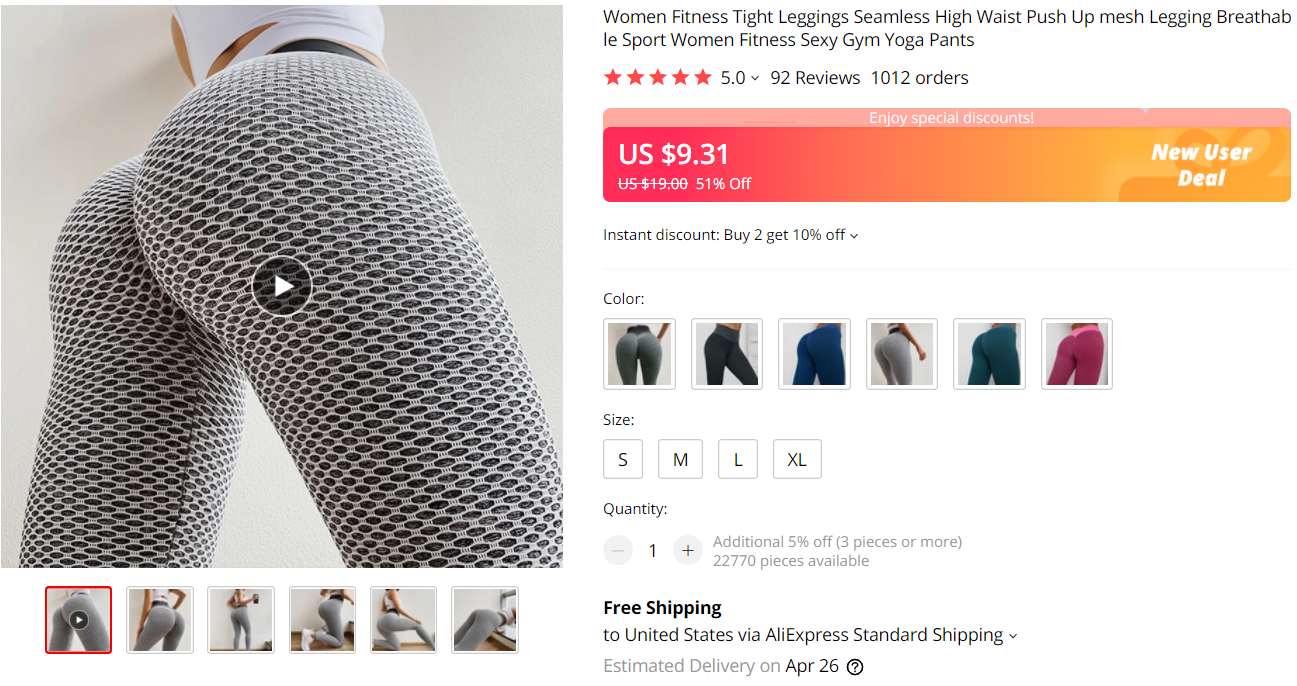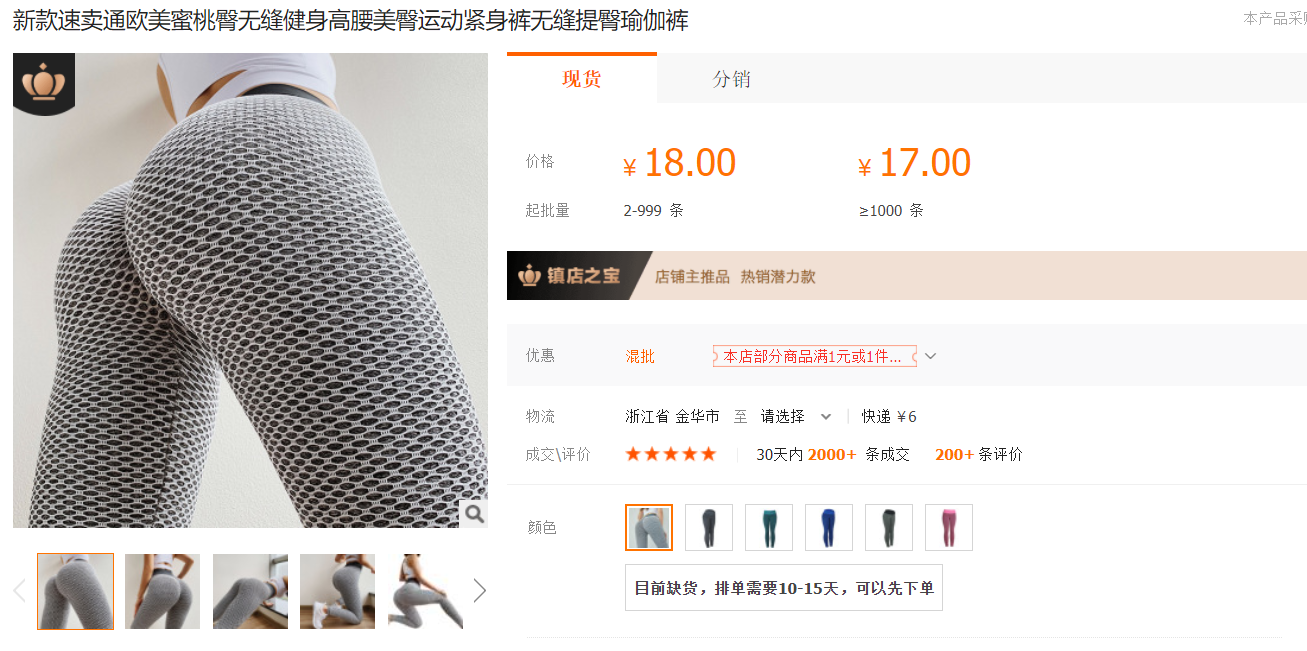 From the photos above, we can see the Aliexpress price is $9.31 with free shipping service which takes 45 days or above. If the order fulfillment agent dropship from 1688, the product cost is 18 yuan, shipping cost 6 yuan in USD currency is around 3.7 usd. The yoga pants around 0.15 to 0.2kg, 7 to 14 days shipping from China to USA cost is around 5 usd to 5.75 usd, so the yoga pants cost is 8.7 usd to 9.45 usd plus the agent service fee.
From the cost comparision you can see the agent service cost slightly higher than Aliexpress supplier for single products with a relatively faster shipping service, if you have best sellers the total cost might be lower than Aliexpress supplier by wholesale from 1688.
About free shipping there might be a few more doubts by clients, but as a dropshipper you should be clear no matter what kind of shipping has cost, just the cost price lower or higher based on the delivery time, the Aliexpress supplier offer free shipping service as they already calculated the shipping cost into the product price thus you can see the big price difference between Aliexpress and 1688. You may wonder free vs paid shipping which is better for dropshipping? It totally depends on your store positioning and your marketing strategy, if you sell light weight products like jewelry accessories or other products under 0.2kg, you can try free shipping as the shipping cost is lower; if you have very high profits margin you can also try free shipping even the package exceed 1kg.
Thus the total cost by agent for startup dropshipper might be slighterly higher than Aliexpress seller, but it provides better experience and stable shipping service compared to Aliexpress standard shipping. Furthermore, the overall cost in the long time running is absolutely cheaper than dropship from Aliexpress.
Does it worth to find an order fulfillment service instead of dropship from Aliexpress? We should to evaluate the roles the dropshipping agent played in our business together with its cost and the profit margin in the store. In short, you will need to meet the following requirements:
Stable sales. If your store have daily 10 to 20 orders or even more orders, then you will need to apply agent service to help you fulfill orders to save your time and money to help focus on store marketing; Meanwhile, the service fee agent charged is also profitable to maintain the service they provided, that's why mostly dropshipping agents have moq orders per month;
Good profit margin. If you dropship small and cheap products from $8 to $15 there arent too much profits, while the agent shipping service is more higher than Aliexpress standard shipping, in this situation if you apply order fulfillment service your profits margin will be extremely low, unless your average order value above $20, else it isnt profitable to apply order fulfillment service.
Are there any Chinese order fulfillment service have no MOQ orders for startups? Yes of course there are many, however, the same purpose like dropshippers, the order fulfillment company also need to make profits with fixed resources, thus there might be 2 ways, higher service charges or slower processing time for startups, in this way the agent do not have to spent extra charges to serve startup dropshipping business.
After you know the pros and cons of order fulfillment service VS Aliexpress supplier dropship from China, if you have stable sales and good profit margin, a reliable dropshipping agent service could help you provide better user experience, higher order fulfillment efficiency and assist your store marketing purpose for long time win-win partnership.